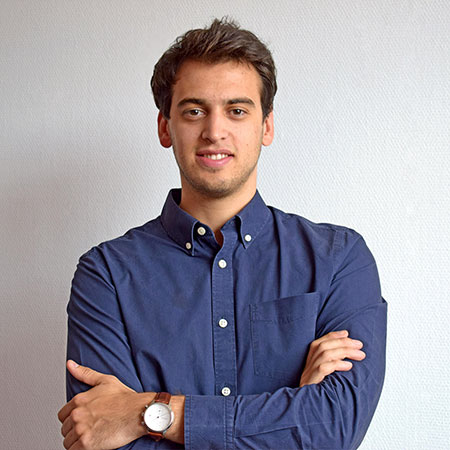 Maxime Vandenbussche is currently Senior eBusiness Consultant at Semetis. He acquired extensive experience managing complex, multi-channel, multi-device digital advertising campaigns for Semetis clients in the retail, eCommerce and telco sectors. He is currently the lead on important clients within the retail and eCommerce sectors. He is in charge of their digital strategy and coordinates the execution of their online advertising campaigns. Whether on Google Search, Remarketing, Display, Doubleclick, YouTube videos, Facebook or LinkedIn ads, he ensures an ideal media mix in order to transcend his clients objectives and KPI's.
Maxime graduated in 2013 with a postgraduate degree in China Business Development studies with Great Distinction from BICCS at the Free University of Brussels (VUB). Previously, Maxime obtained in 2012 his master's degree in Business Administration from the Hogeschool-Universiteit Brussel. He also studied in Madrid, Spain, at the CEU San Pablo University in the framework of the Erasmus student's exchange program.
As part of his postgraduate degree, Maxime completed an internship at Flanders Investment and Trade Shanghai. One of his core tasks was to consult Flemish and Chinese companies on a number of business issues. He also performed market research and networked at a myriad of events and trade fairs. During this internship Maxime learned more about the Chinese economy, the Chinese way of doing business and especially about China's market trends and growth markets. While working with the company 'Alibaba' -- the Chinese equivalent of eBay or Amazon -- he quickly realized the potential of eCommerce and eMarketing. This experience was an eye opener for Maxime and immediately spiked his interest for the internet sector. Determined to delve deeper into this world, he decided to join the web marketing leader in Belgium: Semetis.
Maxime is fluent in Dutch, English, French and Spanish.
Maxime developed a big passion for football during his Erasmus year in Madrid. Ever since, he rarely misses a game of Real Madrid. He also enjoys perfecting his golf swing, discovering new cultures whilst travelling the world and replaying Jimi Hendrix tunes on his guitars.
| LinkedIn
This email address is being protected from spambots. You need JavaScript enabled to view it.