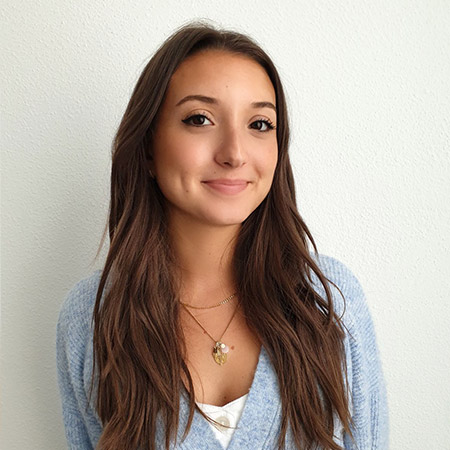 Tamana a rejoint Semetis en tant que eBusiness Analyst en avril 2021. Lors de ses études universitaires, elle intègre la faculté Solvay Business School of Economics and Management, dont elle obtient le diplôme de bachelier en Sciences Economiques et de master en Gestion d'entreprises avec distinction. Durant la dernière année de son master, elle a eu l'opportunité d'aller à Washington D.C. pendant un semestre afin de fréquenter la Robert H. Smith School of Business. Cet Erasmus fut une belle opportunité d'approfondir ses connaissances dans certains domaines comme le Marketing et la stratégie en apprenant d'un système éducatif très différent.
Durant ses études il était important pour elle de s'investir sur le plan personnel et social en prenant part à diverses activités extra-académiques. Tamana a, par exemple, intégré le Cercle étudiant de sa faculté, le Cercle Solvay, pendant deux ans. La première année elle fut déléguée chargée de la communication digitale du cercle. Elle fut ensuite élue Vice-Présidente du Cercle. Son rôle consistait à superviser les 40 délégués, le Cercle dans son ensemble et sa communication externe. Cette expérience enrichissante lui permit d'améliorer ses compétences sociales, organisationnelles et de gestion.
Après avoir obtenu son diplôme, Tamana décide d'effectuer un stage. Elle rejoint l'entreprise Henkel Beauty Care et intègre la team Customer Service où son rôle consiste à assister les Key Account Managers. Tamana a toujours eu un grand intérêt pour le marketing et pendant ses études elle a développé une passion pour l'analytique. Il lui est donc venu naturellement ce désir de faire carrière dans le marketing digital. Elle a donc décidé de passer certaines certifications dans ce domaine avant de rejoindre Semetis.
Durant son temps libre, elle aime rester très occupée en pratiquant, par exemple, du yoga ou en lisant des livres. Elle aime peindre à la peinture à l'eau et cuisiner des recettes italiennes. Elle organise souvent des « movie nights » avec ses amis et a récemment appris à faire son propre lait aux amandes. Son prochain challenge est d'apprendre à jouer à la basse.
| LinkedIn
Cette adresse e-mail est protégée contre les robots spammeurs. Vous devez activer le JavaScript pour la visualiser.