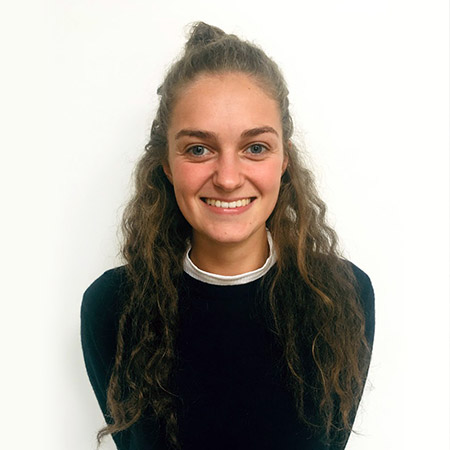 Louise is sinds oktober 2020 eBusiness Analyst bij Semetis. Tijdens haar Master in International Business aan de Louvain School of Management volgde ze een cursus van digitale marketing en behaalde ze het Google Atelier Certificaat dat haar nieuwsgierigheid voor dit domein ontwikkelde. Ze wil nu haar kennis en expertise bij Semetis versterken.
Naast haar grote interesse in digitale marketing, heeft Louise ook verschillende interculturele ervaringen opgedaan. Haar wens om de wereld te verkennen begon tijdens haar studie aan ICHEC Brussels Management, waar ze deelnam aan een vrijwilligerservaring in India en vijf maanden studeerde in Madrid. Haar culturele nieuwsgierigheid groeide sindsdien en werd versterkt tijdens haar Master aan LSM met een uitwisselingsprogramma in Toronto en een stage in Buenos Aires. Deze internationale ervaringen versterkte haar taalvaardigheid in het Engels en Spaans en maakten haar open-minded.
Naast haar academische en internationale achtergrond draagt ze ook bij aan sociale projecten. Ze was 15 jaar lang lid van de Scouts, waarbij ze toen aan het hoofd stond van 45 jongeren. Momenteel maakt ze deel uit van het Fonds Ngangi waar ze samen met 7 andere mensen de Ngangi Summer School in Congo leidt, een drie weken durende opleiding voor toekomstige studenten.
Tenslotte brengt ze het grootste deel van haar vrije tijd door met haar vrienden en familie. Samen ontdekken ze nieuwe activiteiten om in Brussel en haar omgeving te doen, of vertrekken ze naar een andere plaats voor het weekend. Als lid van de BBFL (Belgian Bright Football League) houdt Louise van teamsporten, maar ze houdt ook van dansen. Sport en quality time zijn inderdaad elementen die ze erg koestert.
| LinkedIn
Dit E-mail adres wordt beschermd tegen spambots. U moet JavaScript geactiveerd hebben om het te kunnen zien.