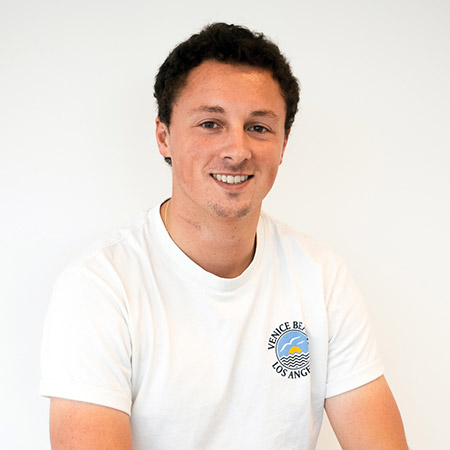 Maxime is momenteel een Junior Software & Data Engineer bij Semetis. Hij vervoegde Semetis in juli 2021. Zijn interesse in de wereld van de data ontwikkelde zich tijdens zijn internship en zijn thesis bij Semetis. De eerste bestond uit het herbouwen van een verouderde website. Het tweede, zijn thesis: "Analyse en constructie van een backend API voor een SaaS-applicatie"; heeft hem volledig ondergedompeld in de wereld van data.
Maxime begon zijn studenten carrière aan de Koninklijke Militaire School om zijn droom, piloot worden, na te jagen. Het jaar daarop schakelde hij over op andere studies. Maar dat jaar was niet voor niets, want het heeft hem zelfdiscipline en goede teamvaardigheden bijgebracht.
Vervolgens studeerde hij in juni 2021 af als industrieel ingenieur in de computerwetenschappen. Tijdens zijn studiejaren leerde hij heel wat programmeertalen, maar vooral verwierf hij een gestructureerde manier van werken. Hierdoor kon hij ambitieuze projecten uitvoeren, zowel voor de school, Semetis als voor persoonlijke projecten. Zijn beste wapens zijn zeker zijn vaardigheden in Python en zijn ingenieurs geest.
In zijn vrije tijd, houdt Maxime van sporten. Zeer actief in hockey, speler, coach, trainer en scheidsrechter. Hij speelt voor Royal Ombrage H.C. en is scheidsrechter in de eredivisie. In 2018 kreeg hij de prijs "Rising Umpire of the Year". Hij heeft ook een passie voor golf ontdekt, waardoor hij lange wandelingen kan combineren met sport. Af en toe speelt hij ook graag een partijtje tennis of padel, gaat hij naar de fitness of op de fiets om in vorm te blijven. De rest van de tijd brengt hij graag tijd door met vrienden en familie.
| LinkedIn
Dit E-mail adres wordt beschermd tegen spambots. U moet JavaScript geactiveerd hebben om het te kunnen zien.