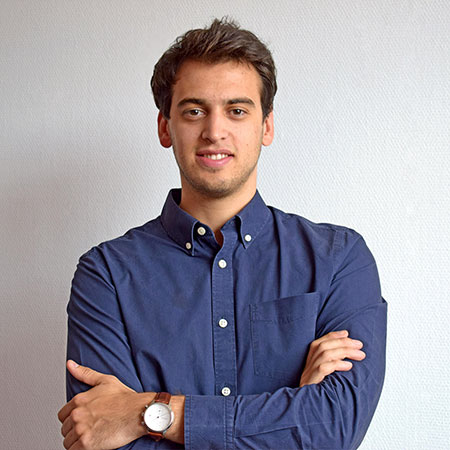 Maxime Vandenbussche is Senior eBusiness Consultant bij Semetis. Hij verwierf een ruime ervaring in het beheren van complexe digitale multi-channel en multi-device campagnes voor Semetis klanten in de retail, eCommerce en telco sectors. Hij heeft momenteel de leiding over belangrijke klanten binnen de retail en eCommerce sectors. Hij is verantwoordelijk voor hun digitale strategie en coördineert de uitvoering van hun online campagnes. Of de digitale strategiën nu Google Search, Remarketing, Display, Doubleclick, YouTube-video's, Facebook of LinkedIn advertenties bevatten, hij verzekert steeds een ideale mediamix om de doelstellingen van zijn klanten en hun KPI's te overstijgen.
Hij behaalde in 2013 met Grote Onderscheiding een masterdiploma in China Business Development studies aan de Vrije Universiteit van Brussel (VUB) . Hij behaalde ook in 2012 zijn master in Business Administration aan de Hogeschool-Universiteit Brussel (HUB). Maxime combineerde deze studies met een Erasmus in Madrid waar hij studeerde aan de CEU San Pablo Universiteit.
Als onderdeel van zijn masterdiploma, voltooide Maxime een stage bij Flanders Investment and Trade Shanghai. Een van zijn kerntaken was om Vlaamse en Chinese bedrijven te ondersteunen op vlak van zakelijke kwesties. Hij voltooide ook marktonderzoeken en nam deel aan evenementen en beurzen. Tijdens deze stage heeft Maxime meer geleerd over de de Chinese manier van zakendoen en vooral over de Chinese economie. Tijdens de samenwerking met het bedrijf 'Alibaba' - de Chinese equivalent van eBay of Amazon – werd hij snel bewust van de mogelijkheden van e-commerce en eMarketing. Deze ervaring was een eye-opener voor Maxime. Dit verrijkte meteen zijn interesse voor de internet –sector. Vastbesloten om zich verder te verdiepen in deze wereld sluit hij zich nu aan bij Semetis.
Maxime spreekt vloeiend Nederlands , Engels , Frans en Spaans.
Hij ontwikkelde een grote passie voor voetbal tijdens zijn Erasmus- jaar in Madrid. Sindsdien, mist hij zelden een voetbalmatch van Real Madrid . Tijdens zijn vrije tijd perfectioneert hij ook zijn golfswing, reist, ontdekt graag nieuwe culturen en speelt muziek van Jimi Hendrix op zijn gitaar.
| LinkedIn
Dit E-mail adres wordt beschermd tegen spambots. U moet JavaScript geactiveerd hebben om het te kunnen zien.