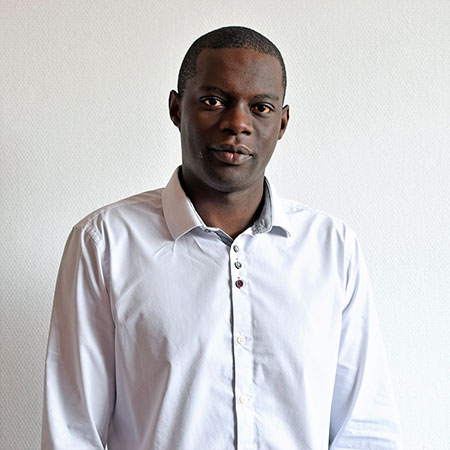 Mugenzi Placide is momenteel eBusiness Consultant bij Semetis.
In 2016 behaalde hij zijn Masterdiploma in Management Sciences aan de Solvay Brussels School of Economics and Management. Hij is begonnen aan de universiteit met een Bachelor in Economische Wetenschappen die bestaat uit een minor in analyse.
Door te kiezen voor een Master in Management Sciences, wou hij zijn analytische achtergrond linken aan zijn passie voor marketing. Hij heeft tevens op erasmus gestudeerd aan de Jonkoping Universiteit in Zweden. Daar heeft hij het enthousiasme gecreëerd om zijn kennis te verbreden in functie van technologie en meer bepaald, digitale marketing.
Zijn bereidheid om zijn vaardigheden uit te breiden in kwantitatieve marketing, heeft ervoor gezorgd dat hij de Solvay Student Marketing Club heeft opgericht. Zijn betrokkenheid in deze studentenvereniging, bevestigt zijn intenties om een carrière te starten in web analytics en digital marketing. Hij kwam tot het besluit dat het vermogen om de klant te begrijpen, meer en meer een cruciale rol speelt, gegeven hoe de digitalisatie trend van ons dagelijks leven het klantengedrag beïnvloedt. Dit statement verhoogt alleen maar zijn motivatie om bredere kennis te vergaren, om daaruit met behulp van data, nuttige inzichten te verkrijgen, wat leidt tot meer waarde. Daarom was het dan ook voor hem een logische stap om e-commerce business Analyst te worden bij Semetis.
Gedurende zijn jaren als eBusiness Analyst werkte Placide op een gediversifieerde klantenportfolio waaronder nieuwszenders, verzekeringen, bank, FMCG, reizen en vastgoed. Hij deed waardevolle ervaring op binnen Digital Business Intelligence (Web Analytics, Tag Management Systemen, Dashboarding, SEO, ASO) en Digital Advertising (SEA, Programmatic, Social). Vandaag, als eBusiness Consultant, richt hij zich meer op zijn huidige klantgerichte rol en investeert hij in de strategische aspecten van zijn klanten.
Placide is ook betrokken bij het Digital Advertising team binnen Semetis, dat het hele Semetis team helpt om verschillende vaardigheden te ontwikkelen en daarnaast algemene kennis verspreid over de verschillende teams.
In zijn vrije tijd, is één van zijn passies muziek. Maar ook Basketbal, waardoor hij twee jaar coach is geweest van het ULB basketbalteam. Hij geniet er natuurlijk ook van om tijd door te brengen met zijn familie en vrienden.
| LinkedIn
Dit E-mail adres wordt beschermd tegen spambots. U moet JavaScript geactiveerd hebben om het te kunnen zien.