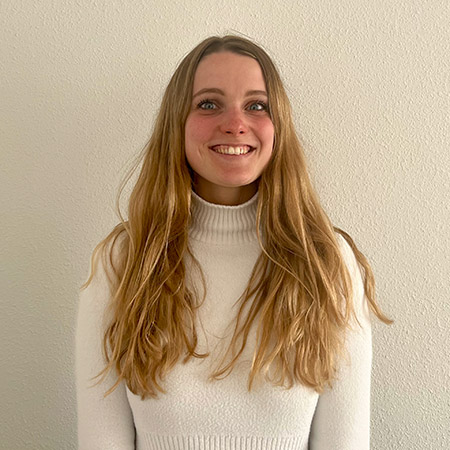 Diane vervoegde Semetis als Digital Business Analyst in februari 2022, na het behalen van een bachelor in Business Engineering aan de Solvay Brussels Schools of Economics and Management en het voltooien van een master in Business Engineering met een major in Marketing aan de Solvay Brussels Schools of Economics and Management.
De waarde van het welzijn van de stakeholders, het bewustzijn en respect van de toekomstige generaties en de verantwoordelijkheid voor de uitdagingen op sociaal en milieuvlak zijn voor haar zinvol. Haar masterproef had dan ook tot doel de praktijken inzake maatschappelijk verantwoord ondernemen van conglomeraten en onafhankelijke merken te analyseren; een onderwerp dat haar vandaag nauw aan het hart ligt.
Tijdens haar Erasmusverblijf aan de Bocconi-universiteit in Milaan kreeg ze de kans om deel te nemen aan boeiende marketing- en consultingcursussen die haar echt hebben gestimuleerd. Diane kreeg ook de kans om een stage uit te voeren in een toonaangevend Frans bedrijf voor persoonlijke verzorging. Tijdens haar zes maanden durende stage heeft zij theorie en praktijk kunnen combineren en haar belangstelling voor marketing kunnen versterken.
In overeenstemming met haar academische achtergrond was haar uiteindelijke professionele doelstelling om haar vaardigheden in marketing en consulting te blijven oefenen en verbeteren. Ze beschouwde Semetis, de Belgische marktleider in Digital Advertising & Digital Business Intelligence, als de juiste werkplek voor haar. Ze houdt er immers van om details te analyseren en overzicht te hebben om kwaliteitsvol advies te kunnen geven op basis van solide analytische en kwantitatieve vaardigheden.
Deze interesses en voorkeuren leidden haar dus op natuurlijke wijze naar Semetis.
In haar vrije tijd cultiveert Diane graag haar creativiteit en nieuwsgierigheid. Ze houdt vooral van shows, concerten, danslessen en quality time met vrienden en familie. Ze houdt er ook van om te reizen en uit haar comfortzone te stappen, nieuwe mensen te ontmoeten en nieuwe horizonten te verkennen.
| LinkedIn
Dit E-mail adres wordt beschermd tegen spambots. U moet JavaScript geactiveerd hebben om het te kunnen zien.