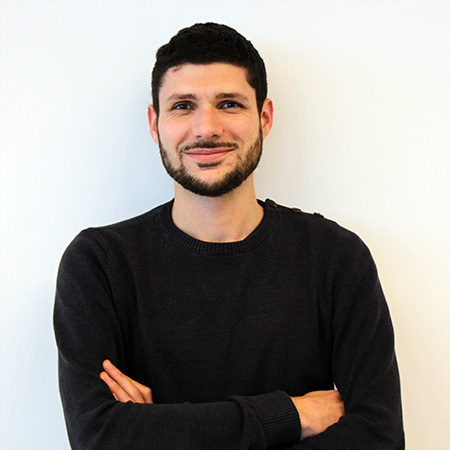 Eliot is momenteel Business Manager bij Semetis.
Hij kwam bij Semetis als Digital Business Analyst om meer over de digitale wereld te ontdekken. Met een brede klantenportefeuille ontwikkelde hij zijn Digital Advertising en Business Intelligence kennis tijdens enkele jaren. Hij evolueerde dan snel naar een Consultant en Senior positie waar hij zijn kennis verder consolideerde en klantenteams leidde. Nu stuurt hij als Manager één van de vijf Semetis-teams en zorgt hij ervoor dat zowel zijn teamleden als zijn klanten hun volledige potentieel bereiken.
Eliot is uiterst empathisch en een zeer sterke teamspeler. Hij heeft uitgebreide ervaring opgedaan in het werken met Belgische en internationale klanten, actief in verschillende industrieën zoals retail, e-commerce, fashion, financiële diensten en B2B. De combinatie van zijn brede industriekennis en zijn diepgaande mensenkennis stelt hem in staat om altijd de juiste digitale strategische oplossing te vinden voor elke business uitdaging. Eliot maakt ook deel uit van het Digital Business Intelligence team omdat hij graag de business impact van de technologische evolutie begrijpt en uitlegt aan zijn collega's en klanten.
Voor Semetis behaalde Eliot met grote onderscheiding zijn diploma Handelsingenieur aan de Solvay Brussels School of Economics and Management. Hij had ook de kans om een semester in het buitenland te studeren aan HEC Montréal, waardoor hij cultureel bewuster werd en zich verder kon verdiepen in digitale marketing.
Eliot spreekt vloeiend Frans, Nederlands en Engels. Hij woont in Brussel en is een echte liefhebber van zijn geboortestad. Ondanks zijn grote liefde voor Brussel, heeft hij drie maanden lang in Zuidoost-Azië rondgetrokken en reist hij elke keer als hij de kans krijgt. Daarnaast is hij een groot ski- en muziekliefhebber, een onvoorwaardelijke foodie en een echte koffie-geek. Hij waardeert ook kunst; naar het theater of de nieuwste tentoonstelling gaan is altijd een waar genoegen voor hem.
| LinkedIn
Dit E-mail adres wordt beschermd tegen spambots. U moet JavaScript geactiveerd hebben om het te kunnen zien.