Remarketing with Google is getting better and better. In the past year we have evolved from a simple pixel remarketing system, with the AdWords remarketing tag, to a complex audience-based remarketing system with Google Analytics.
The strength and precision offered by Google Analytics is incredible. It is possible to - anonymously - segment and target individuals who have shown a very specific behavior on a website. A digital marketer can for example create a remarketing audience based on users who have spent more than five minutes on the site, who have seen a specific product, who have engaged with the conversion funnel, and who use the latest version of Mac OS.
Needless to say that this is powerful stuff. But the possibilities are endless, so how to identify the audiences that best work for you and your business?
Google's engineers want to help you out with this task, so they have created the "Smart List". When they first came out, Smart Lists were tagged as 'let Google manage your audience for you'. Basically, the Smart Lists use a special algorithm that identifies the most valuable visitors based on a great variety of signals (most available Analytics data).
Are Google Analytics Smart Lists for me?
Smart lists will identify the top percentiles of your website's visitors in relation to transactions. This means that you need both a significant volume of pageviews and ecommerce transactions. Otherwise, Google may use conversion data from sites similar to yours in order to identify the qualitative audience. More information about this on Google's official ressources about Smart Lists. From our experience, Smart Lists are less performant for websites that don't have ecommerce transactions.
Google Analytics Smart Lists: implementation guide
In your Admin panel, you will find the Remarketing Audiences at the property level, under Remarketing.

Click on New Audience in order to begin the remarketing audience setup process. The following step is the linking with a Google AdWords account, from which the remarketing campaigns will be launched and managed.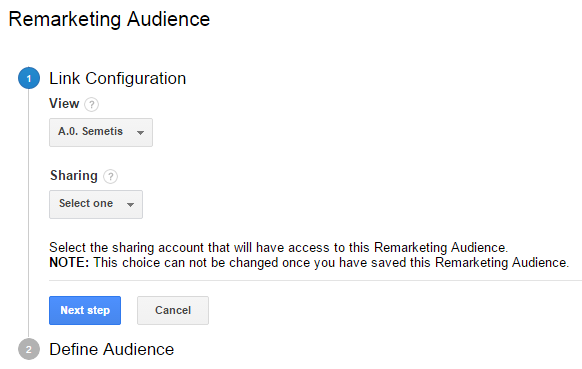 The Smart List option is right there, at the top of the list of pre-set recommended audiences.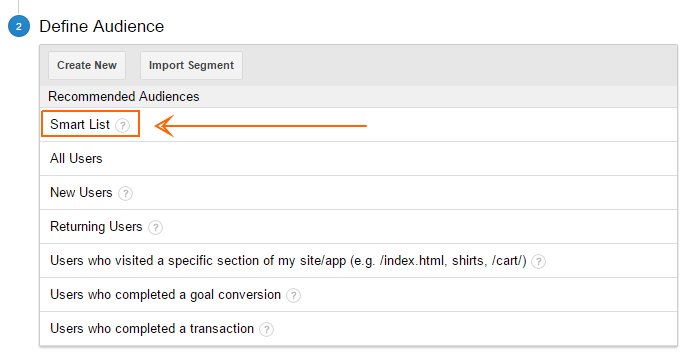 All that is left to do is to select the cookie duration, and to name your audience in a way that will make it easily identifiable in your AdWords interface.
You should be able to preview a size estimate of your audience in real time.

Click save, and that's it ! You will be able to access the newly created audience directly in the targeting settings of your AdWords campaign.
We recommend creating a separate ad group per Smart List audience, especially when trying out several cookie durations.
Smart Lists can be a great tool for digital marketers, and this is pretty much a 'zero risk' operation. So why not trying it out?
written by Julien Cornet
Tags: