My colleague Stephane has recently asked me to write an article about the new advertising formats on Google and the evolution of Search Marketing. Indeed, having worked for over 7 years in the industry, I am sometimes considered by some as 'old'. Also, having participated in the opening of the Google office in Belgium, there are a couple of unique stories of early Google years that come to mind.
For example, an advertiser who in 2007 refused to invest in Google AdWords because we did not allow him to display his flash banner on the homepage Google.be. Or another advertiser in 2008, who was desperate to invest in the future invention of Google, claiming to be tired of 'search', and seeing it as an ephemeral trend.
Despite the strong growth and proven performance in search marketing, many experts still show a distrust vis-à-vis this channel. Despite that, Search Marketing is at its peak with continuous evolutions in many areas such as integration of Google technology platforms, more precise targeting, more segmentation possible and simplified technical implementations. In particular, in recent years, the evolution in advertising formats on the Google search engine was amazing, from simple text links to images and structured data. The first to introduce this type of format was BING, the search engine of Microsoft. But the evolution of the Internet, its complexity through different channels and devices, led Google to quickly exceed BING in the field. Indeed, the willingness of the Internet giant is to follow the user through the many devices he uses and to offer him the best information adapted to his situation both the organic and paid listings.
In terms of SEO, Google is developing the display of useful information on the results page. It is the integration of structured databases on the search engine Google what some call the "rich snippets" data.

Moreover, paid search follows the same trend as the ad extensions are currently considered as one of the top priorities of Google. What is it? The ad extensions contain information, links, features or images for the advertiser to enhance its classic ad on Google search engine. You have probably already been exposed to it. For example, when you are looking for a plane ticket for your next trip, you can find additional information directly on all available flights without having to click away. Another example, when searching you look for a product on Google, you will find a range of products with images bringing you directly to the correct product page of the eCommerce website in question.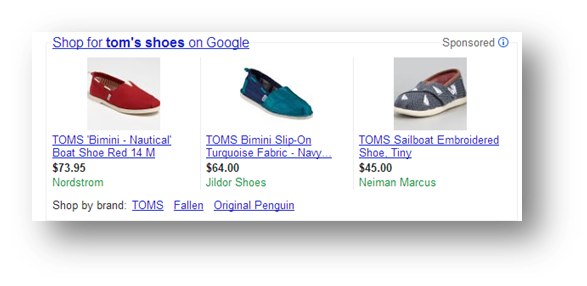 The frequent usage of ad extensions within Google leads directly to an increase in the visibility of the "paid" part and especially advertisers who actively use these features. This increase in visibility of the "paid" part of Google clearly explains the decrease in the "organic" part of Google, a real challenge for the SEO discipline. For example, a Semetis eCommerce client generates only 7% of the clicks on the organic part against 93% on the paid part of Google Shopping. In addition, Google has removed the free/organic part of this type of ad extension, which is still not available in Belgium.
Nevertheless, the ability to use these advanced formats on Google is in my opinion a significant opportunity for advertisers. First of all, the ad extensions allow to significantly increase the visibility of advertisers on the Google results page leading to an increase in click through rate and indirectly to an improvement of quality score. One of Semetis French eCommerce clients achieved an increase of 35% of its click through rate thanks to the Google Shopping and the user reviews ad extensions.
The ad extensions are multiple:
Web links ("Sitelinks") which in my opinion should be used by all advertisers.

Social links that should be used by all advertisers and are automatically linked when a Google+ strategy is implemented.

Geographical links that should be used by all advertisers with physical points of sale.

Offer extensions that should be used by retailers to promote a "voucher" in-store.

Google Shopping & user reviews links. This is not yet available in Belgium. It is a major element for any eCommerce advertisers allowing him to display image of the desired products or promotion in Google search results.

Click-to-Call and Click-to-Chat links. It allows users to connect directly with the call center of the advertiser in question and increasing customer satisfaction, and indirectly its conversion rate satisfaction.

Image extension. It is quite new in Belgium. It allows advertisers to do image/branding on search engines.
It is also important to note that in July 2013 Google transferred all active Google AdWords campaigns to the "enhanced campaigns." This is a major development of Google AdWords platforms allowing advertisers to better target users according to the device they are using (PC, Tablet, Smartphone ...). The ad extensions are even more developed and advertisers can now segment the advertising message to different users depending on the device and use. In addition, reporting is adapted according to users across all channels & devices.
Working on Search Optimization or Advertising is becoming more complex and the need to work with professionals becomes apparent. Indeed, implementations require extensive technical expertise. But beyond that, it is the dynamism and quality monitoring of campaigns that prevail. Search Marketing is constantly evolving to better integrate in the wider field of digital marketing. Its dynamism and growth allow professionals to constantly find new niches for growth and performance for advertisers, according to their goals and priorities.
written by Gabriel Goldberg
Tags: