Belonging to Microsoft, Bing Search Engine is installed by default on PCs. This is one of the reasons why it is still being used every day by lots of people.
With a market share of less than 2% in Belgium and more than 5% in France (2,7% for Yahoo and 2,6%) the Yahoo!Bing network represents the second most important network in both countries, far behind Google. In the US, Bing has a market share of 18%. So Bing market share varies from market to market. Therefore, Advertising on Bing might represent an opportunity. As a result, we will examine the pros and cons of Bing Ads compared to Google AdWords and determine whether you should consider Bing advertising.
Interface
Overall, the two interfaces are quite similar. Bing Ads interface is more design but slower than the interface of Google AdWords. Both platforms offer an "Editor" tool (similar) allowing advertisers to make offline changes at scale.
Bing Ads Interface

Google AdWords Interface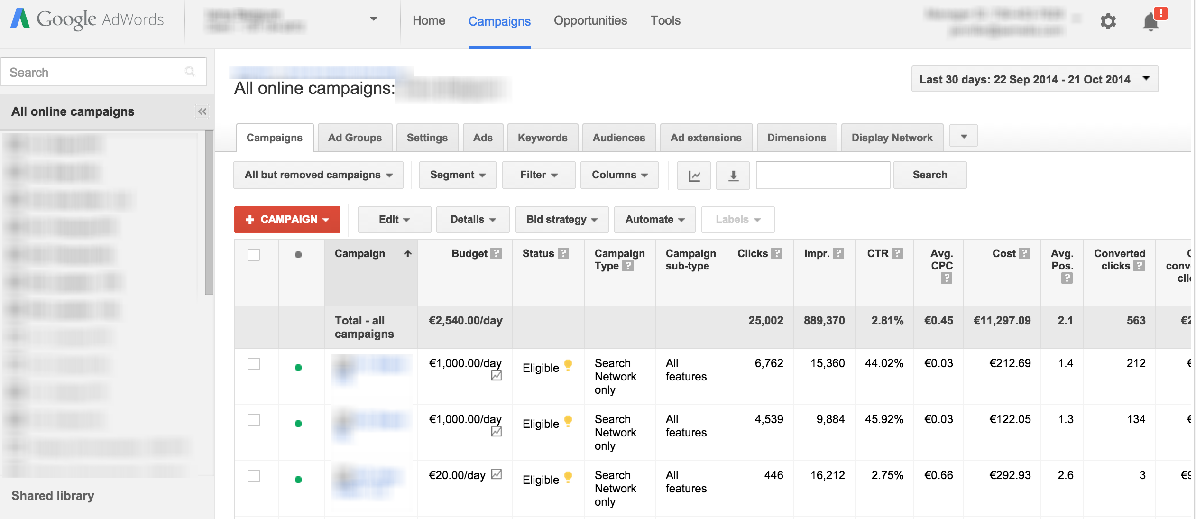 Cons of Bing compared to AdWords
Lower Click-through rate
According to comScore, ads showing on Google generally get higher click-through rate than the ones showing on Bing.
Negative keywords
Unlike Google, Bing Ads does not allow you to use broad match negative keywords. Concretely, this means that when you add a negative keyword in Bing Ads it won't be treated as in Google AdWords. The keyword will be treated automatically as a broad match (unless you add the exact or phrase match symbols) in Google AdWords, while in Bing Ads it will be treated as an exact match. For example, if you add the negative keyword "tulip" in Google AdWords, your ads will not show for the following search terms: "red tulip", "tulip for home", "red flower", etc. However, if you add this same negative keyword in Bing Ads, your ads will not show for the search term "tulip" but will show for search terms such "red flower" and "tulip for home". Therefore, when you add negative keywords in Bing Ads, make sure to add synonyms and variations.
Ad extensions
AdWords offer lots of extensions to its users such as app extensions, call extensions, location extensions, call out extensions, review extensions, etc. Bing Ads offers yet only some extensions compared to Google AdWords (call extensions, location extensions, sitelinks).
Geographical presence
While Google AdWords is available in almost all countries, Bing Ads is currently available in approximately 20 countries. As an example, Bing Ads is not yet available in Belgium.
Pros of Bing Ads compared to Google AdWords
Description length in ads
In Google AdWords, you have to write your ads in two lines (35 characters each) while in Bing Ads you can write it in one unique line (71 characters). It is not a big difference but it is easier to write your copy as you don't have to split your text in two parts.
Daily and monthly budget
Bing Ads offer its users the possibility to set daily or monthly budget for their campaigns while in AdWords you can only set daily budget.
Yahoo!Bing network
Thanks to the Yahoo!Bing network, Bing Ads allow you to reach 516 millions of users worldwide. When you create an ad in Bing Ads, it will automatically be displayed on both Yahoo! and Bing (two search engines at once). Furthermore, as from December 2014, Mozilla will automatically change the default search engine in Firefox from Google to Yahoo for US users. This might positively impact the reach of your Bing Ads campaigns.
Lower average cost per click
According to an infographic of the Search Engine Journal,[1] average cost per click is 10% to 24% lower on the Yahoo!Bing Network than on Google AdWords, depending on the category. This is mainly due to the fact that there are less actors on Bing Ads than on Google AdWords. Competition is approximately 56% higher on Google AdWords
To conclude, even though Google will remain the leading search engine for your SEA campaigns, Bing can be considered for extra volume. Indeed, thanks to the Yahoo! Bing network, Bing Ads allows you to have a complementary reach at lower cost per click than on Google AdWords. Moreover, the Bing Ads interface enables you to directly import your AdWords campaigns, which will ease the set up. Nevertheless, the options on Bing Ads and its geographical presence stay quite limited compared to AdWords. Therefore, we advise you to choose Bing as a complement to your AdWords campaigns only in market where volumes are worth it. Finally, make sure you know its particularities to run successful campaigns.
[1]
http://www.searchenginejournal.com/stop-treating-yahoo-bing-network-like-red-headed-stepchild-infographic/86659/
written by Jennifer Hubert
Tags: