"Facebook puts officially everyone on notice about the death of the organic reach"
It's time to embrace Facebook for what it is!
Facebook Big Business:
$38, $18, $80. From the first quotation on the IPO day in May 2012, to its lowest three months later, to its highest so far in October 2014, Facebook stock has had a steady growth for the last two years. It did not come by chance. Facebook succeeded to embrace the mobile first vision of its founder and CEO Mark Zuckerberg. Revenue is now following the growing user base and platform's usage. During the latest earnings of Q3 2014, revenue was at $3,2 billion, a 59% YoY jump.
All About Advertising
66% of Q3 revenue came from Mobile and about 93% came from advertising.
Facebook, like Google, is an audience company that is making a living from advertising. In Belgium this audience crosses the bar of 5,5 million. More than 60% of the Belgian connected population visits the platform at least once per month.
The end of Community Management?
At the opposite of all these growing numbers, there is an important decreasing trend. The organic reach is sinking. In June 2014, Facebook puts officially everyone on notice about the death of the organic reach. It confirmed what many Brands had already been confronted to: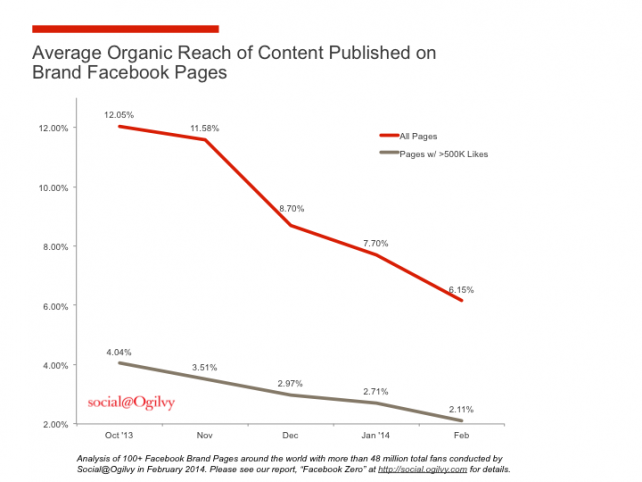 What does it mean for Content Marketing?
That is a big change but certainly not the end, just a very strong deflation of the impact of Community Management (understood as community builder and entertainer). Brands invested huge amount of money, time and resources to build their Facebook community. And now they can barely reach them. Indeed, today, a post by Brand with 100.000 fans for example will be seen, on average, in the feed of 2.000 to 3.000 of them before disappearing!
A parallel with SEO
It forces any Brand to question itself and redefine its communication strategy. How Facebook can still be, or not, a real and free megaphone... Should a brand redirect its content strategy back to its website? Creating content, search engine friendly? Writing articles like this one that will live for months or even for years in search engine results until people stop searching for the article information instead of a few hours for a post lifetime? For instance, in 2009 we, at Semetis, wrote an article about AdWords account limit. More than 5 years later, we still receive about 50 visits per month from search engines directly landing to this article's page.

So what?
Obviously there is no more free lunch on Facebook... But there is still a huge, real, paid opportunity! We are not speaking about buying fans nor "social buzz", we are speaking about Advertising. There are more than 5,5 million Belgians out there! Most of them gave to Facebook exactly their gender, their age, what they like, where they live, studied, work, who are their friends, etc.
Key takeaways:
Facebook organic reach is … not really anymore what it used to be;

Review your content strategy and investment;

Embrace Facebook for what it is: an advertising platform;

Use Facebook formats (PPA, Video, App, etc…), support (Smartphone, Desktop) and other advanced targeting technology (Remarketing, Similar Audiences,...) to target and reach the right person with the right message;

Finally, leverage Facebook ultra qualitative Audience data to achieve your business goals.
written by Nicolas Debray
Tags: