The rise of mobile
Over the past few years we have seen how mobile devices are quickly gaining ground towards being the device of choice for searching the web. They went from barely representing 1% of total web browsing in early 2011 to a staggering 23% in August this year.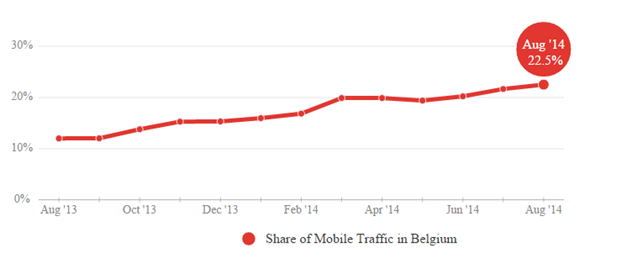 The way people consume information on the web has been evolving dramatically over the past several years. People are increasingly using mobile devices to surf the web, consult information, interact with their environment, and so on. Due to our increasingly connected world, more and more people surf the web 'on-the-go' using their mobile phone or tablet. Consequently, having a mobile strategy and presence has to be (become) a central point in a company's online strategy.
Why creating an app is a good idea
Having a good website (preferably a responsive one) and social presence is a good start, but complementing this with a good mobile presence is becoming ever more important for companies. And what better way to boost your mobile presence is there than serving your customers an app? A standalone application that customers can use to interact with your products and your company. Having a mobile presence and in particular having an app, is a powerful way to connect with and reach out to your potential & existing customers.
What's next? Promotion!
Once companies created their app, they should think about promoting it. This can be done in numerous ways using lots of different channels and platforms; Google AdWords, Twitter, Facebook, LinkedIn, and so on. Some time ago, we already wrote an article on setting-up an app promotion campaign using Google AdWords ("Mobile traffic as a digital marketing leverage", Neda Sekkat, 31/10/2013). We will now go one step further, and highlight some of the dos and don'ts on promoting your app through Google AdWords.
Dos
1. Determine strategy & objective: Before launching an app promotion, you should think about the strategy & objectives for the 'app promotion'. What approach are you going to take; branding or conversion focused? Are you going to target a very broad & large audience or a more segmented and qualitative audience? These are some of the questions need to be answered before starting off, as they have an impact on how you set-up your 'app promotion' campaign.
2. Use different channels: When launching an app promotion it is advisable to take advantage of the wide reach of the Google Network: Google Search, Google Display Network & Google AdMob. From experience, we know that the Google AdMob is a very good channel to drive conversions (app downloads). Focus on the AdMob network, however use the other channels in conjunction for maximum synergy and effectiveness.
3. Determine your audience and its segments: Know what type of people will be interested in using your app and adapt your targeting accordingly. You can target based on interests, affinities, age, gender, etc. These options allow you to target a very broad or a very specific audience. Targeting the right people will drastically increase the performance and cost-effectiveness of your campaign.
4. Bidding strategy: Think about your bidding. We recommend thinking about placing higher bids on subcategories of your audience. i.e.: I want to promote an app for an online shoe retailer. Within my targeting settings, I select that I want to target both men & woman. On top of that I use the bidding options to place higher bids for woman. This ensures that I don't miss out on impressions, clicks, and conversions from men and furthermore that I will be more present with better positions for woman. This can be achieved by playing around with the 'target & bid' and 'bid only' bidding options.
5. Think about the banners: An app promotion with an excellent strategy, with well thought out targeting & bidding settings, but without good banners is bound to fail. Remember that on mobile, the screen is a lot smaller vs. tablet & computer. Make sure that the banners are clear and have a clear CTA.
6. Optimize campaign: Launching an app promotion is one step, the second step is to optimize during its runtime. This will ensure better performances. Some examples:
Keywords: add more qualitative keywords & create a list of negative keywords

F

ilter out placements: Get rid of websites you don't want your ads to appear on (put them on negative list)

Play around with your bidding: Identify app categories, placements,… that have good performances and adapt your bidding accordingly.
7. Evaluate the results & think about the next steps: Was it a successful promotion? How many conversions did you receive for what investment? Did you reach out to the right audience? Has the app activity gone up since the promotion? It is advised to follow-up on the app activity before and after the app promotion.
The Don'ts
The most important don'ts are constituted by doing the exact opposite of the aforementioned dos. However, here are some important ones:
1. Don't just mass promote your app: Don't target the wrong audience, since that is essentially throwing your money down the drain.
2. Not a one-time effort: When you finish your campaign, you should follow-up on the results and think about your next steps. Simply shutting down the campaign and moving on is not a good idea.
3. Non-customized banners: Promoting your application via banners on mobile devices asks for custom created banners due to the smaller screens. Don't just re-use banners from a desktop campaign. Create banners with an adapted visual & call-to-action.
Conclusion
To conclude, we can see that Google AdWords is a very good channel to promote your Mobile application. It offers a lot of options and above all a huge audience. However, you should also consider other channels in your global app promotion strategy such as social media and so on. The key is to target a qualitative audience with a qualitative message. A goal that can be certainly attained through the use of a platform such as Google AdWords.
écrit par Maxime Vandenbussche
Tags: