PRESS RELEASE - Brussels, 31 July 2015 - Digital Advertising & Business Intelligence Agency Semetis today announced being awarded Google Tag Manager Company Certification.
With this certification, Semetis strengthens its partnership with Google and becomes Google Tag Manager Certified Partner in Belgium, and one of the very first certified agencies worldwide. Semetis successfully passed the rigorous technical exam and impressed Google with its current clients Google Tag Manager implementations.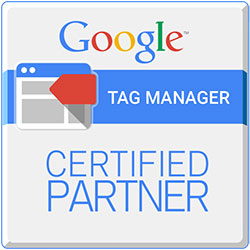 "We are thrilled to extend our certifications and to have Google validate our expertise beyond our Google Analytics Premium & Partner certifications. More than ever we are a data agency, committed to our clients by delivering best in class services. We will continue to connect all the data points from our clients leveraging these in concrete insights and using these for all on-going digital marketing initiatives.", says Nicolas Debray, Semetis Managing Director
Why Google Tag Manager is key in your online strategy?
Google Tag Manager is a free tool that consolidates your website tags with a single snippet of code and makes it easy to manage tags -including analytics, conversion tracking, remarketing, & more- from a web interface. You can add and update tags with just a few clicks, without rewriting site code.
Google Tag Manager is a powerful tool that requires expertise to set-up, and advanced know-how to manage.
Powerful and agile. When you see a new opportunity, act fast by launching fresh tags in minutes. No need to wait for monthly code updates — with Google Tag Manager, you're in charge of your marketing.
Dependable data. Google technology collects detailed, precise data from across your domains for stronger campaigns and smarter decisions. The powerful debugging tool confirms that every tag is working, so you'll have the data you need, when you need it.
Totally reliable. You'll like the easy interface, while your IT and webmaster teams will appreciate Google Tag Manager's enterprise-class engineering. Change tags all you want: Google Tag Manager is built on secure and reliable Google-grade infrastructure.
About Semetis
Established in 2009 with a focus on search and web analytics, Semetis has become the Belgian market leader in optimizing digital advertising campaigns (search, branding, real-time-bidding, programmatic buying, mobile, social, local, remarketing), with the help of web analytics, digital business intelligence and tailor-made technologies. Semetis is a certified partner for Google Adwords, Analytics, GTM and is one of only 100 agencies worldwide certified for Google Analytics Premium. Furthermore Semetis is fully accredited by Doubleclick, Facebook, MarinSoftware and Microsoft BING.
Tags: