Gmail Ads (formerly known as Google Sponsored Promotions) has been launched by Google a few years ago. Back in the days some of my colleagues gave you a really complete introduction about this exciting format. However my objective today is to convince you to make a good and efficient use of this format by deep-diving in its main functionalities (targeting and creative options) and advantages.
1. Gmail is popular and mobile-first
First and foremost users are on Gmail. Globally there is 1 billion users. In Belgium based on our clients' databases we notice a penetration rate between 30 and 50%. There is therefore a high probability that your clients and/or prospects are active on Gmail. Furthermore, as you know, mobile is booming (in Belgium also, see latest trends here) and Gmail is definitely mobile. Indeed, according to Litmus Email Analytics, nearly half of emails are opened on smartphones and tablets: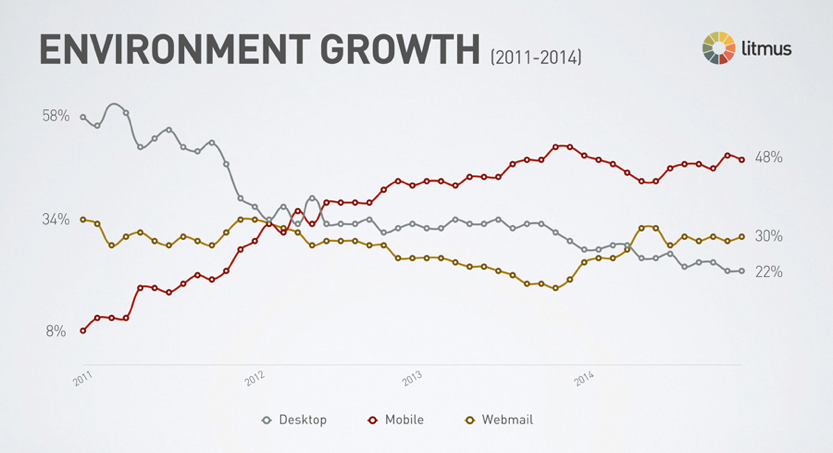 2. Gmail Ads offer high viewability
Besides those figures I'd also like to emphasize the fact that Gmail Ads can give you a good branding impact among your audience. As a reminder here is the process when you run campaigns on Gmail:
Targeted users receive the "collapsed ad" in their inbox
When they click on it the "expanded ad" is shown. If users are interested by the message they can click and will be redirected to the advertiser website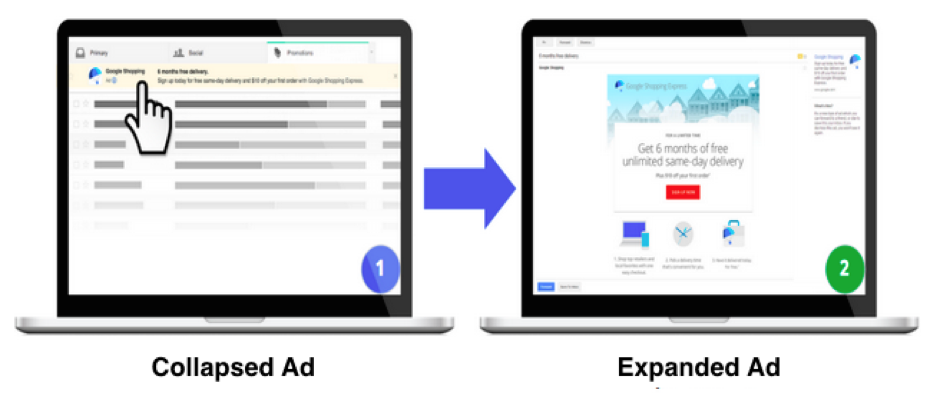 As you see on the above example the viewability of Gmail Ads is really high (close to 100%). People will actually SEE your ad. Branding impact is then guaranteed. In addition to this, even if it's not your main goal, Gmail Ads can generate qualitative clicks. Indeed, as it's a 2-steps process (first click on the collapsed ad and then on the expanded ad), people coming on your website from a Gmail Ads campaign tend to show a really qualitative user behavior and could even generate some leads.
3. Creative options are numerous
This format also offers interesting creative options. It's not only about the single ad image. Depending on your objectives but also on your activity, you will be able to choose between standard image, single promotion template, multi-product template or catalogue template (catalogue can be relevant for many type of advertisers, including Automotive or Retail). And if you don't find what you were looking for you can still go for the custom HTML option.

4. Targeting features
Last but not least one of the main advantages of Gmail Ads is its targeting options. When running campaigns on Gmail you will be able to target users based on the well-known Interest, In-market or Affinity audiences of Google.
But what is interesting here is that Google allows himself (no surprise here) to scan users email content. The contextual targeting takes another turn because it now allows you to target users based on what types of email they receive and especially from whom. This opens a huge new door. Indeed you are now able to target users who are receiving emails or newsletters from your competitors to show them your offer/products/services and try to convince them to churn. Let's take a concrete case: imagine a woman receives an email for a pair of leather shoes from your competitor. Thanks to the contextual targeting you will be able to identify and target her with that specific product (using Gmail single promotion template) or with your whole branch of leather shoes (using Gmail multi-product template).
Another strategy would consist in targeting people at specific "life changing moments" such as a first year at university, a new baby, a house move, etc. Again this will be possible thanks to contextual targeting on Gmail. It can be really relevant for advertisers (among others) active in the service sector (bank and insurance for example). Finally we would like to recommend you to cross the use of Gmail Ads with another recent Gmail-related feature, namely AdWords Customer Match. As explained in a
previous article by my colleague Doriane
, this functionality allows you to target people from your database.
Conclusion
To sum up: Gmail is popular, is mobile, ensures a high viewability, offers multiple creative options and provides interesting and efficient targeting options. Give it a try!
---
Tags: