Twitter advertising has been available since September 2014 in Belgium. Now the platform starts to spark the interest of more and more advertisers. This mostly has to do with the engaging format advertisers can push to potential customers combined with the elaborate targeting capabilities. Twitter supports both image and video formats and has impressive targeting capabilities such as handle-based targeting, custom email based audiences and website tag based remarketing. Throughout this article we'll try to provide step-by-step answers to the most frequently asked questions advertisers have when then want to embark on their advertising journey on Twitter.
#1 - How do I create an account?
First of all you should have a Twitter handle. A Twitter handle is basically the username you use in order to publish tweets. It is preceded by the symbol "@". You can easily create a handle by signing up for Twitter at twitter.com.
Do you have a handle? Great! Now you'll need to create an ad account. In order to do this you'll need to visit ads.twitter.com in order to create an ad account.
#2 - I'm not eligible to participate in the Twitter ads program, why not?
You probably saw the following message:

There are a couple of reasons why your account can be seen as ineligible.
First of all this service might not be available in your country just yet. A full list of countries where Twitter ads are supported can be found here.
A second reason might be that your account is brand new. Twitter wants to ensure that the handles advertising on their platform are actually creating valuable content. Therefore Twitter only allows handles that have a history of creating engaging content. In most cases this takes a few weeks, after which your account will appear to be eligible in the ads interface.
A third reason could be that your account makes use of protected tweets. In that case you'll need to make your tweets public first. No need to say that accounts that are deactivated or suspended don't get the privilege of getting access to the ads platform.
Working with an agency? In that case you might be able to bypass this situation. Most agencies have a direct line with a designated Twitter account manager who could help you enable your ad account capabilities faster.
#3 - How can my agency manage my Twitter ads?
Giving access to your agency happens in 6 simple steps.
Click your handle name in the top right corner
Select "edit access to account" from the dropdown menu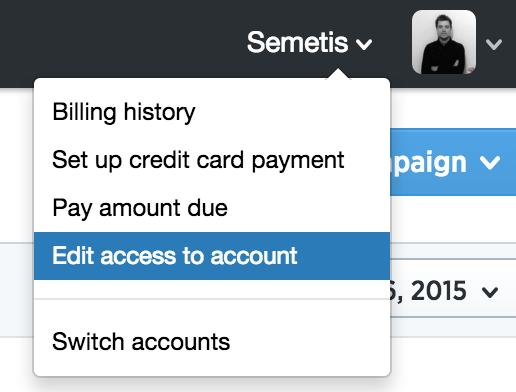 Enter the handle of the user or agency that will manage the ad account.
Give the user or agency the appropriate access level. The following access levels exist:

Account administrator - The handle will receive full control. This includes the possibility to add or remove users.
Ad manager - The handle has the ability to modify campaigns and view data.
Analyst - The handle will only receive access to the Twitter Analytics module but can not see the actual campaigns.
Make sure you don't forget to tick the "Allow user to create new Promoted-only Tweets for use in campaigns" box!

Don't like working with a PO and does your agency happen to own an Agency Credit Line? Ask the agency to link your ad account!
Now that everything is in place you are set to create campaigns and explore the possibilities of Twitter advertising! More questions? Reach out to @Semetis or This email address is being protected from spambots. You need JavaScript enabled to view it..
---
Tags: