Since a couple of months I'm working on an account which has recently been upgraded from a standard Google Analytics account to the Google Analytics Premium level. What's more, it has recently been absorbed by the 360 release Google launched. (You'll find more information in this article, written by my colleague Maxime.)
It seemed like the perfect occasion to make the comparison between the two: is GA Premium really that much bigger/faster/more performant than standard Google Analytics? And moreover, is it worth the investment? I can imagine that during a meeting the following question might come up: "Why should we pay $150.000 per year for a tool which you can already use in it's quite extensive "standard level"?

Hereunder I'll give you a couple of arguments you should consider when discussing the upgrade to Google Analytics Premium.
#1: Don't upgrade unless you have the resources to make it pay off.
What do I mean by this? There is no use in spending that amount on a yearly basis if you don't employ someone (or a team) of people with both the time and knowledge to analyse the available data in depth. From an ROI point of view you need to find quite valuable insights to "defend" the investment. That's only possible if you have both the time and capacities to master your data.
If you only have a limited amount of time (say half an hour per day), it would be like staring at the top of an iceberg and forgetting that the biggest part is still under the water.
To give you some more context, here' another thing to consider: If your online business (albeit e-commerce or lead-generation) generates a yearly value of 5 million euro, then you would earn back the investment if you can increase your revenue by at least 2%. If your online business is under a million on a yearly basis, you would already need to increase your business by a much bigger number…
#2: 'The sky is the limit' with GA Premium in comparison to Google Analytics
GA Premium scores a little (or sometimes a whole lot) better on almost every metric than the standard Google Analytics package. Hereunder you'll find a small overview of what this means: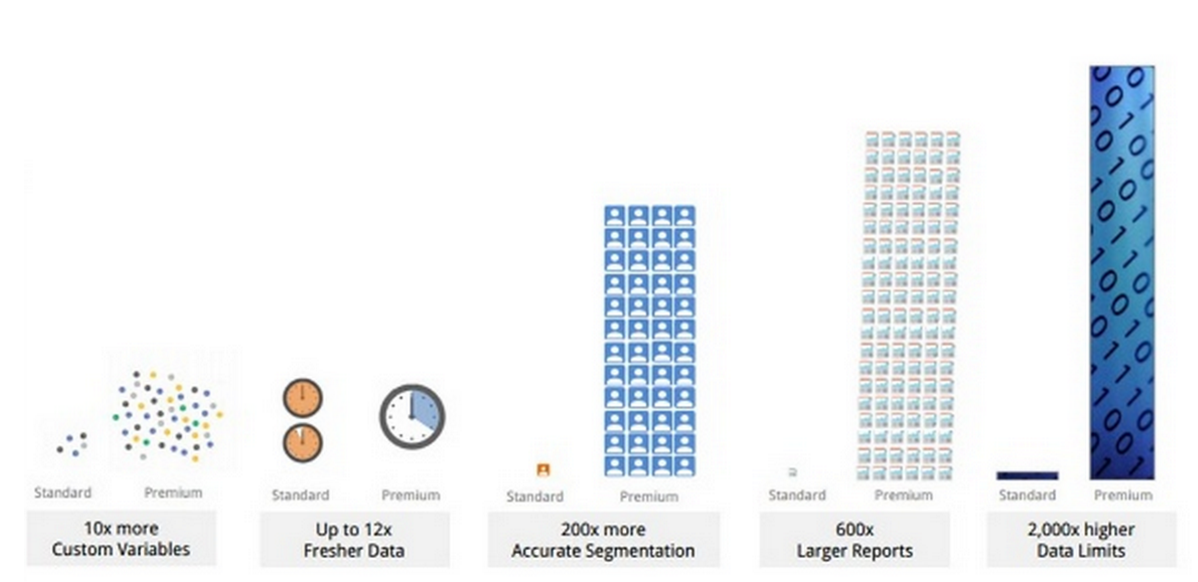 So why are these elements important? Let's take a look at the 'data freshness'. In GA Premium your data is 4 hours old at the most (vs. 24-48h for standard GA) while we see in reality it's more like 1 to to 2 hours. This is a major advantage for bigger web- and ecommerce-sites who want to track their traffic and revenue metrics from very closeby. This data freshness can be very important for by example content sites who want to place their most popular articles in the spotlight to give them a prominent place on the homepage.
Another interesting element is that you get sampled data in the standard GA version. This might be a tripping point if you need the accuracy of pure data. Again I would like to refer to ecommerce-websites for whom accuracy of sales data is essential.
#3: You want to integrate Google Analytics with Google-platforms as DoubleClick
If you use Google Analytics and you're also active in SEA via Google AdWords, you've probably linked your GA-account to your AW-account. In the standard version of Google Analytics you can not do the same with the DoubleClick products.
If you upgrade, you get an extra set of reports (similar to the AdWords-reports) in the "Acquisition" section. What's more, you can also make remarketing lists in GA to use afterwards in DBM (or other products like DCM or DS).
#4: GA Premium also offers a Service Level Agreement (SLA).
Some bigger companies prefer software which offers an extra package of service and support you will receive. You can consider an SLA like a "service-contract". This is not included in the standard version. So what do can you expect from this SLA? Well, Google will guarantee you an uptime of 99% for reporting and data gathering while the processing time will be under 4 hours in 98% of the cases.
What's more, you receive extra support should you have any problems during the set-up, you get a dedicated account manager and Google will provide you with specific training programs to enable you to get the best possible insights from the available data. There is also a round the clock, 7 days a week support service available you can contact through mail or phone should any emergency occur.
Conclusion
To get back to the original question "Should I upgrade to GA Premium?", I can tell you that the answer is not totally straight-forward. If your online business is rather limited, you don't really need that data freshness or if you're not using DoubleClick, you'll have more than enough with the standard GA version. On the other hand, if you have a dedicated team of analysts at your disposal and the core of your business is online, I would advise to at least consider the upgrade.
Tags: