Having a promotion, event or announcement as an advertiser, you get your message out by inserting this in your existing ad texts, updating website content or getting social. When you have frequently promotions or events, this all implies changing your ad texts manually and/or taking into account SEO indexing. Next to this, just event or announcement communication in ad texts can also influence the performances within the account as people do not see relevant messages, reflecting in lower CTR.
So, how nice would it be that when people are looking for you via Google you can also inform them with daily events, promotions or just a cool FYI post combined with visuals next to or in combination with the regular paid or organic SERP? Well, recently Google released a feature in Google My Business to create posts about these events.
What are Google Posts and how does it look in the organic SERP?
The definition of Google itself is 'up-to-date posts from verified people, places or things, directly in the search results' and they are not wrong.
Google Posts is a new feature that makes it possible to create content, coming from the primary source, that appears directly in the highly ranked organic results on Google Search, Maps and the Knowledge graph. This means that of course you should have great SEO in place before benefiting from this amazing feature.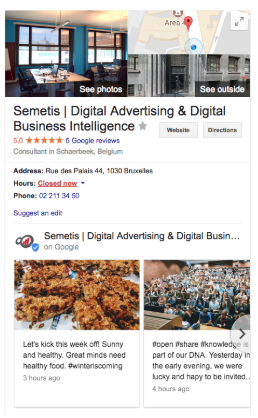 Creating Google Posts and tips to succeed
First of all, Google Posts are created in within the according Google My Business account of the advertiser. When logged in the GMB account, it is pretty straight-forward how to create the post itself but keep in mind several tips:
Whether it is an event, promotion, announcement, make sure you have an inspiring visual that supports the post. In times of Instagram and Facebook, people are very used to good looking visuals that attract the attention in the blink of an eye.
Keep it brief and inspire action by using short headlines and posts with only the necessary information you want to share. The first 100 characters are shown in the Google Post, so make it count and communicate your message according.
People can click on the post, leading to a dedicated landing page. In Google Analytics this will not automatically be sorted as organic traffic. In order to separate the results of the Google Posts you should not forget to implement UTM tags with organic as a medium and GMB as a source for example within the URL.
Posts are shown chronologically in order to always show the most recent post first. This allows people to see the most recent update of the advertiser. Note that the posts are only active for 7 days and the newests post (most up-to-date) will appear first followed by the others. In case you have a longer promotion, you can set-up an event post which takes into account the start and end date that can be longer than 7 days.
Keep people up to date with your business
As mentioned above, Google Posts communicates information coming from the primary source, the advertiser. It allows organisation to provide ad-hoc updates without having to take SEO indexing or SEA ads into account. It opens up personal communication towards users via Google's SERP page in a more attractive and visual format. Taking into account that the posts are very up-to-date it will be important for the advertiser to post different content on a regular basis. As creating posts is pretty easy, this should not be a blocking factor and advertisers should start rolling out more and more the Google Posts.
---
Tags: