5 steps to keep in mind before diving into Facebook advertising
Over the last months, seeing "Sponsored Posts" and ads on Facebook has become as natural as the ads on Google Search. The social platform is now a complete advertising tool, offering multiple ways to sell, promote, drive awareness, and plenty more on desktop or mobile.
Nevertheless, have you ever thought of what your business goal is on Facebook? And how to achieve them?
This article will help you to have an overview of the objectives, formats and targeting available on Facebook.
Step 1: Define your business objectives
Every good business strategy starts with well-defined objectives, in order to allow your business to grow.
Before starting advertising on Facebook, it is important to map your business objectives. Are you focusing on online sales? Is traffic to your store more important? Is your goal to have higher brand awareness or a better brand perception? Are you focusing on organising events etc? Do you already consider mobile as an opportunity?
Step 2: Match your business objectives to Facebook objectives
The majority of online business goals can be achieved through Facebook advertising.
Facebook has multiple campaign types. Each of them focuses on another business objective.
Be careful, once you chose your campaign type, you won't be able to change it afterwards.
Indeed, Facebook algorithm will automatically optimise your campaign based on the type you selected. For example, choosing a "click-to-website" focused campaign when you are looking for conversions is probably going to give you disappointing results.
Below is a list of all campaign types that are currently supported by Facebook, and its matching Business objectives.
Business Objectives

Facebook campaigns

Get People to know your business / website/ brand / products/ promotions

Send people to your website

Online Sales/e-commerce

Increase conversions on your website

Branding (awareness, engagement & perception)

Boost your posts

Promote your page

Get video views

Drive mobile app installs

Get installs of your app

Get people to use your app

Increase engagement in your app

Event awareness & attendance

Raise attendance at your event

Drive Promotions

Get people to claim your offers
Step 3a : Define your ad types
Choosing the best ad for your Facebook campaign will have a direct impact on your performance and will get you closer to your goals.
There are multiple types of ads on Facebook. Hereunder you will find the description of the 3 most popular ad types on Facebook.
1) Right Hand Side Ads
Most simple ad that appears on the right column. This format is only available on Desktop. It is useful in terms of visibility and low cost, however, CTR are generally lower.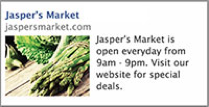 2) The Page Post Link
The Page Post Link appears on both Right Side and Newsfeed (therefore, also on mobile). It enables a great visibility for the campaign as it can show on each placement. Moreover, it is possible to write 2 descriptions and a large title while the big image brings the user's attention.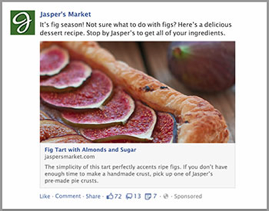 3) Multi-product ads
It works like a carrousel of products. The advertiser chooses 3 to 5 images that the users can scroll on their computer or phone. It is a great tool for ecommerce advertisers because each product benefit from a specific visible image and description.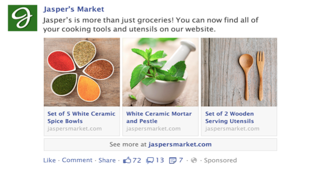 Although those formats are the most used, you could choose for more specific ads depending on your objective:
● If you want to go further into the users' engagement in your Facebook page, the platform suggests you go for variation of multiple formats. For example, a "Page Like" will give the opportunity to user to like your Facebook page. The "Page Post Photo", "Page Post Video", "Page Post Text" or "Event" will broaden the reach of your post to attract more users to your page content.
● If you seek for a stronger call-to-action to buy, you could decide to go for an "Offer", that sends a mail with a discount to the users who clicks on it.
● Finally, promoting a mobile app on Facebook is possible thanks to specific ads that drive installs to your mobile with the App Store directly popping when the users click on it.
Step 3b: Define your ad's placement
When you start your campaigns on Facebook advertising, it is advised to think about the place where you want your ad to appear. Facebook provides 4 different places to show your ads: Mobile news feed, Desktop news feed, Desktop Right Hand side (RHS) and audience network.
When you start your campaigns on Facebook advertising, it is advised to think about the place where you want your ad to appear.
Facebook provides 4 different places to show your ads: Mobile news feed, Desktop news feed, Desktop Right Hand side (RHS) and audience network.
Depending on your Facebook goals and ad types, placements can perform differently.
When focussing on quick interactions with people on Facebook, for example if you want them to notify your latest product developments or promotions, get them to attend your event, download your app or like your page, the news feed options might be the best solution.
When you are more focussing on longer interactions, like online sales, RHS ads in combination with desktop news feed ads are more advised.
With more than 800 million mobile daily users in Q1 2015, Facebook focuses mostly on its mobile platform. With mobile usage growing & Facebook generating more than 50% of its connections on mobile, it is a very good way to touch your users on mobile.
The audience network is completely focused on mobile devices. It's an aggregation of Facebook partners that allow ads to appear in their app or pages.
Driving app installs or app engagement are more likely to perform better on the audience network.
Step 4: Choose your targeting
Targeting on Facebook is an important aspect of your campaign. Facebook provides a wide range of targeting: demographics, interests, behavior, fans, etc.
The particularity of Facebook targeting is the fact that Facebook is rather focusing on people, where other big platforms are more focussing on online searches.
On Facebook, you are suggesting your product to users, who might have not thought about them at first. Therefore, targeting the right public is essential.
Take some preparation time
Before rushing on Facebook advertising, it is advised to take some time to think about how the Facebook platform works. With a good preparation and overview, the setup of ads will become easier and you will be able to outperform your competitors online.
In conclusion, the proposed steps will not create the perfect campaign. They will only provide a path that you could follow. Indeed, there is no one-solution-fits-all. It is therefore through testing of your targeting, placements and ads, that you will gain experience, completely master the tool and offer your company a bright future on Facebook!
Authors: Dan Gelbard & Bart Van Nieuwenhuyse
Tags: