A multi-device advertising environment
We are living more and more in a multi-device world. Mobile internet is growing rapidly and tablets and smartphones are becoming more common in our daily lives. Different devices are being consulted during the customer buying cycle. Marketing investment needs to follow the user where he is present. That is one of the main reasons why mobile is gaining importance in marketing investment.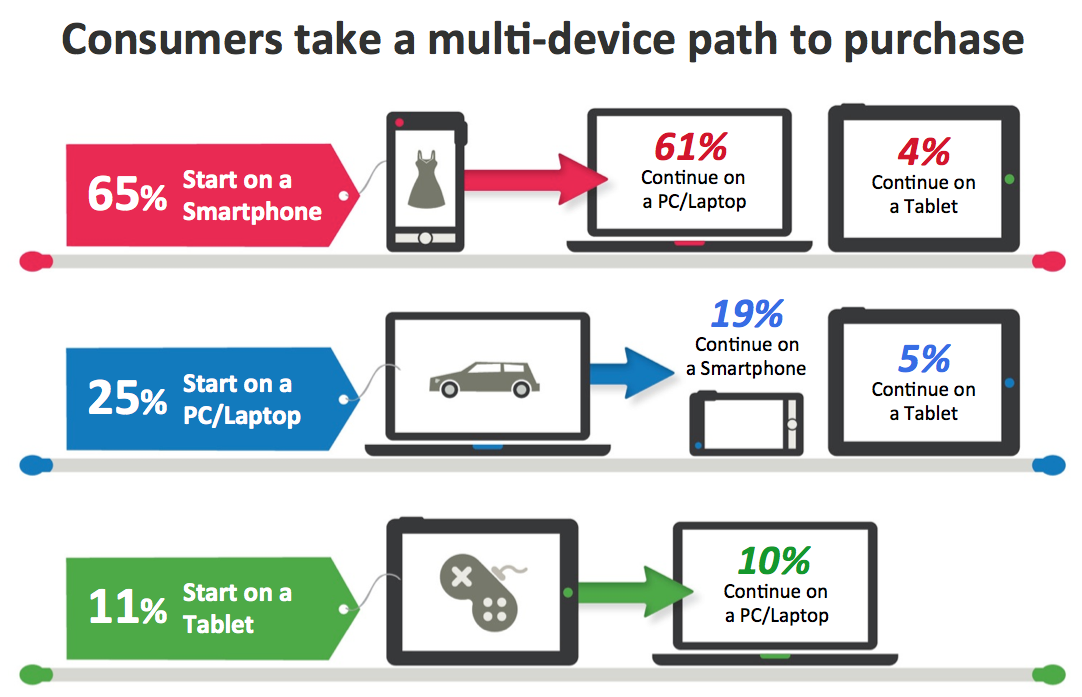 Cross-Channel Attribution
The use of different devices in the purchase funnel makes that ads on a certain device can initiate a purchase via another device. For example: Customers that first clicked on an ad on a mobile phone while waiting for a train, continued their visit later on their tablet. When they afterwards purchase at home on your web site via their compute there is no possibility to attribute this conversion to the mobile ad which initiated the purchase.
The attribution of a purchase to a certain channel is done by cookies. Cookies are mostly device specific and for certain purchases multiple devices and thus cookies are used. A multiplication of these cookies makes it therefore difficult to have a proper attribution model and to have an idea of the effectiveness of the marketing investment.
Estimated cross device conversions
Google has facilitated advertising on mobile devices with the launch of enhanced campaigns in AdWords. These campaigns let you easily manage complex targeting, bidding, and ads for different platforms all within the same campaign. The upgrade to enhanced campaigns had one great limitation however. Marketers could choose to add a bid modifier to their ads on mobile phones but not on tablets on which they were obliged to advertise anyway. As cross-device measurement was not available, cost per acquisition of the different campaigns was often higher and it seemed that the investment on tablet and certainly on mobile was not valuable. Even if advertisers knew that there were certainly cross-devices conversions and that mobile presence was essential this wasn't often enough to convince the to advertise on mobile.
Since October Google has launched and rolled out the new conversion metric "estimated cross device conversions". Estimated cross-device conversions are available in an AdWords account that enabled conversion tracking and records at least 50 tracked conversions in each day. Therefore Google knows how many connected people clicked on an ad on one device and converted on another device or browser. It can then extrapolate those figures to all the users and get the "estimated cross-device conversions". How does I t work ? Google is able to track users that are signed into their Google accounts (YouTube, Google+ or Gmail) on different devices or browsers.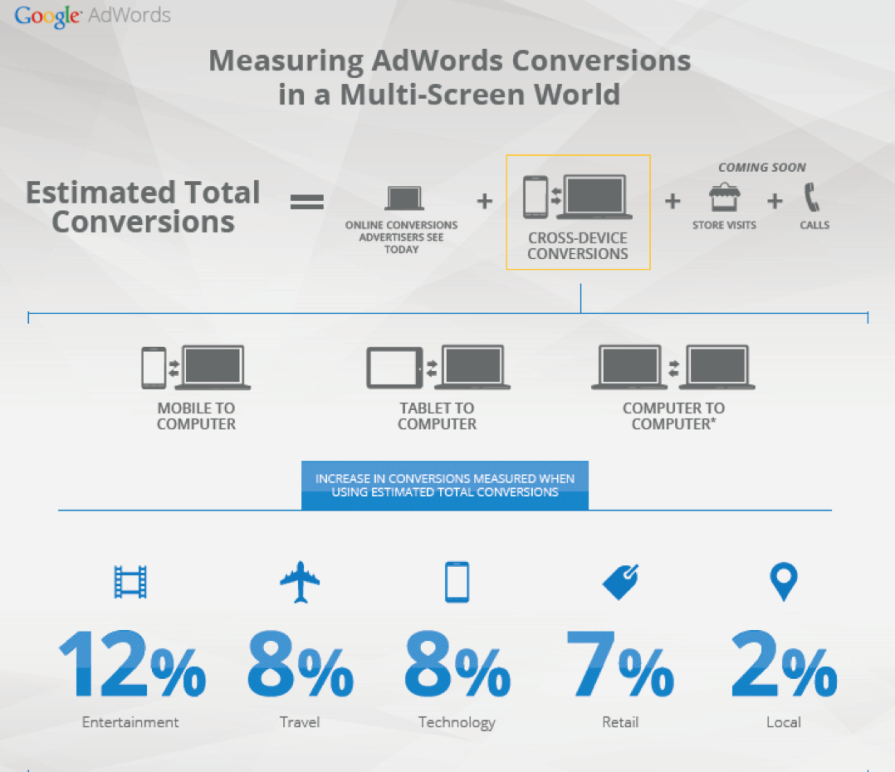 How to use estimated cross device conversions in your AdWords campaigns?
Simply start by adding the different conversion metrics to your campaigns by editing your columns. The metric is available on account, campaign and ad group level.
Estimated total conversions will include cross-device, many-per-click, and phone call conversions. If Google has not enough data for an estimate, this column will equal the Conv. (many-per-click) column.
When having all data available you can calculate the impact of cross-device on conversions. Compare how many estimated cross device conversions are registered and how this compares to your conversions many-per click. This ratio reflects how many conversions where not attributed to the cross-device impact. Looking at this ratio per device you can determine which device has relatively more or less cross-device conversions and is more used for closing or assisting conversions in the buying cycle.
Finally by comparing your many-per-click conversions with the cost per estimated total conversions, you can estimate a cost per acquisition that includes the impact of cross-device conversions.
Conclusion
For all our AdWords clients that have estimated cross device conversions enabled, we have observed a cross-device effect. There were ads that initiated cross device conversions through all different devices. We observed however a higher cross effect for mobile & tablet than desktop. For mobile devices an increase in conversions more than 100% was rather common. In general we observed an increase of conversions of 91% for mobile, 30% for tablet and 17% for desktop. This means that the purchase cycle begins more often on mobile and tablet and ends on desktop.
When taking into account cross-device conversions we saw an underestimation of AdWords when there is a click on a paid ad and then a conversion on another device or browser without a click on an AdWords ad. This resulted in lower cost per acquisitions when the full value of paid search is taken into account. We observed on average that the cost-per-conversion decreased 48% for mobile devices, 22% for tablet and 15% on desktops.
With the estimated cross device conversions Google has made marketers have a better insight in attribution in the cross device environment. This is a first step in the attribution challenge of a single user across multiple devices. These estimated cross device conversions is only a component of estimated total conversions and will be enlarged soon with phone calls and store visits.
The better the understanding of conversion tracking and targeting the different audiences, the more the advertiser can provide more relevant advertising to their audiences. Future cross-device campaigns will be more efficient, enable cost savings and have better results.
---
Tags: