On 18th October 2011, Google officially announced that encrypted search would become the default setting in Google Search. This means that people using www.google.com would be redirected to https://www.google.com, and thus their search results would become encrypted.
At first, this only concerned people who were signed into their Google account. In September 2013, Google announced it would now force encryption even for people who are not signed in. The reason invoked by Google was that they wanted to provide a more customized search experience to their users, thus a need to protect the personalized search results delivered to the users.
But what does it mean for my website's Google organic traffic?
Now, when users search for your website via Google organic, the query searched is encrypted and rendered unavailable (not provided) in your Web Analytics Tool (Google Analytics, Adobe Analytics, …). Marketers and web analysts can no longer directly identify which keywords lead to an organic visit to their website.
What does (not provided) mean for my SEO?
Immediately after the announcement of October 2011, the Google Analytics Organic Keyword Report started to show (not provided) data in stead of your beloved keywords. This trend has evolved slowly but surely with the logged-in users. In September 2013, a switch was flipped to the majority of Google searches. The proportion of (not provided) grew stronger as a result.
To put in in numbers, this is the trend that we have observed over the last few months:
(not provided) keyword proportion evolution*
| | |
| --- | --- |
| October 2011 | 0.1% |
| April 2012 | 17.1% |
| October 2012 | 27.8% |
| April 2013 | 38.4% |
| October 2013 | 80.0% |
Visually, it is easy to notice the strong increase since September 2013.

At this rate, according to Click Consult, the ratio of 100% of (not provided) data will be reached on 3 February 2014. This basically means that web marketers, webmasters and SEO's need to find alternatives as of today !
Quick fix: Semetis workaround for historical keyword data
A variety of sites already suggest a selection of "solutions". Some of those may or may not work for you. For instance, Bing/Yahoo organic data might still be available for a while. But those volumes may not be enough for you, especially in Europe where Google still prevails (over 90% of search market share).
We are suggesting an easy tip to ensure historical organic keyword data. For using this method, we are assuming that you are already using Google Webmaster Tools (GWT) and Google Analytics. Indeed, the hybrid GWT | Google Analytics "Search Engine Optimization" report provides insightful keywords data. It is limited in terms of dimensions (limited to impressions, clicks, position and CTR) and details (data is aggregated directly from GWT and is not linked to the visit). GWT keyword data is only available for the last 90 days.
Here are the steps to follow:
1 - Make sure that you set up and enable the Webmaster Tools data sharing.

2 - Generate your query report in Google Analytics by selecting "last month" as a time period.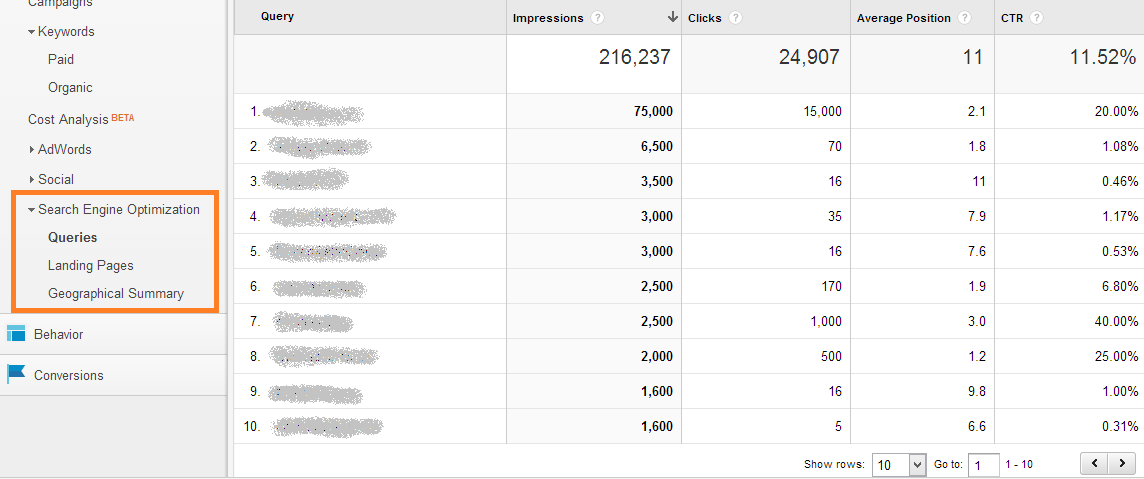 3 - Implement automatic monthly email containing your keyword (query) data over the last month. This will allow you to build up historical keywords data that goes back beyond 90 days.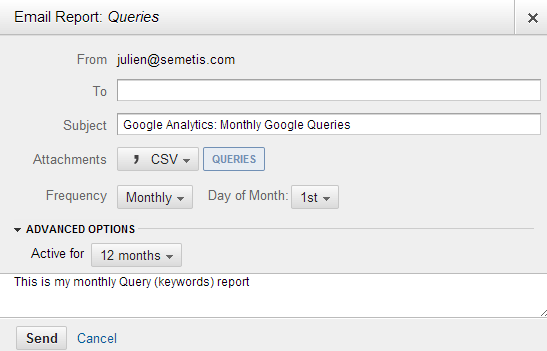 Although it will never replace the previously populated organic keywords report, this quick and easy fix will make your future keyword analyses easier. Mixed with your SEA data (if you have some), this will give you more insights and help you to make better SEO related decisions.
*Based on Semetis managed GA accounts in Belgium
written by Julien Cornet
written by Stéphane Juricic
Tags: