After we published the article on the evolution of remarketing we realized that remarketing lists for search ads (RLSA) needed some extra attention. In this post we would like to further elaborate the function, the implementation in AdWords, the different strategies and our experience.
What is remarketing for search?
Remarketing for search is recently out of Beta and is now available for AdWords advertisers in Belgium. It allows, as common remarketing, retargeting people that have already been to your web site but this time while they are conducting a search on Google. You can segment your paid traffic and apply a different strategy to people that have already been to you website. Which marketer would not be interested in this?
There are various possibilities for remarketing lists for search ads, you can use adapted keywords, change bidding and show a particular message to your remarketing audience.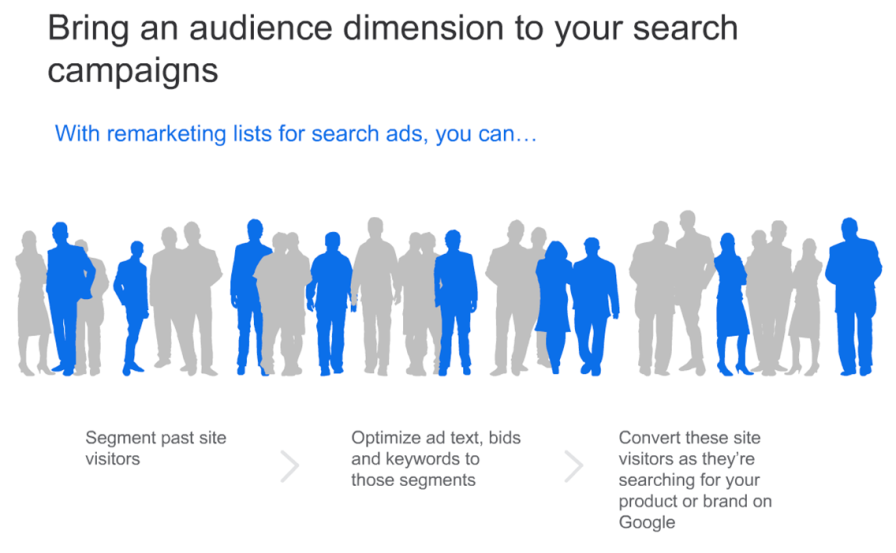 How to implement RLSA?
Unfortunately you cannot make use of the Google Analytics remarketing tag and the new Google AdWords remarketing tag needs to be implemented on the website.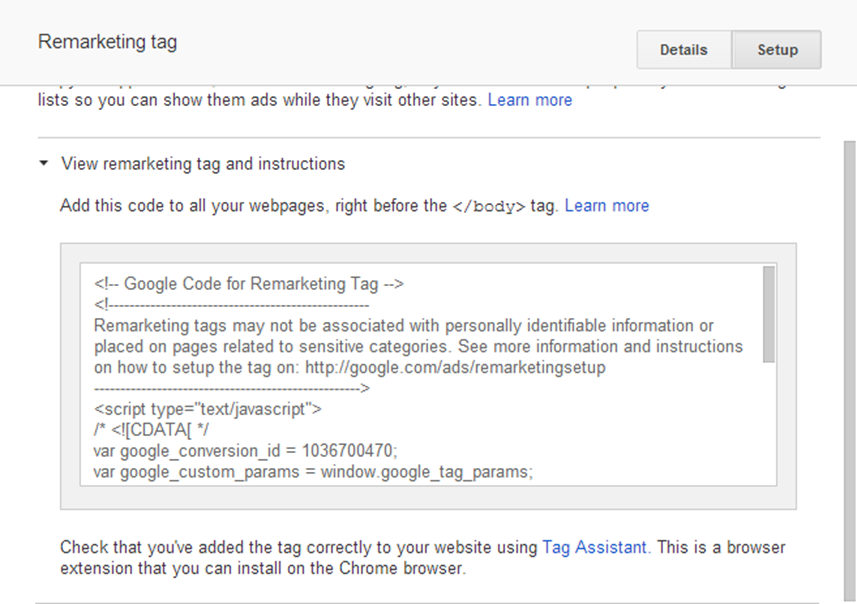 After the implementation of this tag the remarketing lists can be created in AdWords. A big difference with remarketing on the Google Display Network is the minimum amount of unique visitors for a list, while there are only 100 unique visitors needed for display remarketing, RLSA requires 500 unique cookies. This may have an influence on the strategy that you want to use. In theory, an advanced remarketing strategy can seem very interesting, but in practice you might end up with a too small audience. That's why we suggest starting with a broad list that includes all your past visitors. Afterwards different rule-based lists can be created based on the chosen target group and strategy. There are endless possibilities in terms of audiences like targeting the visitors on the home page, the visitors of certain pages, the visitors with a cookie length of 7 days, 14 days or the visitors that already completed an action or sale on your website.

After the creation of the remarketing lists they need to be added to the AdWords campaigns via the online interface or via AdWords editor.
NB: there are two bid options available: "target and bid" or "bid only". Be sure you choose the one that is adapted to your strategy. When you choose the "target and bid" your advertisements will only be shown when the keywords AND the audience match the search query. This means your ad won't be shown at all to users out of your targeted audience. The bid only option allows placing a different bid for the remarketing audience but still showing your ad to the other users. The settings and different options are by the way available at the ad group level.
Which strategies are available?
RLSA is implemented in many accounts of our clients and especially with our ecommerce clients. We see on average that the remarketing audience has a better click-through-rate, higher conversion rate, lower cost-per-click and therefore a lower cost-per-acquisition. The choice of one specific strategy depends on your campaigns objectives. Below you can find an overview of the most used strategies:
Optimized bidding: A best practice here is to first add the audience of the web site visitors without any bidding adaptations. This allows having an idea about the performances of your campaign for this specific segment of users. After a certain amount of time and sufficient traffic you can make decisions based on these first observations. We suggest testing different bidding levels to find the optimal bidding for your objectives. This can start at the account level, then go more in detail at the campaign level and even at the ad group level. It is important to always have your strategy in mind and to adapt bidding accordingly:

a) Web site visitors: A frequently used strategy is to bid more for your remarketing audience. This can indeed increase the conversion ratio of your web site visitors, which are often more qualitative, and increase the share of this segment.
b) Focus on new prospects: Another strategy is to add the people that already converted or did a specific action on your site as a negative audience in your campaigns to use your budget exclusively for people that have not been to your website. You can also bid more for people that already converted, but a while ago and therefore are likely to convert another time depending on the buying cycle, e.g 30 days ago.
c) Added to shopping list but not proceeded to purchase: People that add a certain item to their online shopping list but in the end don't proceed to buy that item, are interesting prospects. A good strategy here is to retarget that audience by placing a higher bid and creating a customized landing page that makes it easier for that client to actually complete the purchase.

Generic keywords: Where previously it was too expensive to advertise with generic keywords, it is now possible to use these keywords only for the remarketing audience. The result is that even with a limited budget, you will still reach out to a qualitative segment.
Customized ads: It is possible to adapt the ad and landing page according to the (buying) behavior and the interests of a certain segment. For example: you can use a customized ad and landing page for people that have already visited your website.
Cross and up-sell strategy: We can assume that existing clients that are browsing for other products on your website are already familiar with your website and its products. This audience can be an important target for cross and up-sell. People that bought a certain product, could afterwards be retargeted while they are looking for an accessory to their freshly bought product. Using this logic one can increase their bidding for people that just booked a flight and are looking for a hotel.
Important note: Several of these strategies require you to create a duplicate campaign or ad group. It is of utmost importance that the remarketing audience is added as a negative to the already existing campaign to avoid the unfortunate situation where you bid twice for the remarketing audience and the same keywords. This will unnecessarily increase your cost per click.
RSLA requires constant optimization, adaptations and new tests. In short, everything depends on your strategy and on the buying cycle of your targeted audience. Be very cautious and attentive during the set-up of your RSLA campaign, so that you are sure to target the right audience (especially in the case that you duplicate your campaings!).
Don't wait too long before implementing RSLA within your AdWords search campaigns. The faster, the better. The added benefits such as the endless segmentation opportunities within your AdWords search campaigns are just too much to pass by. Start using it today. You will be amazed at the results!
---
Tags: