Few months ago I wrote an article about Google Shopping and its benefits. It's time to continue the story and talk about Dynamic Remarketing.
As an ecommerce marketer the conversion path is always a challenge. Many users need time before being convinced and often don't buy during their first visit. But then the question is, how to reach those users and how to encourage them to make a purchase on your website ? This is exactly the purpose of Dynamic Remarketing !
What is Dynamic Remarketing ?
Dynamic Remarketing is a way of connecting with your past visitors by either showing them products they've seen on your website or by suggesting them products they might like. The ads are thus dynamically created based on user cookies :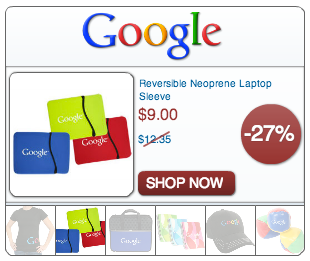 How does it work ?
The product info appearing on the dynamic ad (product name, image, price) directly comes from your product feed uploaded in the Merchant Center. Therefore you first must have a Merchant Center account and a product feed.
Then you need to implement AdWords Remarketing Tag, including 3 custom parameters, page type, product ID and total value :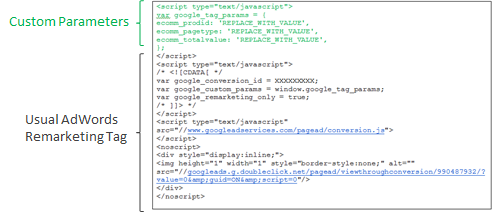 This tag must be implemented on all pages of your website. It is possible to manage this Dynamic Remarketing tag implementation easily with the Google Tag Manager. As we are now required to add more and more tags on our websites Google Tag Manager is a good tool to consider in order to gain in efficiency.
Based on page type parameter, Google knows which pages users have seen (homepage, product page, etc - there is an exhaustive page types list on which you must align). And based on product ID parameter, Google knows exactly which products users have seen. But be careful and make sure that product ID's in the remarketing tag match product ID's in the product feed so that Google can cross both data.
You can easily check if tracking code has been correctly implemented in the Audience section of your AdWords account (on the top right corner):

How to create a Dynamic Remarketing campaign in AdWords?
This is a "Display Network Only" campaign. In the campaign settings you must select the option "Remarketing". Then you can setup your Dynamic Remarketing :

You will receive the dynamic tag. The following audiences will be automatically created :
| | | |
| --- | --- | --- |
| Audiences | Who are they ? | What will they see on your Dynamic Ad ? |
| General visitors | People who visited your website but didn't view specific products | Most popular products |
| Product viewers | People who viewed specific product pages on your site, but did not add them to the shopping basket | Products they've viewed and some recommendations |
| Shopping basket abandoners | People who added products to the shopping basket but didn't complete the purchase | Focus on items in their basket |
| Past buyers | People who purchased products from you in the past | Related products |
You can then add them to your Dynamic Remarketing adgroups. For your info it is also now possible to create dynamic remarketing audiences through Google Analytics. For this you need to
create custom variables by adapting your GA code
.
Regarding ad creation, you can use Google Ad gallery and easily create Dynamic Ads, by choosing among different templates. You can customise it with your logo, a specific font and add a promo line based on the audience you target.
Is it available for me?
It has the same requirements as Google Shopping: you must be an e-commerce website (retailer). Dynamic Remarketing also exists in a limited number of countries: Belgium, France, Germany, UK, US, …
How is it performing?
The fact you remind users to products they've seen on your website or show them products they might be interested in, makes the ad even more relevant. The images, the price, the promo line, all this makes the products much more attractive. Here at Semetis we've noticed that Dynamic remarketing campaigns had a conversion rate 50% higher versus site average. Moreover it also assists a lot the transactions. So this proves that for users that need extra visits before being convinced dynamic remarketing also plays an important role in the conversion path.
How can I optimize my Dynamic Remarketing Campaigns?
You have access to 4 audiences in total. Feel free to play with them. You can adjust your bidding based on the audience and for instance decrease it for the general visitors (the least inclined to buy) and increase it for the shopping basket abandoners (the most inclined to buy). You can also try to adapt your ad based on the audience for instance by adding a more "aggressive" promo for the users that are more valuable (shopping basket abandoners).
Finally don't forget to adapt your capping. Indeed it can be very annoying for users to be bombarded with your products. The challenge here is to find the right balance. Don't hesitate to consult your analytics to have a more precise idea of user path and to identify the best capping.
Given Dynamic Remarketing great performance it is not an option to skip it if you're an ecommerce retailer. Impact on conversions is big and should be directly visible as long as you correctly optimize your campaign using tools such as bidding and targeting. Finally keep an eye open. With Google we are used to frequent updates and new functionalities launches… So don't forget to consult regularly their blog for any news !
written by Doriane Magnus
Tags: