Introduction
t's been quite some time that Google has been at the forefront of the "offline to online" advertising and measurement solutions. Together with other actors such as Meta, Asklocala and Admoove, they understood the need of advertisers with brick-and-mortar shops to see the impact of their digital investment on real-life shop visits & sales. This is not a surprise, as 8 out of 10 sales globally are still happening offline (statista). Therefore, all these actors developed digital advertising formats that match the local-feeling needed to drive offline sales (local campaigns in the case of Google - now integrated in Performance Max) as well as the measurement solutions to be able to prove their efficiency, i.e. store visits & store sales measurement.
Besides their Local/Performance Max campaigns, Google also lets advertisers use the store visits measurements for their SEA and shopping campaigns. And with the growing popularity of the latter, they decided to further reinforce their offer and launched a local-oriented shopping format: local inventory ads (LIA). LIA enable advertisers to show their products and store information via shopping ads to relevant consumers who are nearby and searching on Google.
Up to this point, everything was clear. But recently, Google has also launched additional features linked to these LIA: the Pickup options ("Pickup today" and "Pick later"), Curbside pickup and On Display to order. While they are certainly useful, they also create quite a bit of confusion within Google's offering. Let's have a closer look at them in order to understand them better, and discover what they could bring to your business.
Local Inventory Ads
As explained in the introduction, Local inventory ads are simply shopping ads that will be displayed to consumers close to the advertiser's shop while they make searches on Google. Once consumers click on the ad, they will be redirected either to the advertiser's website (which is the preferred option) or to a Google-hosted page for the advertiser's store.
You can perfectly combine your LIA with your normal shopping ads in the same campaigns as both work seamlessly together. In that case, consumers will be shown your LIA if they are located close to one of your stores, and your traditional shopping ads if they are not.
On the ad itself, instead of showing the delivery price as a traditional shopping ad, a little blue pin will appear below the product image and indicate that the product can be picked up in a shop nearby. The annotation will either mention "in-store" or the distance to a store where consumers can purchase the item.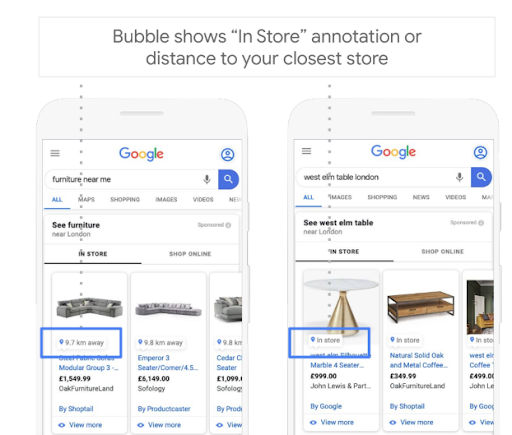 Source: Google

According to Google, LIA offers a 20% CTR increase over standard shopping (source: Google data).

To activate Local Inventory ads, you will need to create a specific secondary feed for it (named "local products inventory feed") in order to give Google the information about which of your products are available and in which of your stores. This means that it is required to have an integrated shop inventory management system to be able to use traditional LIA. If you don't, I suggest you go directly to the "Pickup later" section as there is a workaround which might still be a good fit for you. In addition to the secondary feed, your landing page will also have to respect certain conditions if you choose to send consumers to your website.

Should you be willing to know more about LIA, feel free to check the full article we wrote on this topic.
Pickup Options
The Covid pandemic has been a true accelerator for click and collect services. According to MarketResearch.com, the global market size almost reached 244 Billion dollars in 2021 and will continue to expand at a CAGR of 19% during the 2021-2027 period, to reach a 703 Billion dollars market worldline in 2027 (source: marketresearch.com). The main reasons for which consumers appreciate click & collect options so much are because it allows them to :
Avoid paying the shipping costs
Save time by not having to shop in store
Pick up their purchase on the same day
Guarantee an item is in store before going to the store
(source: emarketer)
With the rising popularity of these services, Google decided to add the Pickup options to their offer.
Pickup today
Pickup today allows advertisers to showcase which products are available for "immediate" store pickup, with the option of paying online first. To be able to use it, the product must be available for pickup on the same day or on the next day from the time the order is placed. Visually, the little blue pin will still appear on the ad, but this time with the mention "Pick up today" as you can see below.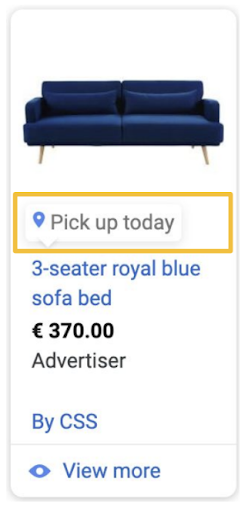 According to Google, the addition of the pickup today feature will offer advertisers an extra 13% omnichannel conversion rate and an extra 2% CTR over traditional LIA.
To activate it, a couple of extra attributes will need to be added to the primary or local product inventory feed, and your website will need to meet certain extra requirements as well.
Pickup later
The logic behind pickup later is exactly the same as for pickup today, except that it concerns the products which may not be available for immediate store pickup.
The big advantage of Pickup later is that it is the only LIA which does not require the full inventory information. So, this is particularly interesting for the advertisers who don't have a perfectly integrated shop inventory management system in place yet. To show a pickup later for LIA, you simply need to indicate in your local inventory ad feed that your products are out of stock but available for store pickup within a few days when purchased/reserved online. If you do have a shop inventory management system, pickup later is still an interesting feature to use for all your products which actually are out of stock in a given shop.
Pickup later will again show the LIA with a little blue pin, indicating this time when the product will be available for pickup. You can either choose to give a precise time frame between 2 and 6 days, or not indicate any timeframe at all. This latter option is perfect in case you find it difficult to retrieve all the availability of your different products in your local inventory feed, or if the timing will actually be longer than 6 days. If you choose that option, a generic "In-store pickup" annotation will be used in the little blue pin. For simplicity's sake, Google often recommends that option over the precise time frame.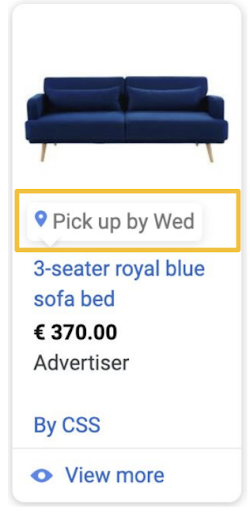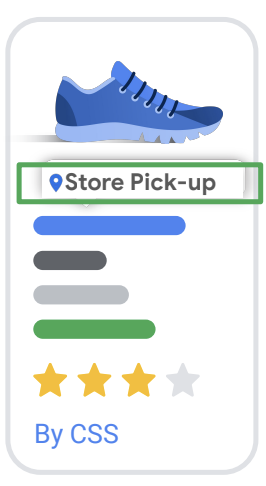 According to Google, Pickup later offers a 17% CTR increase over traditional shopping ads.
To activate it, as for pickup today, you will need to add some parameters to your local product inventory feed and to your primary feed, as well as make sure that your website fulfills certain requirements.
Pickup later… for shopping ads
Since Pickup Later does require the full inventory information about your products, why wouldn't it be possible to activate this feature without a local product inventory feed? Well that's exactly what Google thought as well and therefore made it possible to activate this feature with your standard shopping feed and standard shopping ads. This makes things a little confusing, but it actually does make sense. This allows advertisers to quickly activate this feature without having to create an extra feed, which can be very time consuming.
For the rest, it works in the exact same way as pickup later for LIA, except that all the extra attributes have to be added to the primary feed. Confusingly enough, you will still need to activate the Local Inventory Ads program in your Google Merchant Center to be able to let this run. But don't worry, no local feed is required.
Curbside pickup
Are you willing to go even further to optimize your click & collect shopping performances and do you have a curbside / contactless pickup place in your shops? Then consider adopting the Curbside pickup feature! This feature allows you to show in your ads which products are available for pickup outside your store. In your ad, it will be represented by an extra label located above your product, with the "Curbside pickup" mention.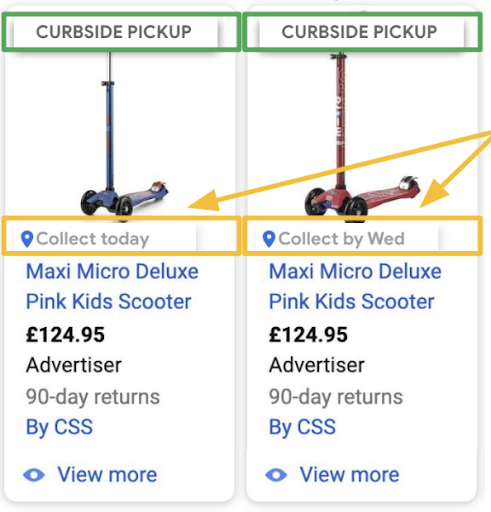 According to Google, activating Curbside Pickup will offer you an incremental 1% CTR and 2% conversion rate on your store pickup LIA.
To be able to use this feature, you will need to activate either Pickup today or Pickup later on LIA, and specify that you provide curbside / contactless pickup fulfillment on your website landing page or during your checkout flow.
On display to order
Let's now imagine that some of your products are displayed in your store, that they can be ordered in your store, but are not immediately available for purchase because they are not in stock (for bigger items, or for products which are temporarily out of stock in your store for instance). In that case, you can use the "On display to order" feature. This will allow you to show your local inventory ads with the mention "In store - available to order".
To activate this, you will simply need to add an extra parameter to your local feed and make sure your landing page respects certain conditions.
Measure the impact
At Semetis, we are business and data driven. We could therefore not write this article without covering how you can follow the results of your LIA ads to see if it actually brings value to your business. The good news is that it is pretty easy to do! Here are the steps to find back the results of your LIA in Google Ads:
Navigate to the Reports section in Google Ads
Create a Custom Report
Select the "channel" dimension, and any additional dimensions based on which you would like to segment your data - campaigns, item id, custom label,...
Select the most important metrics for your business (impressions, clicks, cost, cvr, conversion value, ROAS, Store visits, store visits value, omnichannel ROAS, …)
And there you have it! Your shopping ads results will be shown as "Online" Channel and your LIA will be shown as "Local Stores" as shown in the screenshot below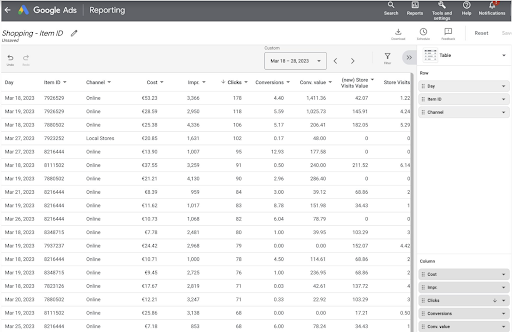 The only thing which is unfortunately not possible to analyze is the difference between standard LIA, Pickup today, Pickup later and On Display to Order. Hopefully Google will make this breakdown possible soon.
Conclusions
Even though Google's local advertising is quite complete, we would argue that it would benefit from some simplification. To make it easier for you, we summarized in the table below the different local shopping options offered by Google:
Do Google's local shopping options sound interesting for your business? Should you still be confused about which solution would be best and how to implement it, feel free to reach out to us. We would be more than happy to help you out.
---
Tags: