If you're using Google Analytics on a regular basis, you must have seen a notification popping up in your account, asking you to try out the new Google Analytics property: GA4.
Indeed, Google has finally launched their new version of Analytics based on the foundations of the App+Web property that we touched upon earlier this year. This new Analytics will provide you with a much deeper understanding of how your customers interact with your Business, thanks to its event-based model (as opposed to a session-based model used in Universal Analytics). If this doesn't ring a bell, I invite you to read this interesting article about the difference between product analytics and marketing analytics, written by Glenn, our Technical Operations Director.
In this article, we will go through the basic steps you need to take in order to set up this new property in your GA account, without impacting your existing Universal Analytics property.
1. Create the new property
In the "admin" tab, you'll find a new menu "Upgrade to GA4" that has appeared:
You then need to choose between 2 options:
Create a new GA4 property. With the advantage of not having to go through a Firebase project anymore.
Connect to an existing property. This allows you to connect to an App+Web property that you might have already created in the past year to try out the Beta product, and that is linked to a Firebase project. You can find more information in an article we've written last year on how to set up an App+Web Property.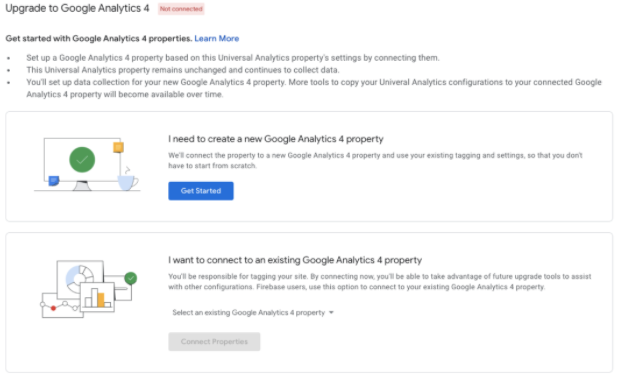 2. Set up your Tag
Once your stream is created, you need to configure it by using the gtag tracking code to add to your website. There are different ways to add this code but we tend to recommend using Google Tag Manager, as it's straight forward and doesn't require you to adapt your page code (no dev skills needed).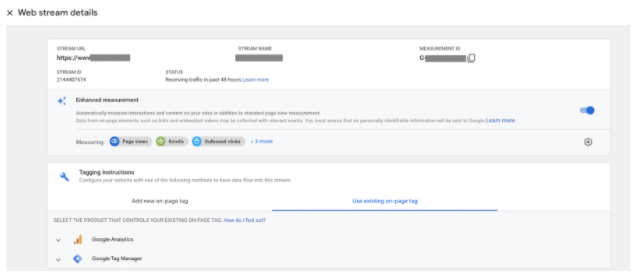 If you're already using Google Tag Manager for your website, you can simply add a new tag that is now available in the different tag types, in which you enter the Measurement ID of your new property. Make sure you add a trigger to your tag on all pages (or on the subset of pages you want to measure)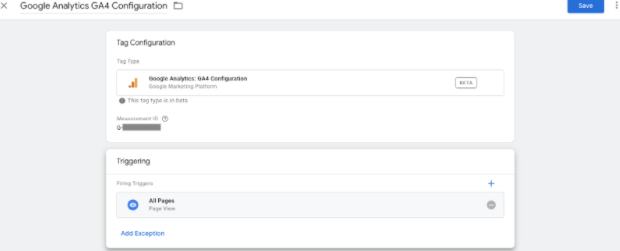 With this done, you are now ready to see your page view data coming in in your new property. What is cool in GA4 is that you can access your debugView directly in Google Analytics to check if you are indeed collecting data correctly: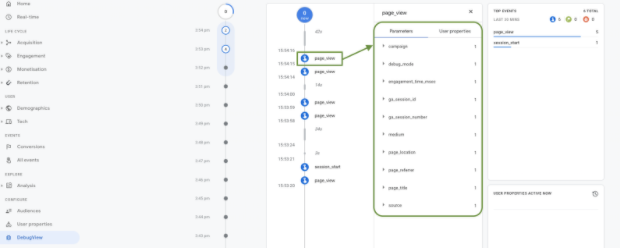 (note: you still need to enter preview mode in GTM if you want to activate the DebugView in GA)
You'll observe on the screenshot above that every event (page_view) here comes with a set of standard parameters that gives you extra information about the event. It's important to know that you can also add extra parameters to your events, which works a bit like custom dimensions you have in Universal Analytics.
However, it gets a bit more complex when it comes to setting up events.
3. Events
As explained, GA4 is built on an event-based model. Events are user interactions with a website or an app and GA4 now measures standard events (such as page views, button clicks, session started, …) by default. Now you need to remember that in Universal Analytics, an event is a specific kind of hit (distinct from a pageview for example) that has a Category, Action and Label. GA4 however considers everything (including a pageview) as an Event.
On top of that, you can create custom events, on which you can attach parameters (up to 20) and have a more customized view and understanding of your users.
For example, you can setup, in GTM, an event for a specific conversion and add several parameters which are additional bits of information that give context to each event: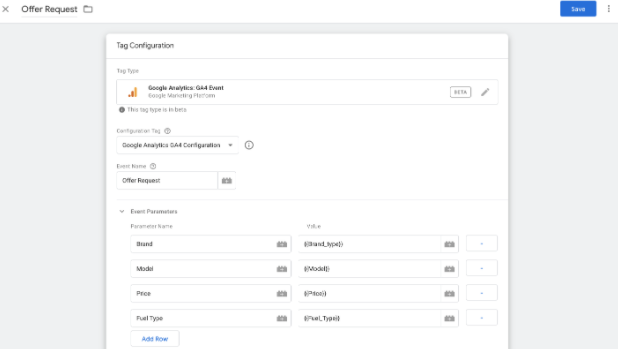 This new approach has a lot of possibilities but also means that you would need to rethink the way you track events on your website if you want to get the most out of it. Indeed, Google clearly states that "it's better to rethink your data collection in terms of the GA4 model rather than port your existing event structure to GA4."
However, if you like to get your hands dirty, it's still possible to work your way through the upgrade of an existing event that fits the GA4 scheme. You can for example push your classic Action & Label variables as parameters of your new event, as shown below: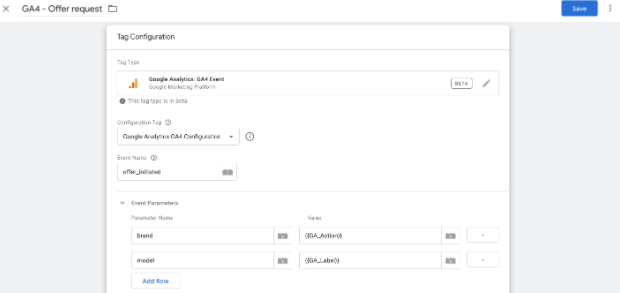 But considering all the new things that the GA4 data model, it might make more sense to upgrade your data schema.
GA4 is still in its early stages and should not yet be used as your sole Analytics view but rather as a complement of your existing Universal Analytics setup. However, at Semetis we believe that it is time to already anticipate and make sure to start collecting data in your GA4 new property to be better prepared for what is considered by Google as the future of Analytics.
Make sure to reach out to us if you want more info on this and we'd be happy to help you define a concrete strategy that fits your custom needs.
Stay tuned to receive more updates on GA4. In our next article, we'll cover how to tackle an Enhanced eCommerce migration.
---
Tags: