In our previous article we discussed the role & purpose of data within modern day business environments. The role of data is to be transformed into insights, in order to build better products & experiences which in return lead to business growth. We then further clarified how we could turn data, also known as the new oil, into its end product being the insights. In order to do so, today's volumes of data require additional computing power & intelligence. This comes in a form of Artificial Intelligence known as Machine Learning. The cloud serves as the pipeline in order to make data accessible by these ML algorithms.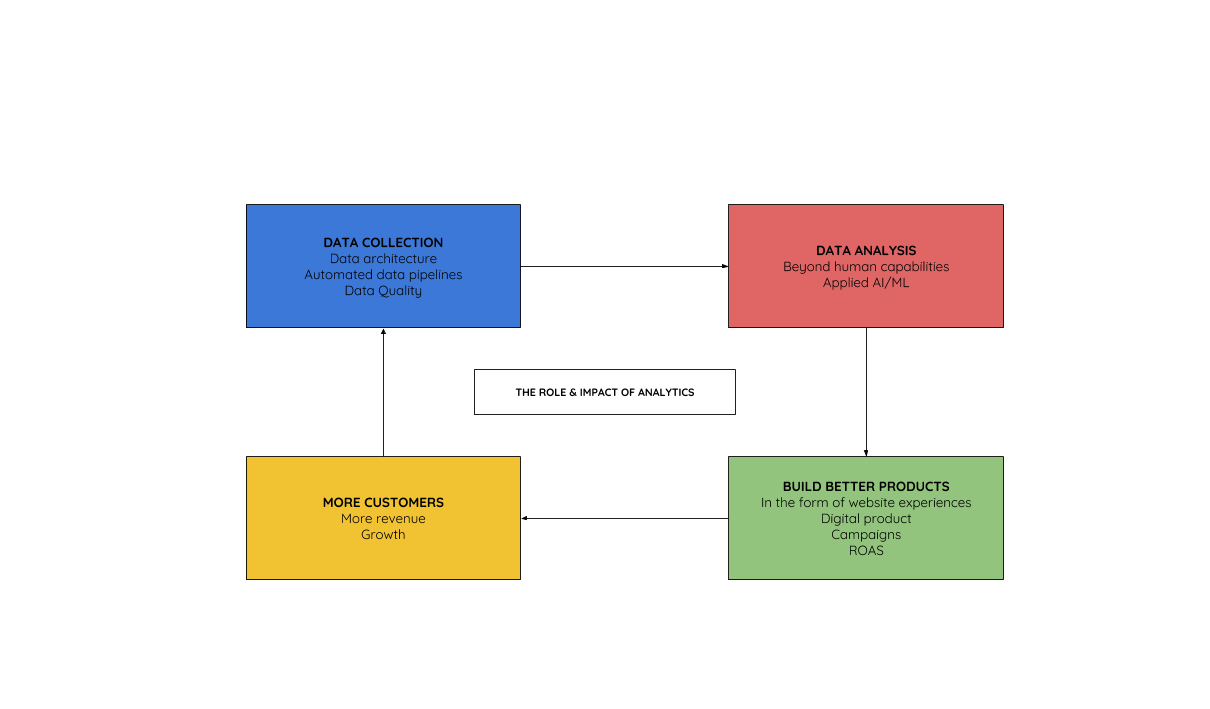 We concluded that if data is the new oil, AI would serve as its refinery and the cloud is the pipeline connecting both.
An architecture blueprint
In order to make this setup tangible, we'll start by drawing a blueprint. Note that this is not a representation of what things should exactly look like in all cases. This blueprint serves as a reference in order to develop the overall idea and map the roles and interactions between the key elements of the infrastructure from a marketing perspective & purpose.. The following blueprint example shows a reference infrastructure. As indicated in the model representing the role & impact of analytics, it represents an infinite iteration. Full lines represent an influx that collects all the data and brings it to the end-point being the Cloud solution where ML is deployed. Dotted lines represent the enriched activation track where enriched signals are being ported back into the respective platforms to act on the derived insights.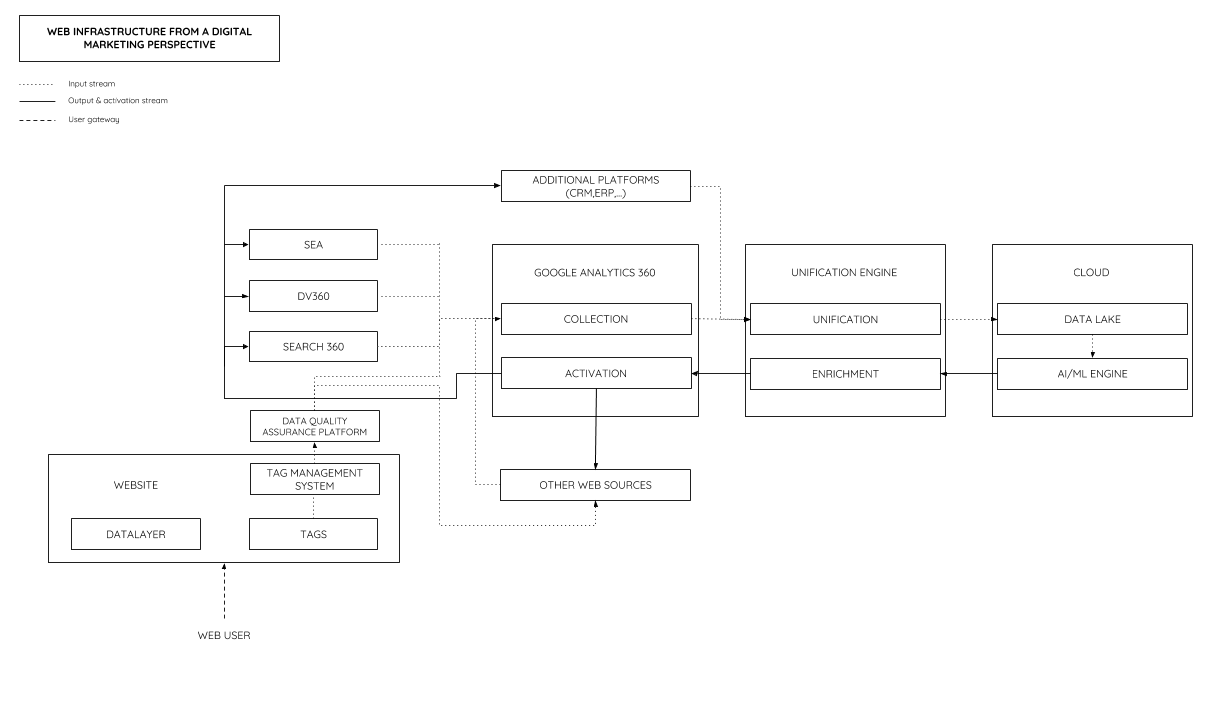 The main pillars within the blueprint are:
Paid & owned (media) channels: These are represented by SEA (or), Search360 & DV360 as well as other web sources (read, Facebook, Twitter, etc). They need to be part of this ecosystem, otherwise we can't act upon the insights derived from the raw data which blocks us to act upon them.
A web data ecosystem: Linked through elements such as a datalayer, tags, a Tag Management System and Data Quality Assurance Platform. Data Quality Assurance Platforms such as ObservePoint & HubScan monitor & safeguard your data quality through tag deployment & data streams on a permanent basis. A web analytics system, such as Google Analytics 360 completes this setup.
A unification engine: The role of a unification engine is to combine all data points around a single identifier. This could be represented by Tealium AudienceStream, Ysance or Segment. These platforms are known under different names such as Customer Data Infrastructure, Customer Data Platforms & Retail Data Platforms.
A cloud solution: The role of the Cloud solution is to centralise all data storage (data lake like) required for analysis and make it available to Artificial Intelligence / Machine Learning engines. Moreover it allows organisations to own their data as such outside of the platforms they are originally collected in.
From idea to architectural blueprint
Now let's move from collection to refinement.
Step 1 - Data Collection
The elements depicted in blue in the below blueprint represent all elements linked to the data collection step. Data is picked up on by the Tag Management System. The Data Quality Assurance Platforms monitors the fluxes in place & warns the infrastructure owner when something is off. Data is piped through to the respected platforms & centrally collected by the analytics platform after which it is enriched within the unification engine by external sources.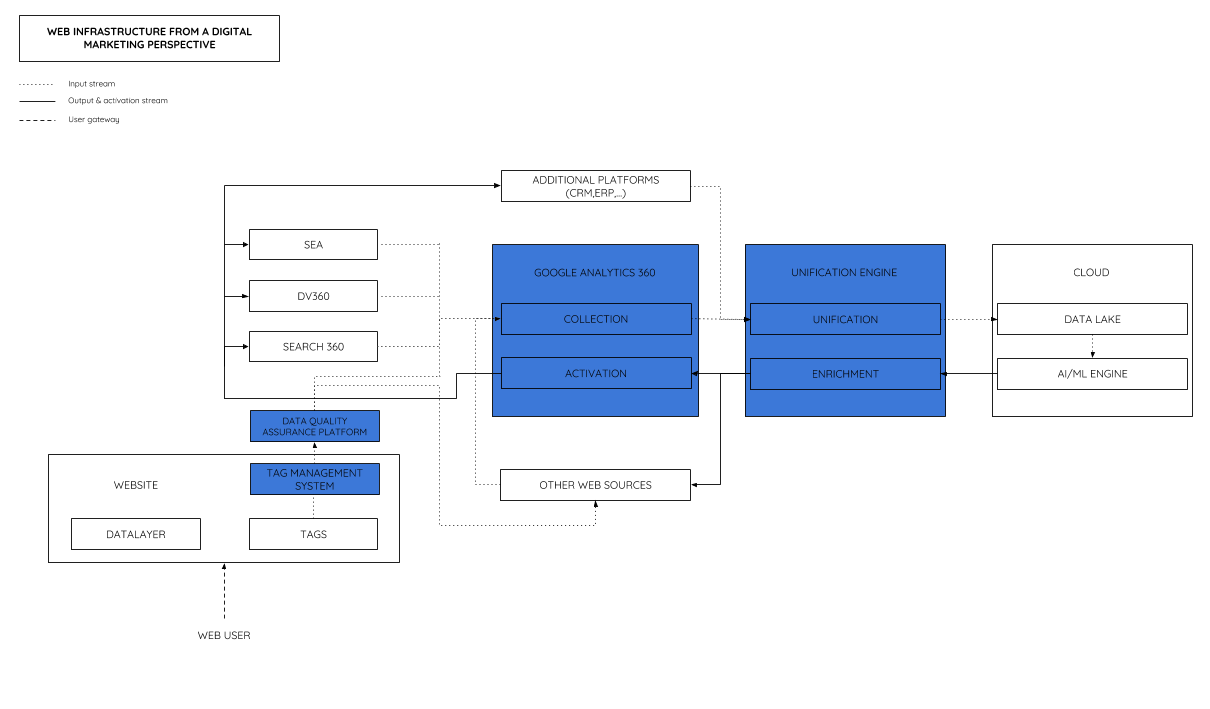 Step 2 - Data analysis
Analysis of the data happens in two area's. For web-related matters only the analytics platform can be consulted directly. This is where questions regarding visitor counts, average order value & traffic sources are answered. More advanced analysis takes place within the cloud platform after the unification engine came into play. Here analysis regarding Recency Frequency Monetary modelling, churn & consumer classification is handled based on a unique identifier (typically a globally shared userId). In a first stage this is a purely descriptive & exploratory model which can evolve towards predictive modelling. The cloud serves as a gateway to pre-trained Machine Learning models which allow for further analysis than capable by humans.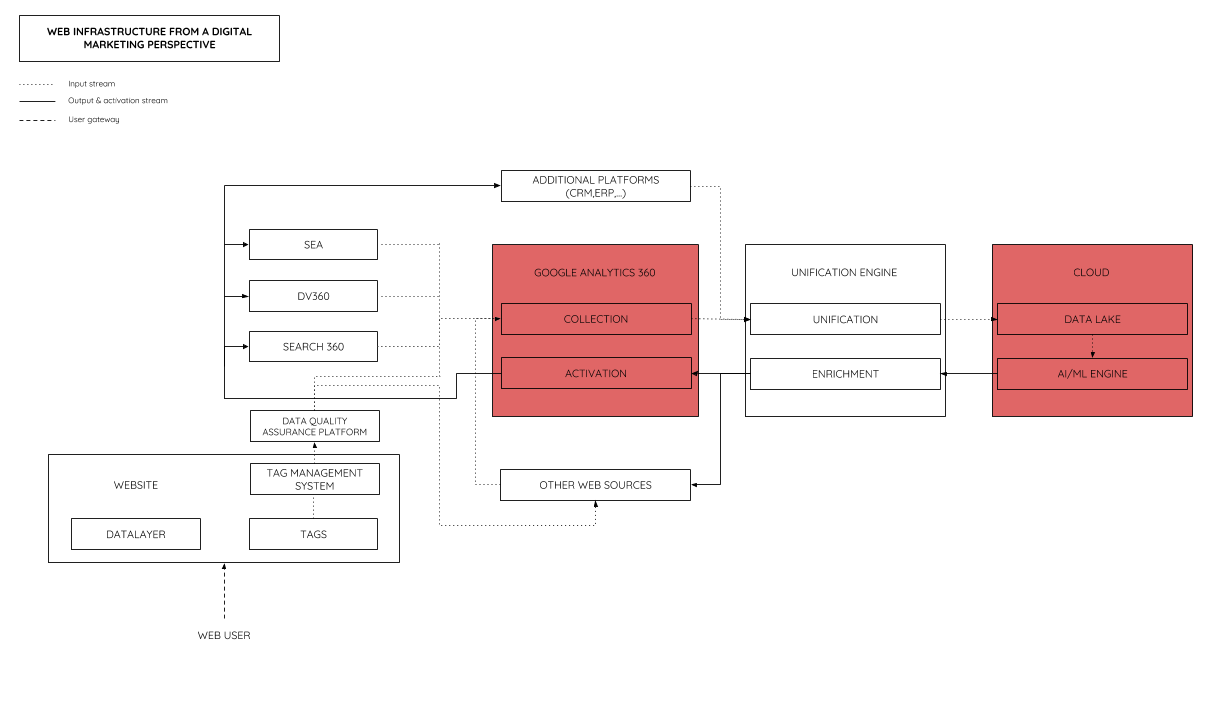 Step 3 - Better products & experiences
Based on the insights derived from the analysis the organisation can start building better products & experiences (in the digital space). This could be represented by improved website funnels, website personalisation, more qualitative media audiences or better segmentation clusters upon which teams can act more precisely.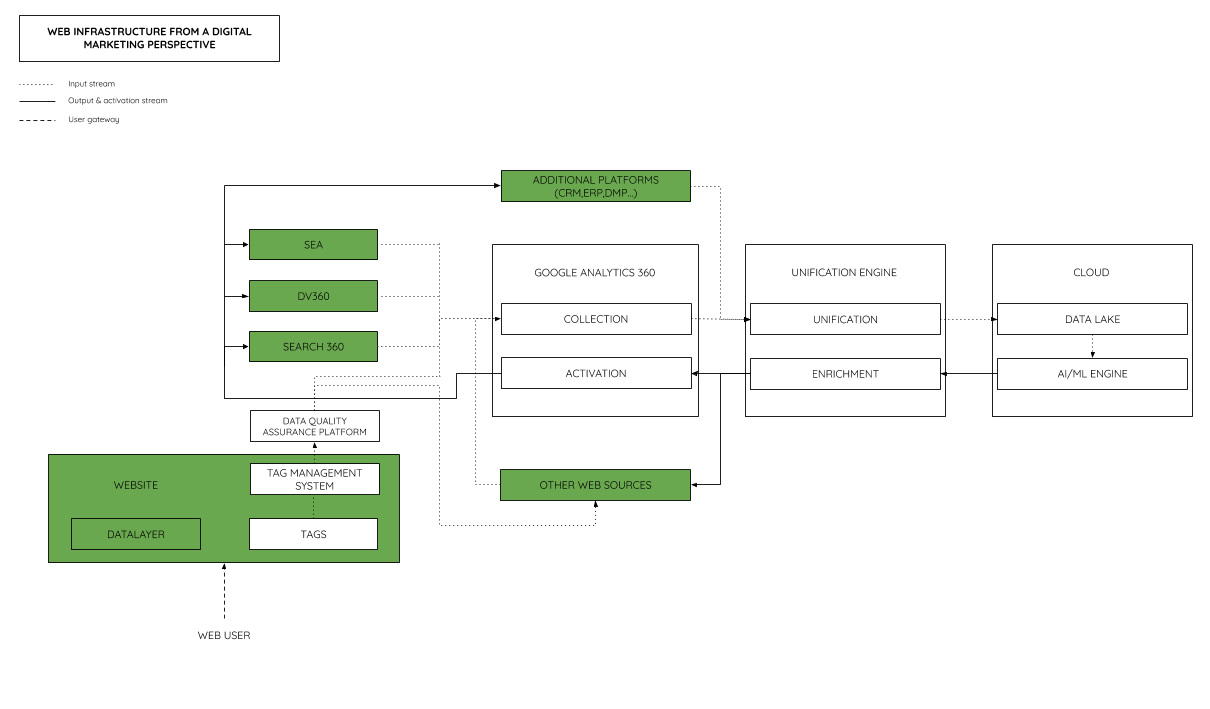 Start building
As the need for personalised & tailored experiences increases, the volume of data generated by users increases, the pressure on ROI increases, the cost of data storage & advanced analysis decreases, blueprints as the one explained in this article certainly show the way towards more customer-centric solutions. This again is an end-goal (& new starting point) for business growth. The most important element is to build the ecosystem step-by-step, keeping the overall objective and blueprint in mind. This shows the role of ML & Cloud versus marketing is no longer theoretical, but ready to be put into practice.


---
Tags: