You often go shopping on the internet and start with a Google search? Then you've probably noticed those ads with a special format appearing on the top right: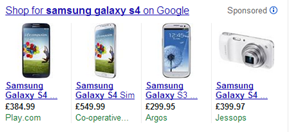 This is Google Shopping! A list of products with their picture, their price, and the advertiser name. Google Shopping is today a 100% paid model, with an auction system just like AdWords classic campaigns.
Is it available for me?
Google Shopping is only available for e-commerce websites (retailers). It is not yet allowed for services resellers but we might expect Google Shopping availability to be extended very soon. Google Shopping exists in a limited number of countries: France, Germany, Netherlands, UK, US. We have also seen some Shopping results in Belgium (on google.be search results).
How does Google Shopping work?
To be present on Google Shopping you must first create an account on the Merchant Center. It is through this Google platform that you will upload your product list (or "product feed"). You will then create your Google Shopping campaign in AdWords. You can easily link the Merchant Center to AdWords in the settings, by specifying AdWords account ID.You can then create your first product feed.
What is a product feed?
This is your products list in which you specify some attributes (product name, price, description, image, …). Those attributes depend on the country and the product type (more info here). Some attributes are mandatory, for instance the image, and some of them are optional (example: the description). However description plays a major role in Google Shopping. Indeed Google will cross the description and the product name with user search term to determine whether your ad is eligible. That is why we highly recommend to have a description for each product. Once the product feed is uploaded you can create your "Shopping" campaign in AdWords.
How to create a Shopping campaign in AdWords?
This is a "Search Network Only" campaign. You must select the option "Product Listings Ads":
In the ad extension tab you can select your product feed as a product extension:

You must then create your "Shopping" AdGroup.
Last step: type a promotion text that will appear when users will mouseover your products (note that they are much shorter than standard ad texts).

How is it performing?
Images appearing in the search results make products much more attractive. Moreover users can easily compare prices with competition. Therefore we can assume that if the user clicks on your ad, he is showing a real interest in your offer. We have international experience with Google Shopping (mainly France & Netherlands). At Semetis we've noticed that Google Shopping campaigns not only bring a large volume of transactions but also have an excellent conversion rate (40% higher than standard Search campaigns) which makes them even more profitable.
How can I optimize my Google Shopping Campaigns?
Unfortunately optimizations of Shopping campaigns is pretty limited. There are three ways to optimize such campaigns: bidding, negative keywords and product feed optimization.
You can indeed create separate adgroups for each product type and adapt your bidding based on performances. You can for instance target a product type in AdWords based on the product type you've previously specified in your product feed: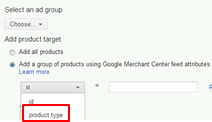 Another option is to add negative keywords. You can see the search terms report just like you would do for a standard search campaign and based on this report you can refine your adgroup by adding negative keywords (non relevant or not well performing search terms).
Finally a last option is to optimise your product feed. This means checking the product images (they must be of good quality, large enough and descriptive enough). But it also means making sure each product has an exhaustive description (as Google will cross it with user search term to decide whether your ad is eligible or not).
What's next ?
New features should come very soon including the local version where users can see local products available in nearby store. By clicking on the product they will be taken to the page of the local store.
Now, you should have a broad overview of what Google Shopping is, how to use it and what results to expect. If you're an ecommerce retailer, there is just one question to ask: is this service available in my target country? If yes, then don't wait any longer. Given the performances we observe, competition will soon ramp up.
Moreover as long as your product feed is automated the management of such campaigns requires very little time and is quite simple to implement. So, just go for it!
written by Doriane Magnus
Tags: