In February 2015, YouTube will celebrate its 10 years of existence. It was created by three former PayPal employees. Barely 2 years later, in November 2006, Google officially acquired the online video platform.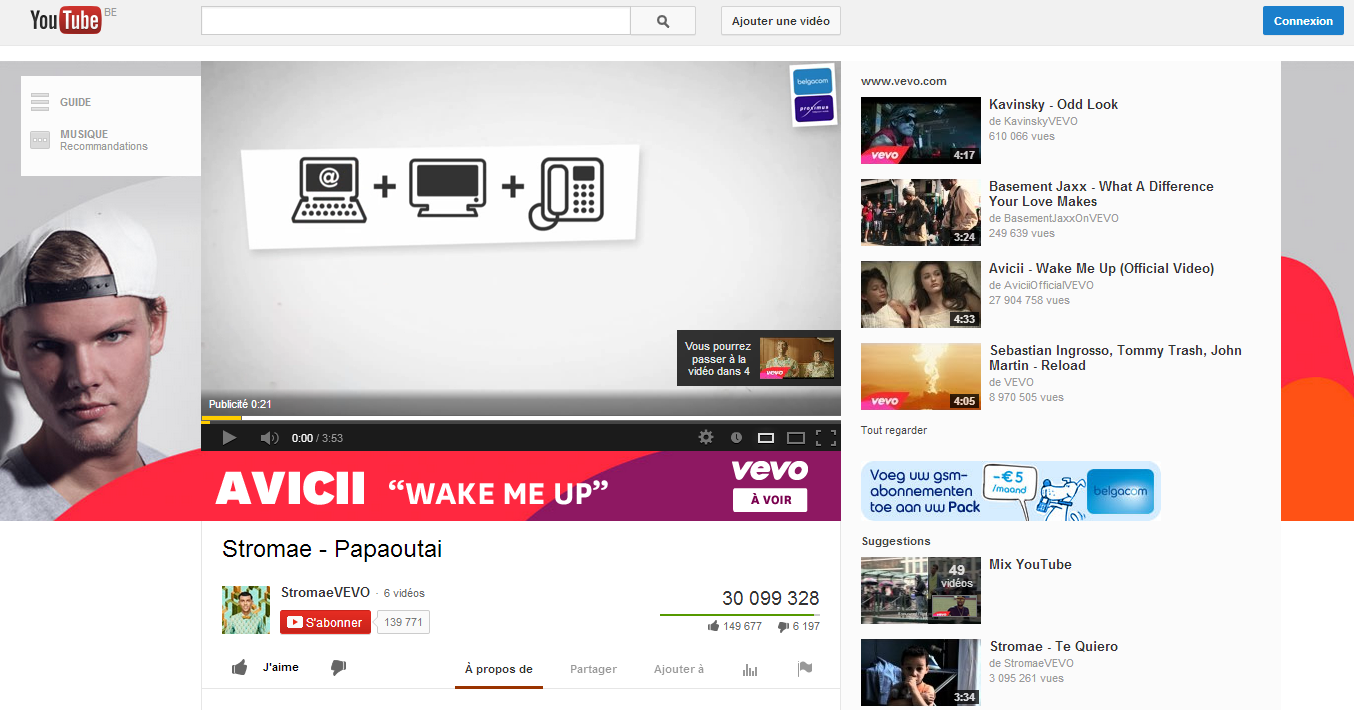 Some YouTube figures
YouTube represents a massive audience with its 1 billion unique users worldwide watching each month 6 billion hours of video (more stats)! In Belgium, at the date of today, the service homepage sees over 1 million unique users a day. For almost 3 years now, the Digital Advertising side of the platform is accessible for advertisers to target Belgian YouTubers. Back in 2012, YouTube figures in Belgium were already impressive:
Monthly Reach (in unique users) = 3,8M;

Online Population Reach = 64%;

Monthly Pageviews = 400M;

Daily Homepage Views = 2M.
But what does YouTube really represent from an Advertiser perspective? The big question is the comparison to TV. How online video viewing experience is disrupting the TV?
In Belgium, for example, YouTube has such a big audience that it can compare itself to the reach of some of the top TV channels. You can also consider YouTube as being a complement to ones advertising campaign on TV. Google presents YouTube as an extended reach of some TV ad campaigns. They use to call it TV Plus.
Advertising Formats on YouTube
You'll find back a limited set of ad formats. We have the Video ads, the Display ads and the homepage ads (find out more on YouTube ad formats here).
TrueView Video Ads?
The most interesting ad format is the TrueView also known as the Pre-roll even though the correct definition is: skippable video ad that is inserted before, during or after the main video.
Here is why it is so interesting
1. Pay per view
You'll only pay when someone has viewed your video either entirely or at least 30 seconds
2. Skippable
People have the choice to skip your video after the first 5 seconds
3. Auction
You can buy them through directly from AdWords through the auction system
4. Location and Device Targeting
You can leverage Google Display Network targeting capabilities (location, devices, smartphones bid adjustment, etc.)
5. Content Targeting
You can target by keywords, content categories and specific placements such as a YouTube channel.
6. Audience Targeting
You can also target people based on their surf habits, that is their Interests but you can also use your remarketing lists and retarget people who visited your website or consume some videos from your channel. And last but not least, you can also target people based on their age and gender!
7. Measure & Analytics
Besides a lot of stats already available in the AdWords interface, Google worked on a tighter integration of these Video Campaigns in Google Analytics.
These 7 points highlight how impactful this ad format might be and why we believe it should definitely fit within your Digital Advertising mix!
written by Nicolas Debray
Tags: