The radio landscape is changing. The offline radio user base has declined by 15% over the last 3 years in Europe, marketing investment is following accordingly, and this downward trend is expected to continue. On the other side, digital audio services like Spotify keep growing and are expected to be pushed even further with the fast adoption of smart home devices and the increasing amount of podcast listeners. Also the ability to retrieve more qualitative data from digital campaigns compared to their offline counterpart remains a big surplus. At Semetis we like to get our feet wet into emerging technologies and trends, so as from March 2019 we decided to launch the first Dynamic Audio Personalization (DAP) campaign together with telco player Scarlet (part of Proximus Group). The process was cutting edge and has never been executed before on the Belgian market. As a team we went from a conceptual idea to implementation in less than 8 weeks and continued improving it during the months after. With Dynamic Audio we aim to increase the user relevancy of our traditional radio ads which are normally used for ATL advertising.
Background & Problem statement
As DAP is a totally new concept we needed to explain the added value to Scarlet. It has been proven in the past that personalization is a key driver for revenue & ROI. As we already experimented with display DCO, we were keen to achieve similar upweighted results for our audio ads. Having only one single message for our total reachable audience is just not good enough. Our users are unique.
Together with the advertiser (Scarlet), the creative agency (FamousGrey) and the technology provider A Million Ads, Semetis laid out the fundamentals of the project. We defined our core audience: the Spotify users above 25 years old, but still had 3 important decisions to make:
Measurement: From previous audio campaigns we learned that it is hard to measure success. Most users listen to Spotify with their phone in their pockets so clicks are not an objective, also Spotify ads are unskippable so there is no listen-through rate. Together we identified the KPIs of our audio campaign: Reach and Brand Consideration. That last one was measured with a Brand Effectiveness Survey.
Message: How can we make the ad more appealing to our users? The decision is about picking the right variables on which we want to alter our audio creative. In March 2019 we already built a first dynamic audio case on the variables Time of Day and Day of Week, but after questioning the end user we learned that this was not considered personal enough. With the addition of Location we wanted to spice things up a bit. We built our case on the combo: Time of day, Location & Weather.
Creative cost: how will these different audio combinations impact the studio time and hence its cost.
Each color in the table represents a different audio variable (simplified visualization of the use case). Next to that there is also static audio that is used in all combinations to glue the script together.

Approach: How it all fits together
How we tackled the studio time?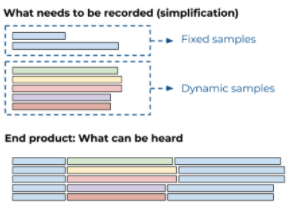 For Scarlet we picked 3 combinations for the Time of Day variable: morning, noon and evening; 2 combinations for weather: sunny and cloudy/rainy; and 10 different locations: Ghent, Brussels, Antwerp, Liège, Charleroi, Namur, Hasselt, Coast, Ardennes and Neighbourhood (default). As we are Belgium we needed to develop this for both the dutch and the french language. In essence, we needed to record samples of each variation and stitch these samples together. So in total, we recorded 2 sets of 15 (3 + 2 + 10) audio samples, but we got a combination of (3 * 2 * 10 * 2) 120 unique audio ads! The more variables, the more this model scales up.
The creation of 120 different audio ads is for most brands still unimaginable. Mainly because it is too expensive to record so many different variations. With DCO for audio, the approach becomes way more efficient. We have 4 minutes of recorded audio samples, which translates into 108 minutes of unique audio material when combined. A win in both time and money.
How we tackled the real-time audio creation?
A Million Ads (AMA) is the technology that allows us to upload all the different audio samples and merge them together into one audio ad. Every sample receives a piece of targeting context as it should only play depending on our predefined scenarios. Below you can see an example.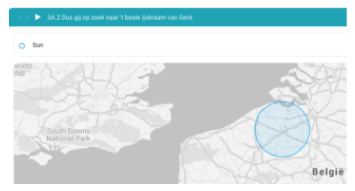 In a nutshell, this enabled us to adapt our message depending on where our user is located, what time it is and how the weather is like. Before publishing this as a VAST Tag, it is important to listen to the variety of combinations when AMA blends it smoothly together.
How we tackled the DSP issues?
Scarlet is using Display & Video 360 as their main DSP. This integration is not yet supported with AMA, so we decided to look into other tools as we are technology-agnostic at Semetis. For Scarlet we went with The Trade Desk DSP as they have the biggest focus on audio inventory and smart algorithms to increase performance. It's in The Trade Desk that things come together: we link our audio creative (as a VAST tag) with our Spotify deal.
Results & Next Steps
In order to measure success we've conducted a Brand Effectiveness Survey (Annex 6) in collaboration with Attest & AMA. Here we tested our dynamic creative in comparison to the static version used for FM radio. What we learned is that for the dynamic ad:
24% more respondents identified the ad was personalized to them
51% of respondents stated that personalization increased their likelihood to consider switching to Scarlet
40% of respondents favored location personalization over weather and time of day
Next to that we also compared the cost per user reached for online audio vs FM radio and found out that on average it is 35% cheaper to reach our users over online channels (Annex 7).
But is this it? No, the foundations are built, in the future the online audio market will grow even bigger. We pushed IP in March 2019 to open up their Inventory for Dynamic Audio ads. This will allow us now to also appear on channels such as Radio Contact, BelRTL & Radio Nostalgie. Also, Medialaan has been building the necessary infrastructure on our demand, with big channels like Q-Music & Joe FM opening up soon. Everything is pointing in the direction of more personalization. For audio ads this is not an exception. Semetis strongly believes that this is the first of many use cases and that this trend will continue in 2020. Together we can stop disappointing our users by focusing on cross-channel relevance. Let's leave the one-message-to-all concept for good in the past and change the classical mindset from static offline audio towards dynamic online audio.
---
Tags: