DoubleClick Search is a search management platform that aims to allow marketers and agencies to efficiently manage their search marketing campaigns via one platform. Consider, for example, Bing, which already has a market share of approximately 4% in Belgium. The Doubleclick Search interface can show the results of the various search engines and media channels, such as AdWords and Bing.
Furthermore you could save money and time with DoubleClick Search through the numerous functionalities to automate manual tasks, such as the automated bidding tool, which ensures the improvement of your campaign performances. So why should you definitely use the Doubleclick Search platform? Here are 6 good reasons for giving Doubleclick Search a try.
Saved Views
In DoubleClick Search you have the possibility to apply multiple filters to your advertising account in combination with a custom set of columns. You don't have to select this every time you open DoubleClick Search, but you can also save this as a 'saved view'. For example, you can create a 'saved view' for all the campaign metrics that you wish to quickly review every morning, in that way you can see at glance how these campaigns are performing.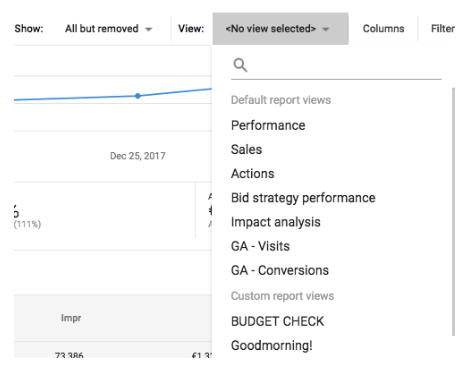 Labels
Labels can be added to any campaign, ad group, ad or keyword. Through these labels all items with the same label can be displayed. You can also create reports based on one specific label and perform bulk actions. Labels ensure that you can report and edit keywords outside the existing campaign structure.
Automated Rules
Automated Rules allow you to make adjustments in the settings of your campaigns, ad groups, ads or keywords based on criteria that you define in advance. Instead of immediately adapting the settings, you can use an automated rule to receive a notification as soon as your campaign matches to the criteria you had defined. An automated rule can be used, for example, to add labels to all keywords with a low cpc, or to all keywords that are linked to your brand campaigns.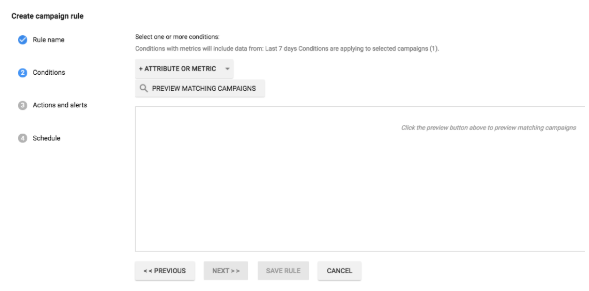 DS Executive Report
Automated reporting is one of the functionalities of DoubleClick Search to help you save time. The executive reports in DoubleClick Search are easy to set up and maintain and can be used for weekly or monthly follow-up reports but also for ad hoc campaign reporting. You only need to set up the report once, and the report can have multiple tabs in which graphs, tables,.. Can be easily added and copied.
Executive reports ensure that you can easily create a clear overview of your main KPI's such as investment, clicks, CTR, conversions,... about different product categories, devices, search engines,... The data from the report can come from different advertisers or accounts.
This report makes it possible to follow up your campaigns in a very easy way, both on campaign name or on label. The report can be shared with your clients via a link or you can download the report in pdf or excel.

Support
Doubleclick Search offers excellent support. There is a wide range of tips and tutorials available via the Doubleclick Search Help Center. Moreover, there is also support via live chat in the platform. The live chat provides an answer to all your questions in a very quick way.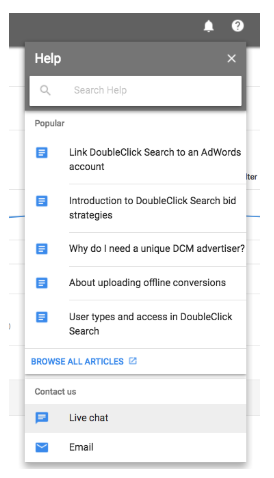 Display Remarketing via Search ads
With this option you have the possibility to make an audience of everyone who clicked on your search ad. You can use the labels to easily group the search volume on certain similar keywords. Based on the clicks, a cookie list is created to use in DoubleClick Bid Manager.
Imagine you have low end and high end products in your offer and you give those products a label in your search campaigns. Then you can exclude people who are looking for a high end product in the display campaigns for the low end products.
---
Tags: