In 2017 Google was condemned by the European Commission to a record fine (2.4 billions Euros) for abuse of dominant position in the context of shopping search results.
Why ? Because the European Commission estimated that Google was putting forward his own products in the search results (ie: Google Shopping Ads) to the detriment of other competitors offering price comparison services. Indeed all shopping search results were served by Google's CSS (Google Shopping):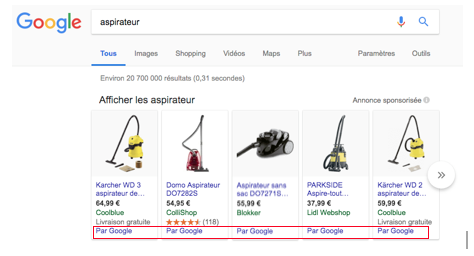 CSS stands for Comparison Shopping Service and is basically a website, like Google Shopping, that allows you to compare products with each other and from different providers.
In order to regularize the situation and to perhaps avoid this colossal fine Google decided earlier this year to open his Shopping search results (Shopping Ads) to non-Google CSS.
What does it mean concretely?
This means that any comparison website (like www.vergelijk.be) can display its products in Google search results (Shopping Ads).
It also means that anyone can create its own CSS and tand use it as a base to serve Shopping ads. This is of course the opportunity that Semetis wanted to seize by creating its own solution.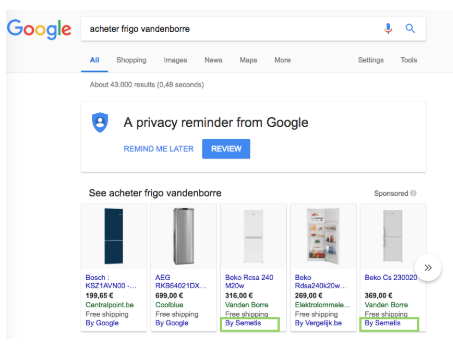 How?
You must first create your own comparison website (CSS) and respect Google requirements in order to be considered as a Comparison Shopping Partner.
Your website will then needs its own Merchant Center.
Advertisers that have products listed on your CSS can link their own Merchant Center to the CSS.
Why?
For the advertiser the major interest is financial. Indeed Google claims CPC are 20% lower in case you work with another CSS than Google Shopping.
Moreover Google has put in place a temporarily exclusive incentives program in the form of credit. Based on media spend during the month the advertiser is granted a credit for the following month of up to 30% of the amount invested till end of October and 5% till end of December 2018.
As for Google the interest is clear: by developing this solution they hope avoiding the steep penalty of the European Commission.
This is thus clearly a win-win solution (at least at this stage).
What's next ?
As mentioned above Semetis has created its own CSS. It is live and running. Semetis also received the CSS partner status which means we also benefit from the exclusive incentives program mentioned above.
Tests and learnings will be shared very soon.
Obviously a phase of adjustments will be necessary but it is essential for Semetis to take advantage of this new solution as soon as possible in order to constantly stay at the forefront of the market.
---
Tags: