What is it?
Gallery ads are a new way to engage with your potential customers. Thanks to this new format, it is now possible to bring a visual experience to those people who are ready to discover your product/service. By adding images to your search ads, they become more pleasant and attractive. Google expects an increase of at least 25% in interactions at absolute top of page for ad groups containing at least one gallery ad. On top of that, the impressions at absolute top of page would be 15% higher.
How does it work?
You can easily set-up a gallery ad through the live interface of Google Ads. Within Google Ads Editor, however, it is not yet possible to set-up the ad. You can however upload and copy the ad in Editor.
What does it look like?
Gallery ads are only available on mobile and for first placements. You can add four to eight images, which can be viewed by scrolling to the right just like a Facebook Carousel Ad. Next to the images, you also have the possibility to include three different headlines. These headlines stay the same when scrolling to the next picture. You can however add an individual tagline or description to each image. And last but not least, there is a Call-To-Action at the end of the gallery ad.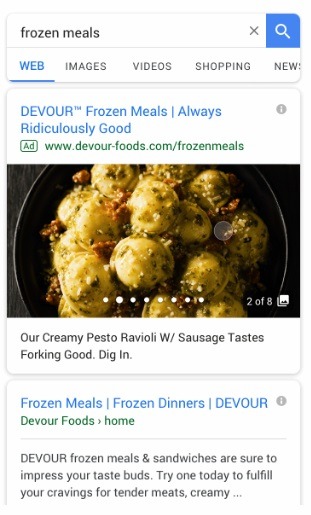 Why is it useful?
Visual stimuli make sure that you potential customers can really imagine your product. Suppose you run a cosy little Italian restaurant. In the past, you could already reach people through Google Search who were actively searching for a good Italian restaurant. Thanks to Gallery ads, you can now show them your authentic interior or make them long for your delicious looking pizza.
When is it available?
At the moment, the Gallery Ads are available in beta in different languages such as French, Dutch and English. A soft rollout is planned for the end of 2019.
---
Tags: