It hasn't been long since Waze made its inventory available programmatically. Less than a year ago, the platform only offered direct placements, while now, you can start buying placements through Display & Video 360. But how limited is their programmatic offer today? And is it worth investing in?
Waze ads enabling store visits
As a retailer with physical locations, one of your main marketing KPIs should be the number of store visits your marketing actions have produced. There is no doubt that digital advertising has always helped to enable store visits, but it has not been that long that it has been possible to accurately measure the number of store visits your campaigns have generated.
New players like Waze helped to accelerate this trend. With millions of users in the EU, Waze has quickly risen to be the biggest traffic and navigation app and is making your car's built-in GPS obsolete. Because of their enormous customer base and the fact that every active user is actually on-the-go in their car, they can offer a huge audience of highly engaged (i.e. moving) potential customers.
The main KPI on platforms like Waze is the direct navigation rate. Given the nature of their platform, there is no possibility for the user to click through on an ad and lead them to a landing page. In a previous article on Waze ads you could read about the different advertising possibilities, but allow me to go over them again because understanding them will be of crucial importance in trying to prove my further points.
Branded Pins: showing your brand logo as a pin on the route of the driver, to indicate the location of your physical store.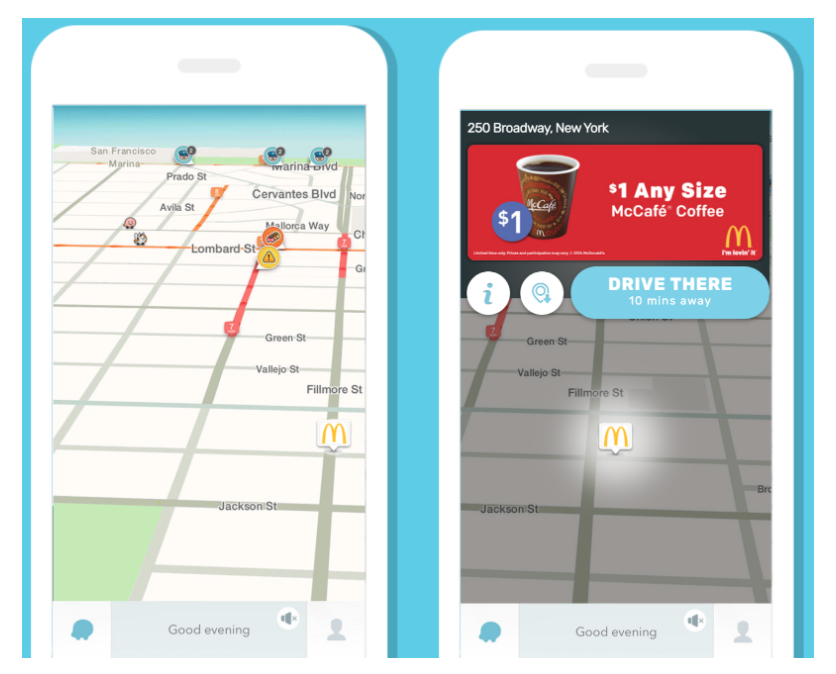 Arrows: showing your brand logo when your store is (relatively) nearby, but not on the map.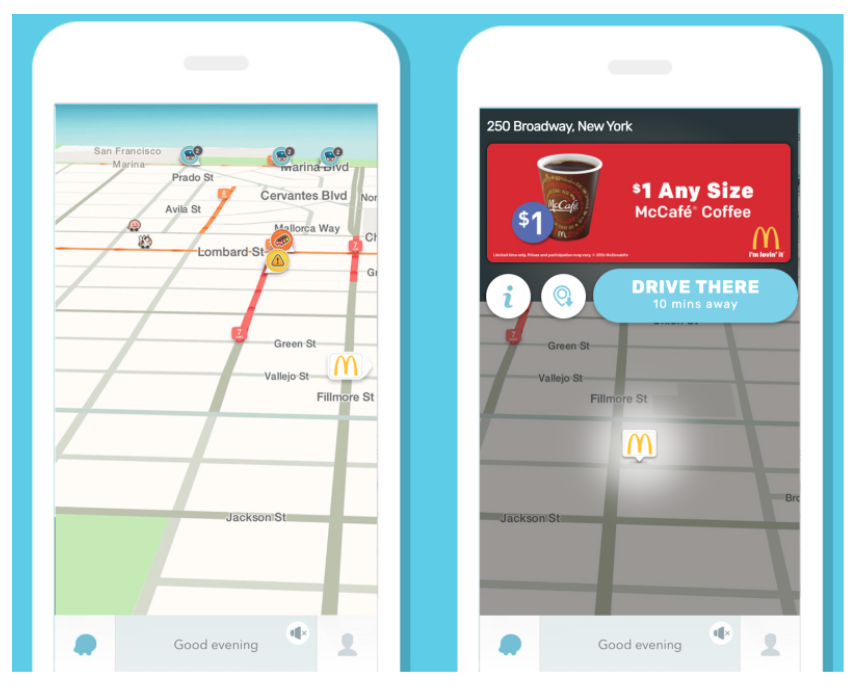 Search: pretty similar to regular search ads, Waze's search ads show up when there's a relevant branded or category-related query entered.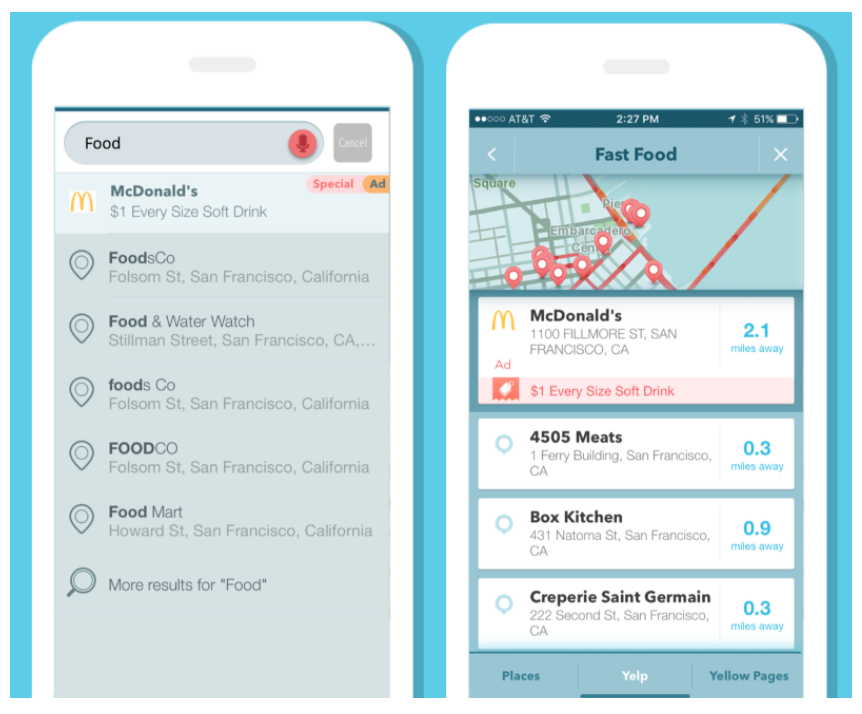 These three formats all have a pretty clear intent. You're capturing an engaged audience either near your store (Pins and Arrows), or actively looking for it (Search).
The last format Waze is offering is the Zero-Speed Takeovers, which are meant to function as a digital billboard. It is a great way to show specific promotions to people either near your store or generally interested in your store. These Takeovers are often perceived as being slightly more intrusive, as it requires no specific action of the users. The only requirement is that the driver is at a full stop. The navigation rate (the number of people seeing the ad and driving there directly), is, therefore, a lot lower than with the Pins, Arrows or Search ads. The goal of using the Zero-Speed Takeover is displaying your promotions, rather than directly driving store visits.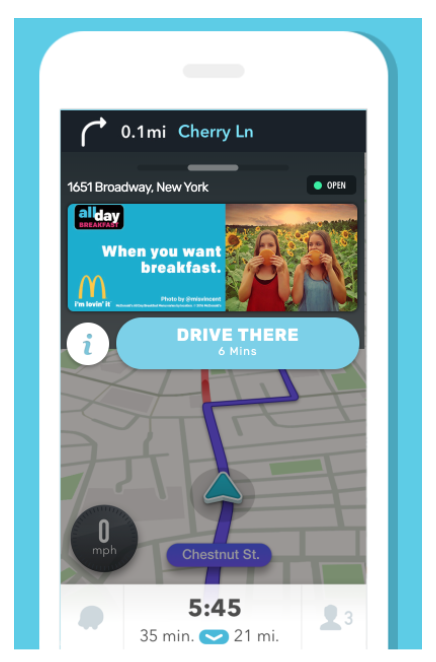 Navigating towards programmatic
As said in the introduction of this article, it is now possible to purchase inventory on Waze via DV360. Available since last year, it is the first integration with Google's Marketing Platform since its acquisition by Google 7 years ago.
Enabling their inventory on DV360 lowers the threshold of advertising on the platform because it does not require a minimum investment. Before, when it was only possible to advertise via direct placements, this was the main reason why Waze was often not being considered by small businesses or in short campaigns with a limited budget. It is thus now way easier to leverage Waze's inventory.
There are however still shortcomings to advertising on Waze programmatically. First and foremost, only Zero-Speed Takeovers are available. Referring to what I mentioned previously, this a severe limitation because it affects your way of advertising on Waze. Consider you have a limited budget for a campaign and your main KPI for that specific campaign is driving extra store visits. You'll seriously want to re-consider advertising on Waze programmatically since the only possibility is displaying digital billboards Furthermore, users are only able to "Save for Later", since the CTA "Drive There", which is the standard CTA on Waze ads (through reservations, see the image before), is not available for programmatic buying.
Bidding is only possible with a fixed CPM of 12€, but the first tests have proven to lightly fluctuate around this number. A small limitation to setting up your Waze ads in DV360 is that it's not possible to see a preview of your ad.
In conclusion, the fact that Waze is navigating more towards the possibilities of advertising on their platform programmatically by integrating with the Google Marketing Platform is a logical trend, but for now, opportunities and successful results are too limited in numbers for it to be able to fully compete against direct placements. Advertising on Waze, however, will very likely grow over the years and will be a great opportunity for retailers with physical stores to drive store visits with digital advertising.
---
Tags: