It is not just a trend anymore. Modern marketers should make informed decisions by consulting data. Even though most companies nowadays own tons of data, only few leverage it to benefit their business goals. The problem lies in the fact that our data is fragmented in different silos. We have online website data, email data, advertising data, offline CRM & data warehouse data, you name it. But none of these sources speak to each other, they mainly exist on their own. What we should be striving for is data centralization in order to get a more unified view of our customers. Only than we can fully speak about defining relevant customer journeys. But how do we work towards this perfection? We need to leverage the existing technologies of today's market, more specifically Customer Data Platforms (CDP's). CDP is currently a $300 million industry and projected to reach $1 billion by 2019.
If you want to be ahead of trends 2019 will be the year that you better jump on the bandwagon. With this in mind Semetis is preparing a series of articles around the topic, so stay tuned for more.
What is a CDP?
Let's re-use the Wikipedia definition for a minute:
"A Customer Data Platform is a marketer-based management system. It creates a persistent, unified customer database that is accessible to other systems. Data is pulled from multiple sources, cleaned and combined to create a single customer profile. This structured data is then made available to other marketing systems. A CDP provides real-time segmentation for personalized marketing."
So in short the aim of the CDP is to bring together all your data pools and to stitch that data together into unified customer profiles. That way a marketer can easily work with it. The end goal is in-depth marketing personalisation. It is all about sending the right message at the right user wherever in their customer journey. This can go beyond digital and include offline customer journey touchpoints.
So how does this differ from CRM & DMP ?
It's not the intent of this article to give a full explanation around each of these buzzwords. The purpose is to give you in short the main differences.
1) Differences with CRM
CRM systems are built to engage with customers, on the basis of historical and general customer data to create a persistent customer profile. They lack the ability of plugging in other data sources. A CDP on the other hand is able to connect all types and sources of customer data, often varying between internal - or external data, and structured - or unstructured data.
Thanks to this functionality we get a more holistic view of our customers which enables us to better understand them and act in real-time. In short a CRM is only one specific data source that can be fetched into a CDP.
Typical CRM data corresponds to the average membership card - and profile data, like phone, address, email and permission data. But it might also includes information from web forms and surveys. The CDP is built to handle any type of customer data. As the tool is flexible in adding or changing data sources, it functions rather as a central repository of your users.
2) Differences with DMP
It is easy to confuse a Data Management Platform with a CDP. DMPs were mainly designed to serve advertisement and enable retargeting using cookies. The focus is less on single customers and more on clustered segments and categories. In a DMP, much of the info is anonymous and typically expires after x-amount of days (being the cookie lifetime).
The CDP creates a persistent customer profile. That means it stores the data and keeps the history. All this data combined gives us the single user view we crave for. So in brief: DMPs were designed to retarget anonymous users for advertising, whereas CDPs create a database of your identified customers to go out of the scope of only advertising (but still include it).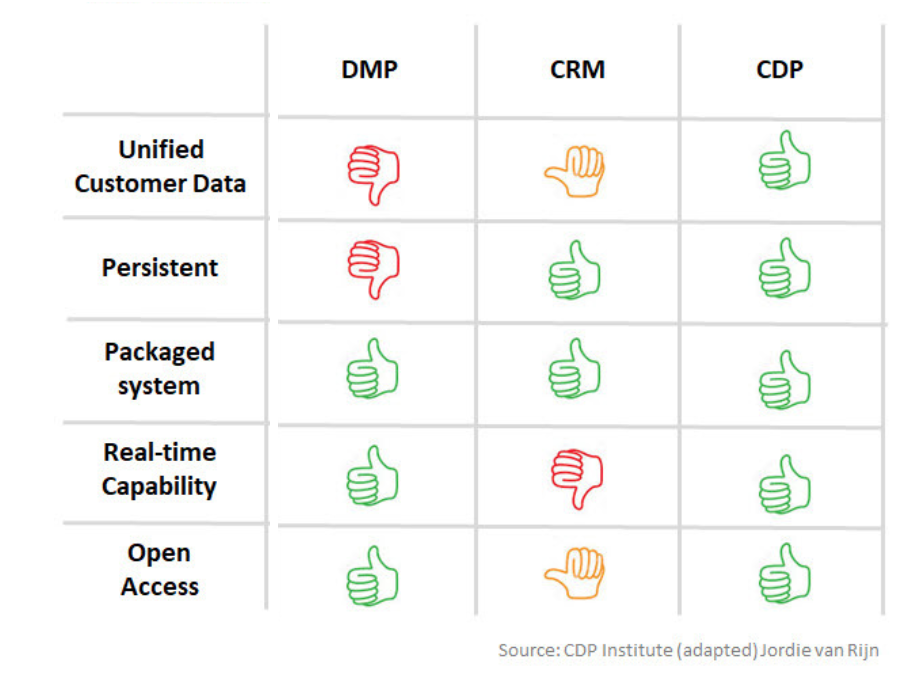 More concretely, why would you need a CDP ?
In short a CDP can help you to answer the questions in the list below. If you recognize questions that are often asked within your company, then a CDP could be a solution to look into.
Should we retarget this user or did he already make the purchase in one of our physical offline stores?
What products can we offer the user for cross-sell in regards to both his online and offline purchases?
What was the product this customer bought before their latest purchase?
Which segments / target groups does this customer belong to?
What is the likeliness of this customer to churn?
What products/categories has the user shown interest in lately? Can we detect his/her favourite product?
What is their purchase intent?
What is the customer lifetime value (CLV) of this customer?
Through which media/channels do they preferably interact ?
What are their preferences and where are they in the customer journey?
Obviously this list is non-exhaustive but it gives you a first more tangible idea of the answers that a CDP can provide. Once more it is all designed to send the right message to the right user regardless of behaviour within the customer journey. Only when we see the full picture we will be able to push customers away from churn behaviour and to increase their CLV.


Conclusion
Customer Data Platforms are already a big hype in 2018 but will gain more importance in 2019. This article prepared you with the basics by explaining what they are and how they differ from CRM & DMPs. Summarized in one key take-away it's all about building towards a user-centric view. How could you tackle this? 1) Think structurally about your business omnichannel challenges, as every company is different. 2) Focus on your first-party data as it never gets fully leveraged. 3) Use the technology that is available on today's market to bridge the current gaps in your customers' journey.
---
Tags: