This article is the second part of our series dedicated to podcast advertising. In the first part, we saw how to find relevant shows for your brand and how to negotiate ad placements with podcasts hosts.
In this part, we reveal the two metrics you should check out to assess a podcast. Furthermore, we also explain the budget you should expect to deploy for a good podcast advertising.
Without further ado, let's dive right into it!
Two metrics to assess a podcast's performances
Before getting into the metrics, please keep in mind the following: choosing a podcast on which to place your ad shouldn't be limited to numbers.
You should also consider the quality of the podcast's content and the potential affinity that could exist between your brand and the host.
If you listen to enough podcasts, you should be able to get a grasp on the content quality as well as how to approach the hosts.
Listening time
The first metric to look for is the listening time, also called "retention rate".
Similar to the watch time on YouTube, this metric indicates how long a podcast's listeners are listening to the episodes. Here's an example: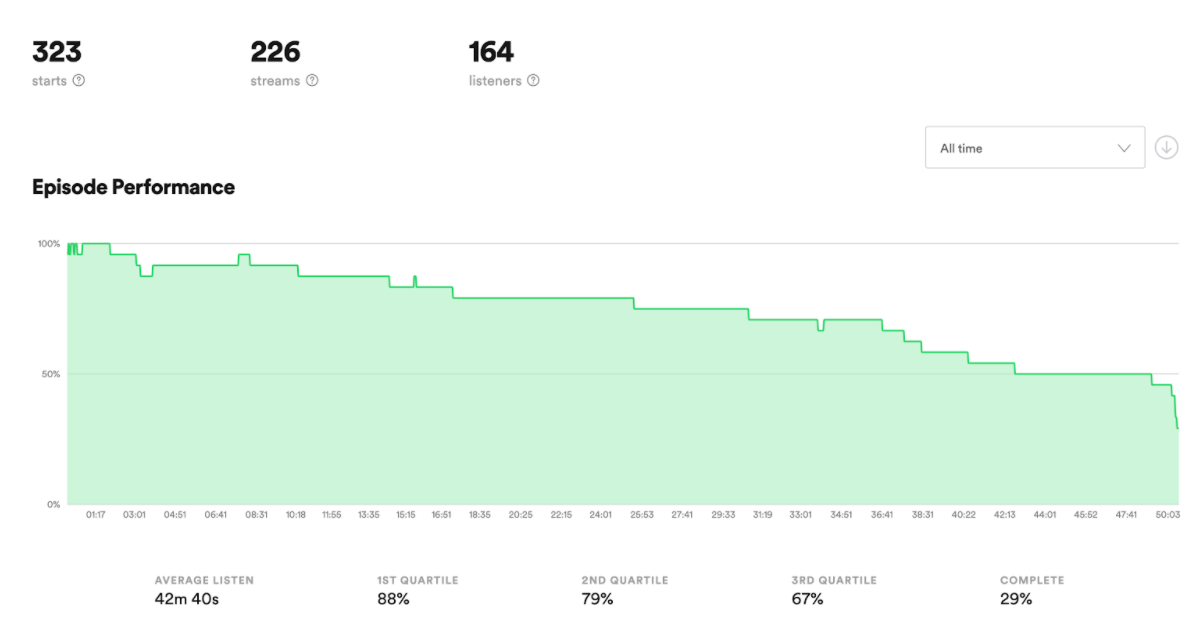 This graph shows the retention rate of a podcast episode published on Spotify. As you can see, more than 50% of listeners stayed until the end of it.
This metric matters, because it shows the ability of a podcast to keep the attention of its audience. The more listeners stay, the better. It also indicates the strength of the relationship between the host and the listeners.
However, please note that you will have to ask the podcaster to share this information with you. It's available on the Spotify dashboard, and only the host has access to it. So ask for this metric before making your offer.
Amount of listeners
The second metric to look for is the amount of listeners that a podcast manages to gather. Similar to the amount of views that a YouTube channel might have, this metric can give you a better idea of a podcast's size.
However, please note that even for a host, it can be complicated to know how many people actually listen to his or her show.
That's mostly because a podcast is usually available on multiple platforms at the same time. When you create a podcast, you create a "RSS Feed" that gets connected to multiple streaming platforms.
Here's how it works: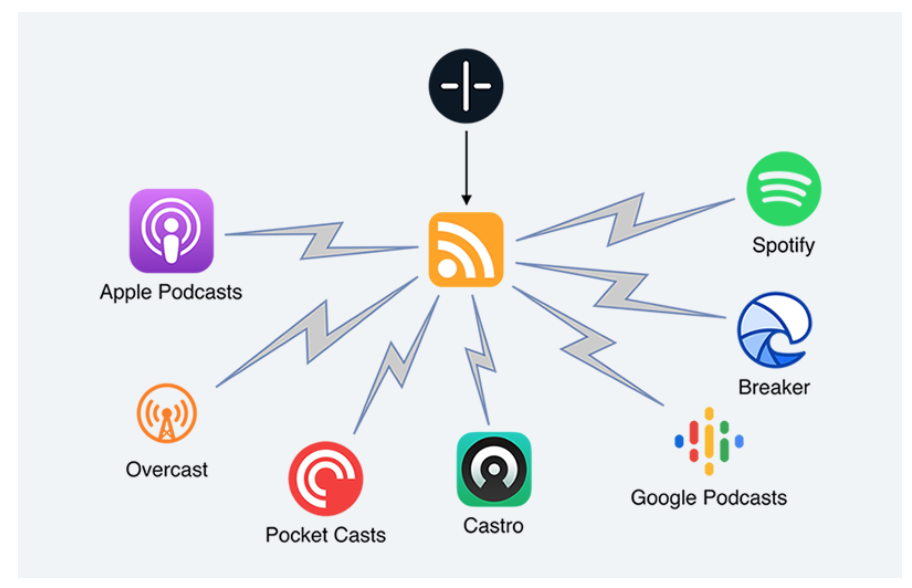 You create a podcast on a hosting platform such as Anchor or Transistor. This hosting platform creates a feed. This feed is submitted automatically to Apple Podcasts, Spotify, Google Podcasts, etc.
Precisely because a podcast can be listened to on different platforms, it makes it hard to know exactly how many people listen to a show.
However, most hosting platforms can give an estimation, such as the following: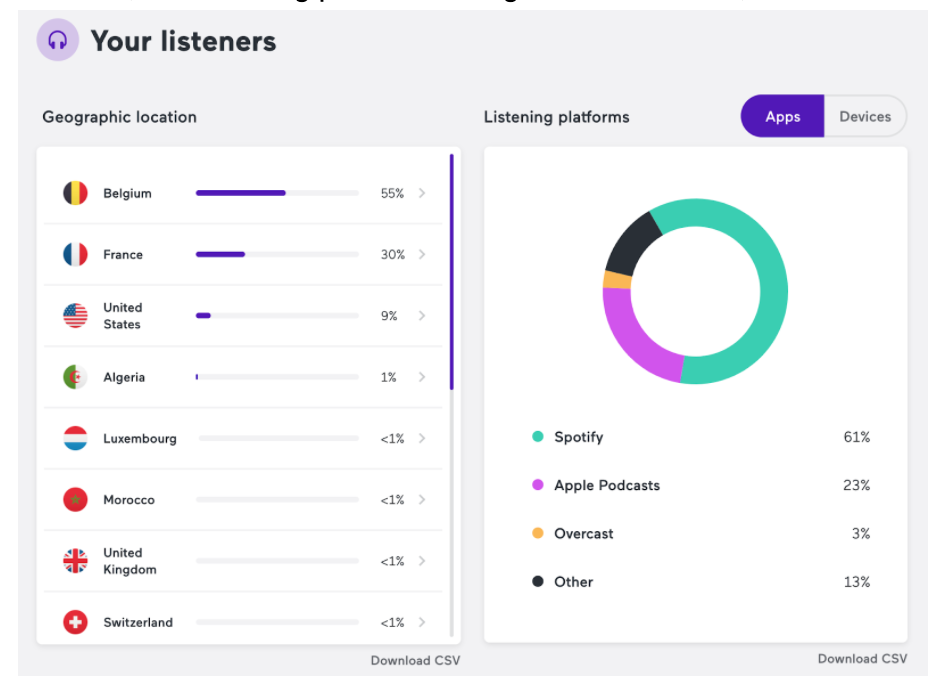 Exactly like the "listening time", you will have to ask the podcaster to share this information with you. Here's the example of Sortlist's podcast stats, Beyond Marketing, on Spotify: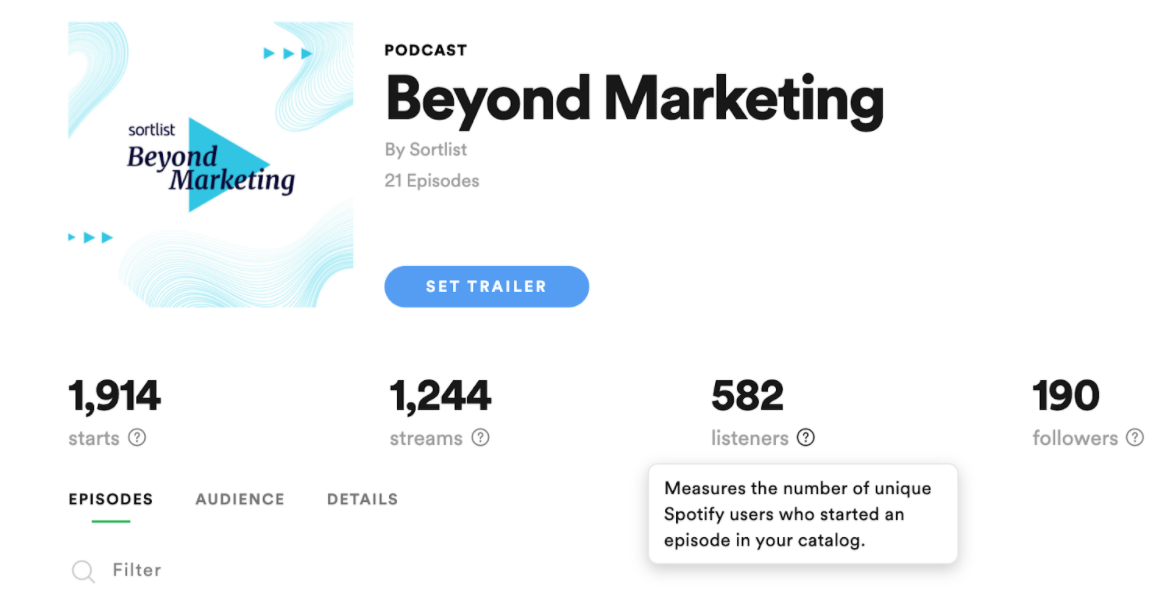 How to plan your ad budget
Once you've chosen a podcast you'd like to promote your brand on, it will be time to set up a budget.
The average cost of podcast advertising
Obviously, negotiation will have a role to play. You might be able to pay more or less depending on what you will offer to the podcast host.
However, these 3 criteria will impact the budget:
The length of your ad,
How many times your ad will be played,
The amount of listeners the podcast has.
Based on those criteria, here are the average rates for podcast advertising according to WordStream:
$15 CPM for a 10 second ad,
$18 CPM for a 30 second ad,
$25 CPM for a 60 second ad.
So let's take an example and imagine you plan to push an ad on a podcast that has 50.000 listeners on average. Let's assume you want to place a 60 second ad at the beginning of 5 episodes and a 10 second ad at the end of those 5 episodes.
You would have: (($25x50)x5 + ($15x50) x 5) = $6.250 + $3.750 = $10.000
A comparison with YouTube, Facebook, & Spotify Audio Ads
In order to have a better understanding of podcast advertising costs, let's make a quick comparison with YouTube, Facebook and Spotify ads:
On YouTube, you should expect to pay a CPM of $4,20 (3,50€) on average. That's $2.100 (1.750€) for 500.000 impressions.
On Facebook, you should expect to pay a CPM of $5,45 (4,50€) on average. That's $2.725 (2.250€) for 500.000 impressions.
On Spotify, you should expect to pay a CPM of $18 (15€) on average. That's $9.000 (7.500€) for 500.000 impressions.
When comparing those numbers, podcast advertising can seem to be super expensive. However, as we've seen it in the first article, the engagement of a user listening to a podcast is above the norms, with 54% of listeners saying they are more likely to buy from a brand after hearing their ad on a podcast. You won't get anywhere close to that number with YouTube advertising, for instance.
Besides, those are average prices and you should know that the cost of advertising depends on multiple factors.
The difference between Podcast, Facebook, & YouTube advertising
All in all, I think comparing those advertising channels based on their cost is not the best approach, precisely because many factors have a role to play. Those channels all fit different goals marketers can aim to reach.
Personally, I would choose to advertise on a podcast if I needed to strengthen my brand's image and reach a highly specialized audience on an innovative channel. On the other hand, I would go for Facebook and YouTube for a large reach and to visually depict what my brand's product or service can offer.
Conclusion
Depending on your budget and your marketing goals, advertising on a podcast could really move the needle for your brand. As explained in this series of 2 articles (click here to read the first one), statistics are looking promising and I believe they will go on that way.
At this stage, the following question remains: will podcast advertising remain a relatively manual work ? Or will it become completely programmatic ? At this stage it is hard to say. If we compare with the influencer world, we can see that, so far, placing an ad or sponsoring with an influencer remains somehow manual. Platforms have been created to help structure and coordinate the steps needed to be live but at the end of the day, it always requires a discussion between the advertiser and the content producer (the influencer).
For the rest, in my opinion, the amount of people listening to podcasts, the amount of shows getting created, and the amount of listeners willing to buy from a brand after hearing about it on their favorite shows will keep growing in the coming years.
I hope this series of 2 articles on podcast advertising gave you enough information if you're considering pushing ads on a podcast, but don't hesitate to hit me up on LinkedIn if you have questions. I'm always happy to help!
Written by Tancrède d'Aspremont Lynden
Content & Product Marketeer @ Sortlist
Tags: