Relations between headquarters (HQ) and franchisees are not always easy to manage. They depend on each other as much as they count on each other. Today one of HQ's main challenge is to understand how to best support its franchisees in their online transition/transformation. This kind of problematic is valid for lots of different industries including retailers of course, but also banks and automotive dealerships for instance. Today we would like to cover the different platforms and features you (as HQ) can use to help them.
A good online presence is a first step
First things first.. having a good online presence is at the cornerstone of every good online local strategy. This implies that every local store should have its own website or at least a dedicated page on HQ website. Keep in mind that they should ideally keep the ability to update their own content being opening hours, contact details or stock status.
In order to properly track what's going on their website, you would probably need to implement a web analytics tool. Let's take the example of local stores having their website tracked via Google Analytics (most used web analytics tool in Belgium). One of the potential challenge would be to properly manage different level of access between members (store manager, area manager, brand manager, etc.). Hopefully platforms like Google Analytics offer the possibility to implement data architecture and account structure that can satisfy everyone. Find below an idea of GA structure: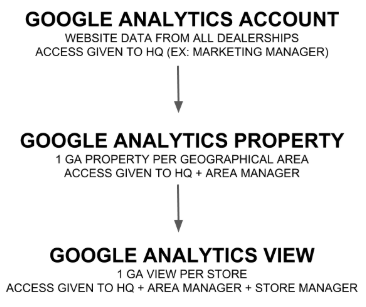 Next to a good and running website, one of the "must have" nowadays for local shops is Google My Business (GMB). This tool will allow them to display useful information - opening hours, description, pictures, reviews and much more - to the search users on Google. Bear in mind once again that a good set-up comes with a good account structure. We would recommend you (as HQ) to keep ownership of all GMB addresses and give them "Manager" access (or "Communications manager" for some of their employees). As a reminder find below the differences between each roles (from GMB support):

If this leads to too many conflictual situations and discussions with your franchisees, note that Google recently opened the possibility to switch to co-ownership which seems to represent a good comprise. So if you have several different locations, the best way to manage them all is to create Location groups (find instructions here). Location groups (previously known as Business accounts) provide a safe way to share management of your locations with multiple users. They are like a shared folder for your locations, a simple way to share access to a set of locations with coworkers. You can find more information in this article from Google. The main disadvantage is that each time a local shop creates a new GMB entry you would need to ask manually the co-ownership since it is not (yet) an automated process. Moreover you let to local shops the governance on the GMB accounts which could potentially lead to discrepancies between shops (no naming convention, lack of consistency in the shops description, etc). But it also means you let them manage the maintenance of the page which represents a significant advantage on top of solving potential "political tensions" if you would have imposed being the sole owner of the GMB location.
Attract and retain users
Having a nice website (including a proper tracking) and an optimized presence on Google My Business for your local shops doesn't suffice unfortunately in order to claim a good online presence. Indeed you also need to work together with them on traffic acquisition and retention. There are several options to do so but today we'd like to focus on search advertising for acquisition and Facebook advertising for retention.
Search advertising is now clearly a must-have in every good online strategy. And this is of course true for local players as well. Local campaigns on search obviously imply the use of location targeting. If you make use of Google AdWords (Google being still by far the #1 search engine in Belgium, according to Howwebrowse.be), we would recommend you to use the following option: "People in, searching for, or who show an interest in your targeted location". Indeed if your car dealer (to take a concrete example) is located in Antwerp you do want to appear when a user located in Brussels (because he or she works there) is looking for a "car dealership in Antwerp", right? In terms of settings we believe that radius targeting (i.e. reach all users around your store) is probably the best option. Note that you can also combine this radius targeting with a targeting by ZIP code.
Being present on Google Search will give you a good volume of qualitative visits to your website. Do not forget to make the connection between your Google AdWords and Google My Business accounts allowing you to push super relevant information to your users thanks to call & location extensions for instance. This linking will also allow you to build a bridge between online and offline data more easily (more details below).
Last but not least for search advertising, bear in mind that mobile is even more important when it comes to local strategy. Do not forget to analyse your results (segment by device for example) and adapt your campaigns thanks the numerous features offered by Google like mobile bid adjustment, IF-functions or ad customizers.
Attracting users to your website is one thing. Retaining them is another. As mentioned above we would like to focus here on what Facebook has to offer. They recently launched a new product called Dynamic Ads for Lead Generation which is specifically useful for automotive companies. Basically this new feature will allow you to retarget your previous website visitors with dynamic ads using information such as your vehicle catalog or inventory in stock. Users will not be redirected to your website but instead will have the possibility to ask for a test drive while staying on their beloved social network interface. More personalization for better results is a well-known recipe for success nowadays.
Build the bridge between online and offline
One of today's main challenge for brands with physical stores is to build connection between online and offline data. Big online companies such as Facebook and Google consequently created specific teams and gave them some time to focus on technical solutions to answer this new need. From Mountain View we've seen 2 important updates coming up: Google AdWords Store Visits and Google AdWords Store Sales. And quite the same from Palo Alto: Facebook Store Visits and Facebook Offline Conversions. To cut a long story short, a good implementation (find all necessary information in this nice article written by my colleague Julien) will enable new crucial offline KPIs to pop-up in your advertising platforms. This will allow you (as HQ) to leverage the discussion with your franchisees and convince them to invest even more in online advertising.
Collaboration is key
Last but not least we would like to insist on the fact that all those technical implementations mentioned above are essential but good collaboration is even more crucial on the road to success. Indeed this kind of project typically involves lots of stakeholders (HQ, franchisees, advertising agency(ies), web agency(ies), creative agency(ies), media publishers, etc.) and can become a nightmare from a project management perspective. Some pieces of advice to avoid this:
Don't underestimate the size and potential complexity of the project (especially for tagging-related projects)
Involve each stakeholders (especially agencies) early enough in the project definition (kick-off meeting is always a good idea)
Rely on big online partners (read Google and Facebook) to give you recommendations and share best practices
Don't forget to communicate to your franchisees and educate them (if needed) about online advertising and its corresponding KPIs
What to take away with you?
If you would need to keep a few elements in mind to set-up a good local online strategy, those would be:
Collaboration with all stakeholders is key before, during and after the project.
A good structure always helps. This is true for every platforms, including tag management tools, web analytics tools as well as advertising platforms.
Thinking mobile-first is even more important for local strategy
Try to keep ownership of platforms (websites, GMB, etc.) while giving your franchisees the ability to manage their own content
Connect online and offline data
Good luck!
---
Tags: