Did YouTube just get serious competition? Coming from Instagram? Yes you've heard it right. On June 20th 2018, Instagram announced the launch of its newest app 'IGTV' which takes the video landscape by storm.
Did YouTube have no real competition until now?
Of course it did! But none managed to strongly compete against YouTube.
To name a few, Snapchat, Facebook, Vine all attempted. However either those platforms didn't focus on creators, had no great monetization system or even simply failed in the case of Vine. Only Vimeo so far has been the strongest competitor to YouTube as it managed to include search, has a well-working monetization system and provides lots of short films. However the amount of users on YouTube (over a billion users that each day watch a billion hours of video) made the platform always more attractive to both creators and viewers. But beware YouTube, IGTV has just arrived.
What is IGTV?
IGTV (or Instagram TV) is a stand alone app that you can download and that is also integrated into Instagram. For those already having an Instagram account, they can see the 'IGTV' button at the top of their home screen (if it's not the case, might be worth updating your app).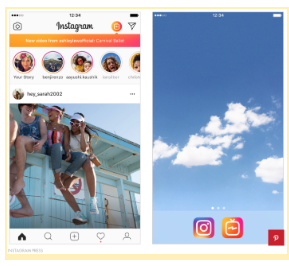 So far, videos uploaded on Instagram could last up to 10 minutes max. With IGTV, it is now possible to have videos up to 60 minutes long! Important to note that those videos are vertical. Why? According to Instagram, videos should be adapted to the way we usually hold our mobile phones. There is no need anymore to bend awkwardly our phones to watch a video.
Videos on IGTV automatically play as soon as you go in the app, just like you experience it when you switch your TV on. Moreover, just like regular TV, IGTV is built upon different channels. The difference is that those channels are creators (anyone creating videos and posting them on their so-called own channel). As IGTV users, you can find videos through 4 options: 'for you', 'following', 'popular' and 'continue watching'.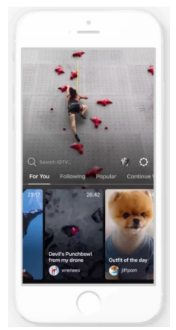 If you already follow people on Instagram you will see their videos as well as other videos based on your interests.
How does Instagram position IGTV?
Is Instagram ready to compete against YouTube? Does it strongly position itself in the market? Audience wise, it's fair to say that not all audiences are on YouTube and with its billion of monthly active users, Instagram is a great opportunity for creators to widen their audiences and diversity. Moreover, Instagram is already well developed search wise: it has the hashtags, the explore page and an algorithm in place helping people to find content. Live videos and stories are also available and their popularity continue to increase. Finally, the platform is focused on creators, any person sharing content on Instagram, building communities around topics and niches.
What does IGTV imply for videos that creators post?
Now on IGTV it is possible to post videos that are 60 minutes long. The main drawback though is that these can for now only be uploaded from a desktop and can only be uploaded by large and verified accounts. It means not everybody will be able to upload hour-long videos, however everybody will be able to watch them. Creators will now have to learn recording vertical videos to upload on their IGTV channels. It will also be possible for creators to put links in the description of their videos in order to drive traffic to their own or third party websites.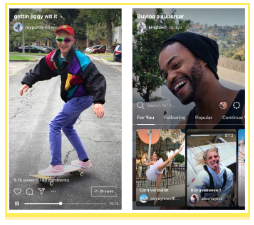 Is this the end of Youtube?
We wouldn't say it's the end of YouTube, actually YouTube isn't going anywhere (for now). The fact a strong competitor enters the market is rather positive. Indeed it will drive YouTube, IGTV and any other player to develop even greater products and services to stay ahead. We're excited to see how IGTV will evolve and how YouTube will respond. IGTV has the opportunity to become the TV of mobile, although it still has many challenges ahead. One of which is monetization. Creators that record up to one-hour long videos will invest much more time and need to get the tools to monetize. Instagram's CEO, Kevin Systrom, mentioned that IGTV is 'obviously a very reasonable place (for ads) to end up' and Instagram wants to make it a sustainable addition by offering future monetization possibilities.
As a Digital Media agency, we're excited. It means many new possibilities to look forward to for advertising in the future.
---
Tags: