Google recently launched a new remarketing feature. Since September it's possible to retarget custom audiences that are built based on your own email addresses database. It has been requested for long by advertisers, Facebook already offers this option for a few years. It is now available in AdWords.
How it works?
You just need to upload your emails list in AdWords and Google does the matching with their own database (ie: users with a Google Account). You can then retarget this audience on Google Search, YouTube or Gmail (so only on Google Properties and not on the entire Google Display Network).
Those audiences work like any other. On Google Search you can as usual adapt your bidding or adapt your message. You can even exclude those audiences in case those are users who already converted and you only want to focus on attracting new ones.
Another big advantage of this new feature is the similar audiences that are automatically created by Google. It allows you to reach users that are similar to your database and thus potentially very qualitative. Those similar audiences are only available on Gmail & YouTube.
What about the match rate ?
Some US sources announce a higher match rate on AdWords than on Facebook. We did a test at Semetis and with the same database, we got a match rate of 38% vs. 49% on Facebook. To be confirmed with other tests in the future. But this can be due to a lower penetration rate of Gmail/Google accounts in Europe and more specifically in Belgium. Still, with a 40% match rate and with a big enough database, you can build interesting remarketing strategies.
How to setup ?
Audience creation is similar to the setup of other remarketing lists.
You first need to go to the Audiences tab of the "Shared Library", click on "+ REMARKETING LIST" and select "Customer emails" in the drop-down menu.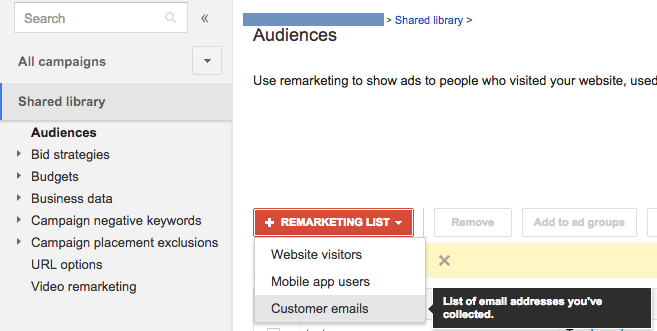 You can then upload your file, enter an email opt-out link ("Provide a link to the page where people can manage their preferences for receiving email from you, including opting out of any email lists they may be subscribed to") and set the membership duration.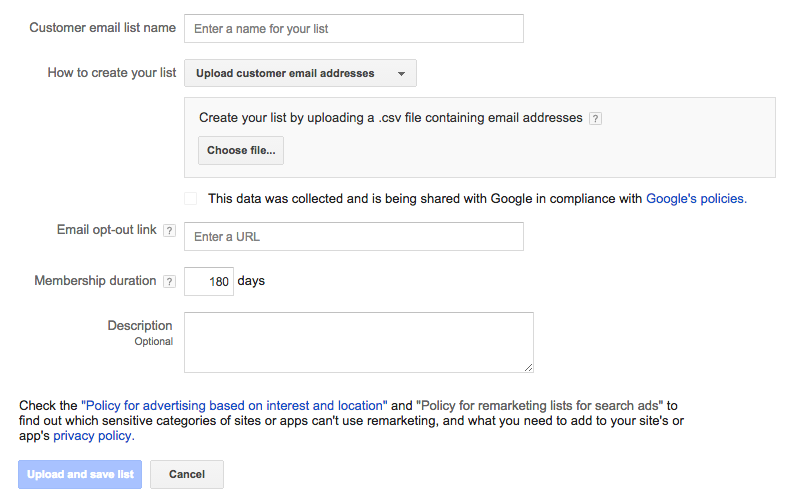 Here's a few elements to keep in mind :
Email addresses must follow this format:

This email address is being protected from spambots. You need JavaScript enabled to view it.

Email addresses must be split with a line break or a comma (not a space or a semicolon)

Membership duration: max 180 days

CSV only

Max. file size: 17MB
We'll be testing this new feature at Semetis in the next coming weeks and won't hesitate to share insights with you !
Author:

Doriane Magnus
Tags: