Tag Management Systems are omnipresent in today's Digital Marketing & Web analytics industry. TMS's emerged in the late 2000's to address the many opportunities and challenges posed by the explosive growth in digital marketing solutions.
Tag Management Systems help companies to strategically manage their (online) data-architecture and streamline tag deployment, which previously required IT departments and support to intervene. Providing flexibility and 'agileness' in today's digital world, they truly became indispensable tools.
Even though TMS seem to be ubiquitous in our industry today, research by Cardinal path shows that only 58% of the IR (internet retailers) Top 500 were using TMS in 2015. Actual adoption has increased since then, but a lot of companies have yet to take the leap.

At Semetis we advise all our clients to consider a TMS to help face their digital challenges and opportunities. Today, we work with a number of different vendors and technologies but primarily with Google Tag Manager (GTM) and Tealium (IQ). Both solutions provide a big added value for organizations looking to streamline their digital marketing strategies and development.


Both Google Tag Manager and TealiumIQ have the potential to leverage your organisation's digital data and provide synergies. However, both excel in different things. The sections below will uncover some of their main differences, without going too technical or detailed.
Price
We'll kick off with highlighting the most obvious difference between both technologies: the price.

Google Tag Manager is a completely free technology. End of story. On the other hand, TealiumIQ is a paying solution that licenses its technology to their clients. The pricing varies on the number of hit-level events your website(s) generates. In exchange for the price, Tealium offers you a number of different services and features (see further sections).
Integration with web analytics tools
An important element to consider is how both technologies integrate with your existing web analytics tool (Google Analytics, Adobe Analytics, Webtrends, …). By correctly integrating both solutions, you can develop many data and measurement synergies.
Generally speaking Google Analytics is the leading web analytics tool (market share) today. A report done by Cardinal Path shows that over 70% of today's top online retailers run a form of Google Analytics, compared to about 40% Adobe Analytics (sum is larger that 100% because of double dipping).

Being two Google products, GA & GTM enjoy a very easy and efficient integration and 'collaboration'. GTM allows you to easily push customised data into GA, from event tracking to setting up custom dimensions. Both products seamlessly work together. Logically, TealiumIQ's and GA's integration is a bit less streamlined. Some features such as simple event tracking can quickly become more technical and complicated. While both tools can get the job done, GTM's integration and specific features make it a better pick for strategic GA implementations.

When looking at integrating other web analytics tools such as Adobe Analytics, TealiumIQ quickly takes the lead. The build in tag, data and feature templates allow for easier set-up and management.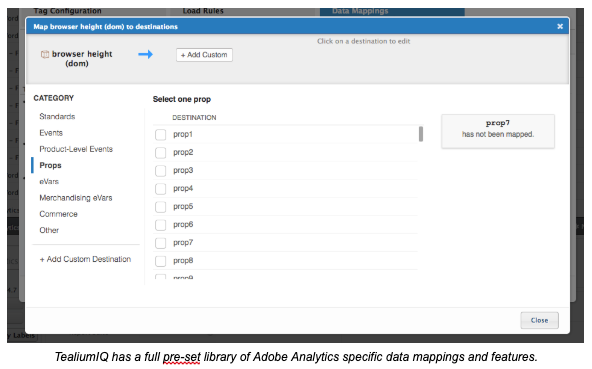 Tag marketplace
TealiumIQ is the obvious winner here. With over 3.000 tag templates (and growing daily) waiting to be selected in their Tag Marketplace, you can practically find a tag for all your needs.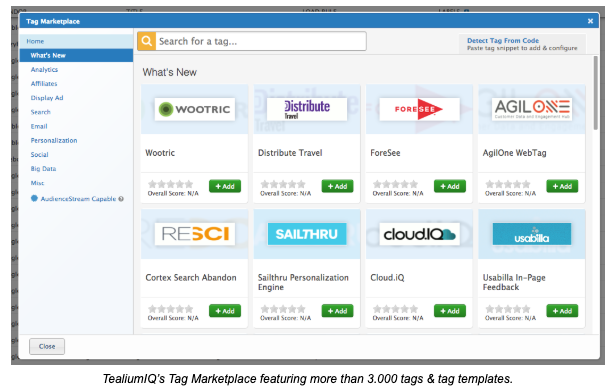 As a comparison: GTM only recently added their 50th + tag in their marketplace.
An added bonus for Tealium is that whenever you do not find the tag you need in their huge marketplace, you can always contact support and ask them to have it implemented (given some time).
Community & Documentation
Both platforms offer great resources and documentation to support you from basic to more complex tagging and tracking implementations.

Tealiums documentation is locked behind a login portal and only accessible for Tealium clients and Partners. The documentation, while very extensive in some areas, can fall short in others (such as Google Analytics). Nevertheless, it's properly structured and detailed enough to help and support you in the majority of your endeavours. Also the community is fairly active and the great interaction with the Tealium support engineers is a big plus.

GTMs documentation on the other hand is readily accessible by anyone. We know that the overall GTM documentation is not perfect (some information being outdated and not updated) but it's extensive and easy to find. We believe that the real added value here is the very active global community. Hundreds of forums, blogs (thank you Simo Ahava) and websites provide for additional help and support. Something the TealiumIQ community is lacking a bit in today.
Support
This one easily goes in favour for TealiumIQ. As mentioned earlier, TealiumIQ is a paying solution. This means that Tealium can allocate resources (engineers, product specialists, …) to support their clients and partners. Having been in contact with several support teams we can attest that they provide a real added value. Tealium support teams can help you in setting up, managing and evaluating tagging strategies and implementations.

Google Tag Manager being a free solution doesn't provide any ad hoc or custom support. It's much more tailored towards a self-service approach. Your best bet is to refer to Partner Agencies, the overall community or online blogs.
Selecting the right tool for your organization
To conclude: there is no obvious winner here. When selecting a TMS it's important to evaluate which one might be the best fit for your organisation. Instead of diving headfirst into the first solution you come across, reflect on your current data architecture, data needs and ultimate goals. It all comes down to selecting the tool that empowers the former and complements the latter.
---
Tags: