Generally speaking we only tend to think of linkedIn advertisement for recruitment purposes, while they are indeed strong in that specific alley, Linkedin is becoming a viable source of reaching the target audience for more and more brands. This due to the fact that it's investing more and more in a variety of ad formats, that could appeal to advertisers. This combined with their strong and detailed targeting possibilities could make it an absolute winner.
LinkedIn Ad Formats
Whether you want to create follower engagement from an employer branding point of view, or find new prospects for your service/product, Linkedin has interesting formats. Just like facebook they have 3 main ways where the ad could be displayed: In-feed, In-inbox or RHS. Hereby a short overview: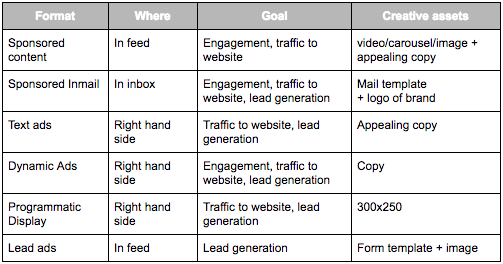 While sponsored content is the most commonly known format it can be used with a variety of creative assets: video, carousel, image. You should know that this content is also placed organically on your linkedin page whereafter you can boost it to your desired custom audience.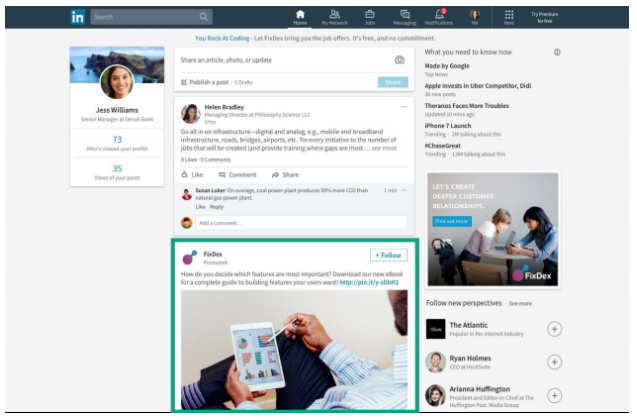 Next in line is the sponsored Inmail, which will appear in the inbox of the users you target. Here's it's of crucial importance to be personal. So ideally the user should already know your brand - otherwise it could be considered as too intruïsive. Another thing to bear in mind is that linkedin caps the frequency per user to 1 per month, which has to preserve the engagement and authenticity.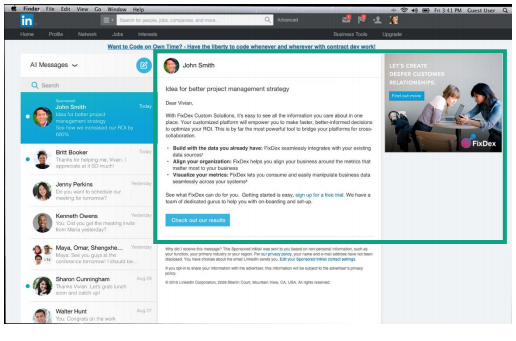 Furthermore you can do some test with texts ads and dynamic ads. The main difference here is that with dynamic ads the user profile picture get's used in the ad they see, which will feel quïte intrusive if they wouldn't know your brand already. But it's definitely more personally addressed than a generic text ad.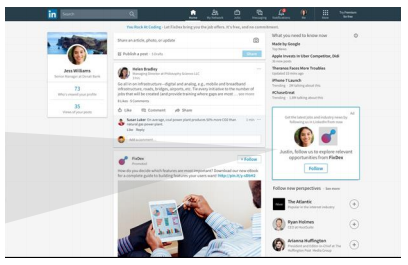 Next to the above LinkedIn inventory can also be bought programmatically, whereby the IMU appears on the right hand side. This could be used as an extension of bannering campaign on other channels, if it fits within the business target group linkedIn has to offer.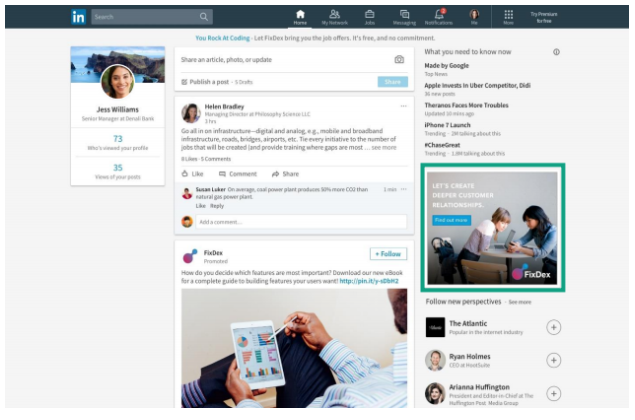 And last but not least as Facebook, LinkedIn has its own lead generation ad which works similarly than on Facebook. LinkedIn really wants to focus on user experience here, by making it possible to complete a lead (fields of the form will be automatically populated with the user's profile information) without leaving the feed.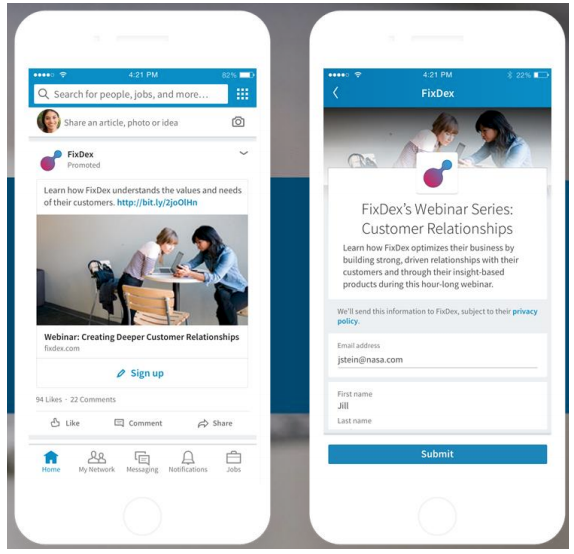 LinkedIn targeting Options
As you can see a wide variety of ad formats, which could help reach your goals while applying the right targeting. Hereby a short overview of the multiple targeting possibilities:
Socio-demo
Geography
Business/Company specific:

Industry
Company name
Company size
Function
Seniority
The connections a user has with companies

Education

Schools
Studies
Titles/grades
Skills

Interests

The groups a user follows
The companies a user follows

Remarketing

Customer match on CRM data
Remarketing after deployment of the insight tag on your website
Linkedin Ads Best Practices
Finally we love to share some general best practices to getting you started:
Think like the user: determine the format (intrusiveness) and message based on which step in the funnel the user actually is. Do they already know my brand or don't ?
Always try to start your campaign with a minimum reach of 50.000 members. If you would go for a narrower audience your campaign will probably get difficulties to deliver, due to the fact that impressions are only delivered when the user is online.
Initially start with rather aggressive bids, in order for your campaign to take off.
Usually your bid on LinkedIn should lie up to 30-50% higher than Facebook.
Once data comes in optimize bids towards target audiences and play with messaging that works best.
Install the linkedin insight tag to track conversions and build remarketing audiences.This order to measure the full impact of your campaign.
Tags: