In a previous article we wrote about the Google Shopping campaigns (also known as Product Listing Ads Campaigns): how it works, for whom it is useful, how to set it up, etc.

This article aims at refreshing informations about Google Shopping campaigns and add informations about new features that will help improve your optimization and the offline impact of online advertising.
Remember Google Shopping Campaigns are the ones you see in the upper right corner of your search results in Google (see below). Those campaigns aim at promoting products with ad format that includes a picture, price, your business name, brand, and other. Note that Google also started to display that format as central results of queries and not anymore only on the right side. Google's intention is clearly to push that kind of ads format that should more than probably become a major priority compared to traditional SEA ads.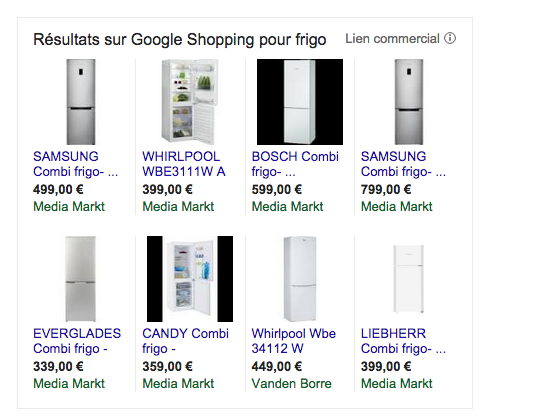 What's new for Google Shopping Campaigns ?
1. The set-up
To create Google Shopping campaigns your need to link your Google Merchant Center (GMC) with your Adwords Account. The feeds, that contains all information about your products, must be uploaded to your GMC. GMC holds your product information while Adwords lets your serve detailed ads for those products.
Back in the days, in order to create a Shopping campaign you had to create a search network only campaign and then pick in the options "product listing ads". Nowadays, Shopping campaigns are a type of campaign among search network only, display network only and others (see below):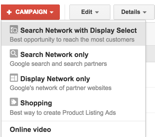 1. Measure performances and Optimize Campaigns
Measuring performances of Shopping Campaigns has always been different from traditional Search Campaigns. Of course, you will find back your beloved key metrics such as CTR, conv. rate, cost-per-acquisition or even ROAS in the dimension tab. Nevertheless, there are also other newer features that will help you optimizing your campaigns:
A. Benchmarked metric
In the "Columns" of the product group tab, Google has added benchmark metrics (CTR & avg. CPC) that will help you compare how your product ads are performing compared to similar product ads. Therefore, if you see your are bidding lower than benchmark you might want to increase your bids.
B. Impression Share
The impression share are available at campaign, ad groups or product groups level and are associated to the lost impression share in rank and/or budget. Analyzing those losses will help you make the right choices for your optimization. For instance, if you have an important lost impression share in budget you should increase your budget while if you have a lost impression share in rank you could increase your bids or improve your product description in the product feed (in your GMC). This should help Google better match search queries with your products.
C. Other
Of course, there are also other features that could help you optimizing your Shopping campaigns such as the bid simulator that analyzes what would have been your traffic in the past 7 days if you would have set other bids. There is also the possibility to add remarketing list for search ads (RLSA) on shopping campaigns to bid more specifically on queries of users that have already been on your website. Finally, shopping campaigns allow to report on performances down to product level and to browse your inventory directly within AdWords.
2. New Features ?
The aim of Shopping campaigns is to advertise product that are sell online. If you want to advertise on product that are sell offline, Local Inventory Ads is the solution:
The local inventory ads (LIA) are a new version of the product listing ad. They look like each other but are different in several ways. LIA will be displayed on the Google Search network with the price, an image, a title and the information about the availability of the product in local shop. LIA will only be triggered when a customer is searching in a certain distance from a store (in all other cases, a traditional PLA ads will be displayed). Regarding costs, it uses the same system as for traditional PLA : advertiser will pay when someone clicks on the LIA ad.
Concretely if a customer is searching in a certain perimeter around a store, a LIA might appear. If the customer clicks on the ad he won't be lead to a special landing page on the website but on a Google-hosted merchant page. On this page, he will find all the product informations plus a map of the nearest store where the product is in stock. From there, the customer can either get the direction to the store or change store location or navigate to the online website.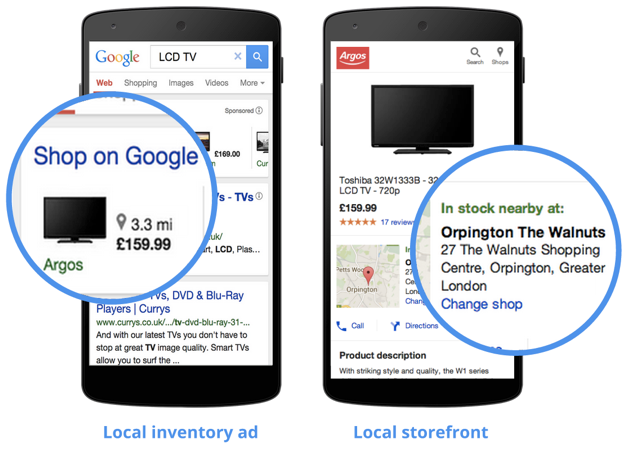 Because of the "online investment but offline returns" situation this feature obviously lead to a debate: how and to which extent will we be able to measure the ROI of the investments ? This should be answered in a next article. Indeed, this feature was at first only available in the US. Since October 2014, it's also available in France, the UK, Germany, Japan and Australia. We still have no information on the availability of this feature in Belgium but we will keep you posted as soon as new information comes out.
Conclusion
As a matter of conclusion, one could say that several clues make us believe that Google is trying put forward its Shopping campaigns. On the one hand, it has positioned this type of campaigns at the same level of its traditional display and search campaigns. On the other, Google has developed and is continuously developing new features that help optimizing and expanding Shopping campaigns. Starting from this statement one should seriously consider shopping campaigns as equivalent to the traditional campaigns and start thinking about setting them up if not already done.
written by Julien De Visscher
Tags: