It's been almost two years since Google introduced us to their Google Home device. What looked like a gimmick is now finding its way into more and more homes across the globe. This means brands & marketers are trying to figure out how to build custom experiences for these Google Home devices. This is where Google Actions comes in. In this article we'll give you a quick tour on what the platform looks like, so you'll be able to find your way and get started.
Welcome to Google Actions
Working with the Google Assistant means working with Actions on Google. It's a completely separate platform dedicated to the management of your Google Assistant applications. You'll be able to manage your app end-to-end here. From invocations to the app store description, this platform is your ticket into Google Home.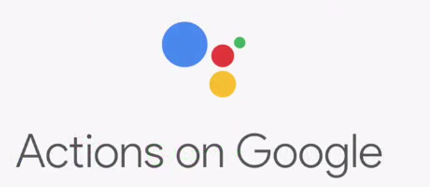 A Quick tour
First things first. To start, you'll need a project. To do so simply select add project in the interface, select a name, language & country.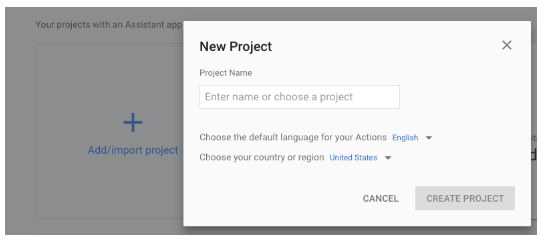 Upon creating a new project, you'll land in the Google Actions interface. Welcome, your adventure has just begun!
Navigating the Google Actions platform is very straightforward. Just like in any other Google app the navigation takes place in a vertical way on the left-hand-side. Through a number of report-like tabs (feels familiar to Google Analytics users) you'll be able to tackle any aspect related to your Google Assistant app.
Overview
The overview page provides a status on the three main stages you'll have to go through in order to build you app:

Quick setup
Building the actual actions
Deploy
It uses a check-box like format to give you an idea on how many point have been checked off and how many are still open. After deployment, this section will also provide you with quick stats such as "monthly conversations" & "monthly errors".



Settings
The settings page allows you to change your project name & manage who will be working together with you on the app development. Access management is managed in Google Cloud.


Language

The language page allows you to select which languages your Google Action will support.


Invocation
Invocations is a new concept that comes with voice activation of Google Assistant Actions. Invocations are essentially "activation phrases" that will allow Google Home to trigger your Action.


Actions
The actions panel allows you to build your actual application



At the time of writing 4 Action types exist:
Custom intent
This type Action allows you to build a fully customised intent. This requires the integration of DialogFlow (formely known as api.ai). We'll go deeper into DialogFlow in the comes articles.
Built-in intents
This type of Action is used to construct applications that rely on DialogFlow but use a predefined basis to construct upon. Examples of these predefined DialogFlow Actions are "Get a quote" or "Check air quality".
Templates
This type of Action is the easiest way to start to play around with Google Actions. It does not require any DialogFlow integration and simply uses Google Spreadsheet integrations. Our own version of "Glenn's Digital marketing Quiz" is built using the Trivia template.
Home automation
This type of Actions allows you to control smart objects within your home. It's essentially an integration between Google Assistant and the world of Internet-of-Things


Theme Customization


The "theme customization" section allows you to customize the look and feel of your app so it matches your brand. Options include the selection of a background image, typography and the shape of the action cards.



Simulator

The simulator section allows you to test your application as if it was live. Cool features include extending the simulation to devices you own such as your phone or Google Home devices.

App information


The app information page allows your to provide contextual information on your app as well as legal information. This is where the description of your app in the app store is being built and where the privacy policy needs to be inserted.


Location targeting

Allows you to select in which countries users can invoke your application


Surface capabilities
Allows you to select on which surfaces your app will work. Surface is a new concept and focuses more on functionalities of a device rather than the device itself. Selection criteria will define which in-app features will or won't work.




Release management


The release management section allows you, next to publishing for production, to open up your application for testing purposes to 3rd party users (alpha & beta testers).


Analytics

Google Assistant comes with its own Analytics reports and includes a ton of new KPI's. We'll go into this in a separate article.


Account linking
This section allows you to manage the way Google accounts are linked on your service. This allows you to build richer experiences by leveraging data that already exists within an account. Do you want users to be able to create account over voice, or is this a feature simple accessible through the website?


Brand verification
This module allows brands to connect all of their assets. This means that websites and applications can be linked and be part of a single brand ecosystem.


Backend services

Backend services are essentially Google Cloud services used to support functionalities of your application. Do you need to store user generated files or media files? Then this is where you can buy these capabilities & integrate them into your project.
Now that you've had a short tour on Google Actions, you should be on your way to explore the platform with confidence.
---
Tags: