In our previous article, we introduced you to the concept of Dynamic Audio Personalisation (DAP). At Semetis we like to get our feet wet into emerging technologies and trends so in March 2019 we decided to launch a first use case. This case was built together with our client Scarlet, a player in the Telco industry. The process was cutting edge and has never been executed before on the BE market. Together we went from a conceptual idea to implementation in less than 6 weeks. With DAP we aim to increase the user relevancy of our traditional audio ads which are normally used for ATL advertising. This article will guide you through the different steps of the process to give you a broader idea of the technical side of things.

1. Evangelize DCO for audio
As DAP is a totally new concept with little available information, it can be scary to get started. Nevertheless, it has been proven in the past that personalization is a key driver for revenue & ROI. If you are already doing or considering display DCO, why wouldn't you want to achieve the maximum out of your audio creatives as well? Together with Scarlet we quickly realized that Dynamic Audio Personalization is the way to go, knowing that programmatic audio has been growing steadily every day. The industry will need to change its mindset that for audio a single message to the total reachable audience is just good enough. It's not. It's the habit of the past talking. Our users are unique.

2. Organize a brainstorm session
You will need a thorough brainstorm session to build the fundamentals of your creative approach. What are the KPIs of your campaign? Who are we talking to? And most importantly how can we make the message more appealing to our users? Ideally this brainstorm is held between the advertiser, the media agency (Semetis) and the creative agency (BBDO). The biggest decision is picking the right variables on which you want to alter your audio creative. At the moment the available options in Belgium are: Day of the week, Time of day, Device, Location & Weather.
As for Scarlet it was a first test we decided to keep the use case simple and efficient. We wanted to change the message depending on the day and the hour of the day as visualized in the scheme below.

Each color represents a different audio message. The creation of 13 different audio ads is something that is for most brands still unimaginable. Mainly because it is too expensive to record so many different variations. With DCO for audio, the approach becomes way more efficient. Basically, we need to record samples of each variation and stitch these samples together (will be covered later). Let me give an example: Imagine you have 3 variables: Location, Weather & Day of the week. For location, you only take the 4 biggest cities from Belgium as the possible combinations. For weather, you have sunny, rainy, cloudy, stormy & snowy. And no need to explain that there are 7 days in a week. So in total, you need to develop 16 (4 + 5 + 7) audio samples, but we get a combination of (4 * 5 * 7) 140 unique audio ads! The more variables, the more the model scales up.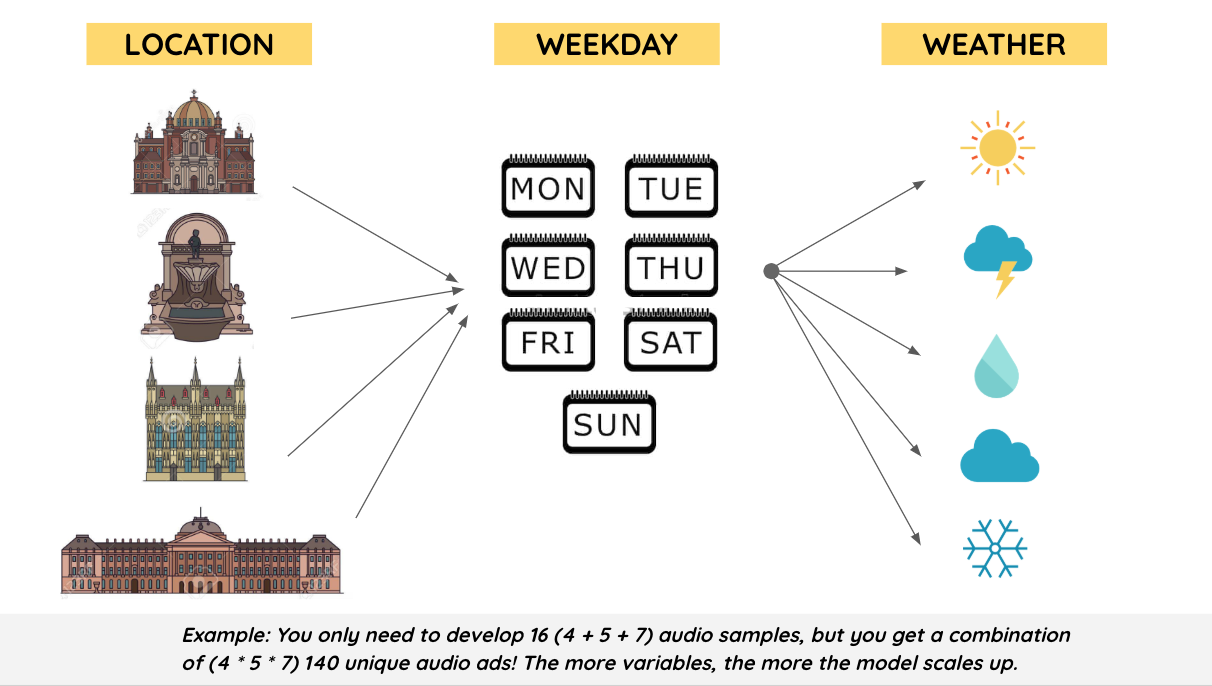 3. Create the script & Record the samples
This step will require the creative agency/department. For Scarlet, BBDO was in charge of writing the script and recording the different audio samples. From the brainstorm, it should be clear how you want to approach your audio creative. Then it's time to write down the different scenarios under the form of a script. A small abstract of the Scarlet script can be found below.
Such a script has both static and dynamic elements. The abstract above shows the static element in blue, meaning that this will be heard by all users. The dynamic elements in black will be merged into the final creative only when a certain condition is met. In this case, it is the day in combination with the hour of the listen.
The goal of the creative agency is not to write down the possible combinations but only record the unique samples one by one. This way the samples can be combined in real-time to form an exponential amount of different creatives. This has a huge advantage in creative time. In our case, a recording time of 2 minutes and 12 seconds lead to 5 minutes and 24 seconds of unique ready-to-use audio material. This is explained in the illustration below: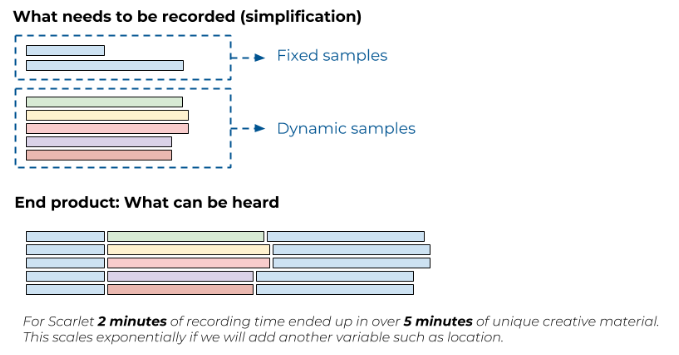 4. Mix it all together in a master audio template
For this step, we used the A Million Ads (AMA) platform. This is the place where you upload all your different audio samples and merge them together into one audio ad. Every piece will need some targeting context as they will only be playing depending on your predefined scenarios. Below you can see that for Scarlet we are applying both Day and Time targeting on each of the unique pieces.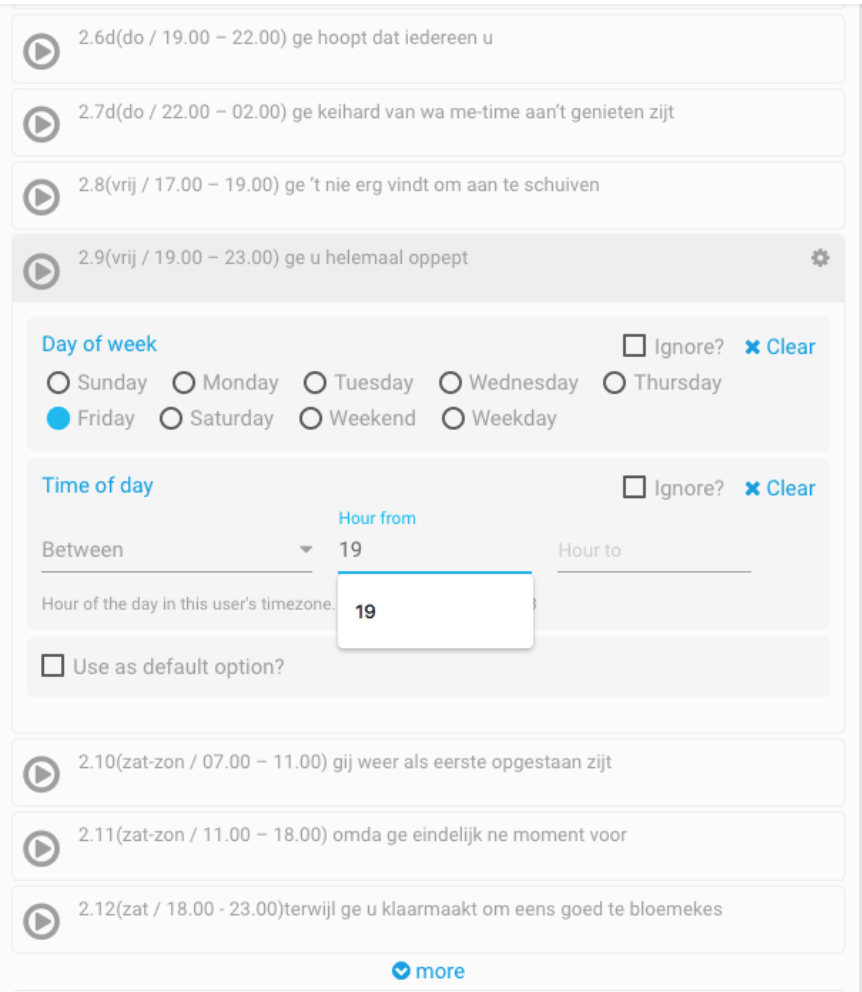 In a nutshell, this enables us to focus our message on what our users are most likely doing: on a Monday morning we talk about the annoyance of commuting, in the weekend we talk about party and relaxation.
Next to that, A Million Ads can also incorporate one or more companion banners for your audio creative. Also these can be dynamic!
The last step is listening to your variety of combinations as AMA blends it smoothly together. Does everything sound good? Great then you can go ahead and publish it. The creative can now be imported as a VAST tag into your DSP.

5. Choose a compatible DSP
In Belgium most advertisers are using Display&Video360 as their main DSP. This integration is not yet supported with AMA, so we decided to look into other tools as we position ourselves as technology agnostic at Semetis. For Scarlet we went with AppNexus DSP as the way of operating is very comparable to DV360. An alternative solution would be TheTradeDesk which has a big focus on audio inventory and will be tested in the near future. It's in AppNexus that we link our audio creative (the VAST tag) with our Spotify deal which will be explained in the last section.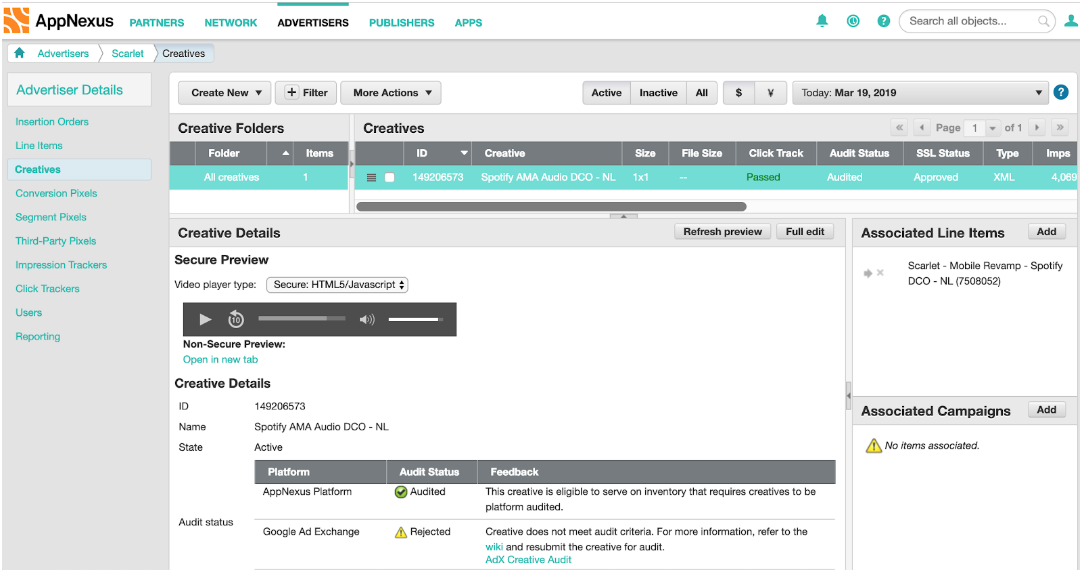 6. Create a deal for audio inventory
For the final step we were in direct contact with the saleshouse. We shared the necessary campaign specifications with Spotify and sealed the deal that directly connects to our AppNexus platform. Ready, set, launch! As soon as the campaign was live we were able to follow the reach of each of the individual audio tracks within the A Million Ads interface displayed below.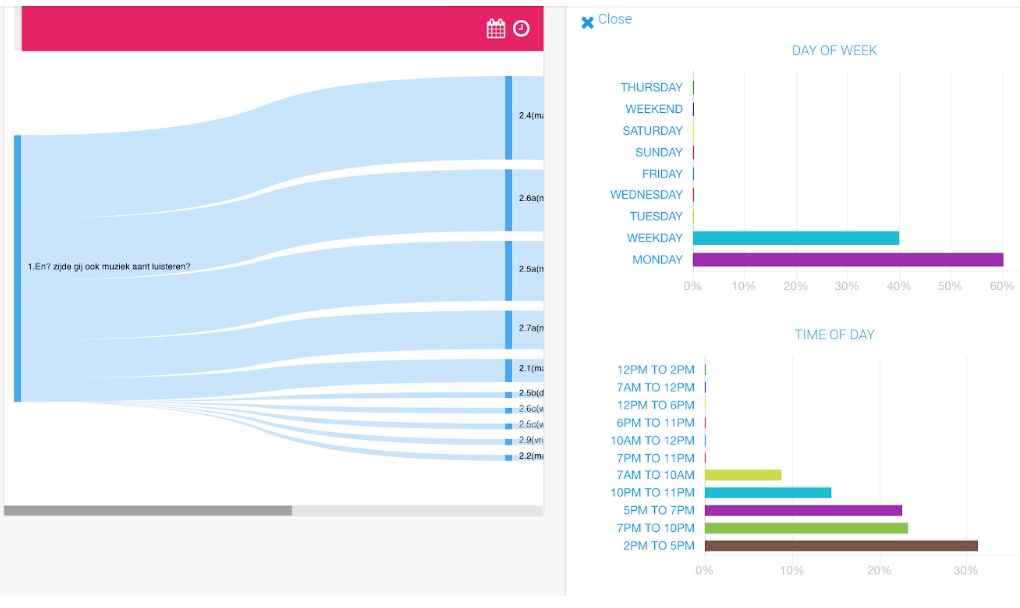 What's next
The campaign is launched but as always at Semetis, we are thinking about continuous improvements. What might the future for Scarlet bring?
Going multi-language: At the moment we only did the exercise for the Dutch language. In the future, we want to include French as well to have exposure in the whole country.
Going multi-channel: At the moment Spotify is the dominant player for programmatic audio advertising in Belgium. But note that the industry is changing quickly and a lot of important radio players are changing more of their offer to digital. At the moment the IP Network with strong channels such as Bel RTL, Radio Contact, Nostalgie & Adwave became programmatically available. It will be a matter of time before we can scale our Audio DCO case on their inventories.
Going more personal: Now that we have an excellent use case we aim to increase the relevance by going even more personal. Day of the week and time of day were the perfect ingredients for a starter case but they are not the most obvious choices if we want to connect personally with our users. The next step would be to focus on location which triggers even more emotions and recognition.
Correct measurement: Currently it's hard to measure audio effectiveness as audio ads are mainly unskippable. So there is no such metric as Listen-through rate. Measurement will enable us to prove the added value of Dynamic Audio Personalization. With A Million Ads we launched a Brand Effectiveness Study. This type of study asks brand- and ad related questions to users who either hear your dynamic audio ad versus users that hear a static audio ad. Combining this information can teach us how our creative ads were perceived and if they are personal enough to make a difference. It will be important in the months to come to team up with the right partners to push ourselves to the next level of audio campaign measurement.
Everything is pointing into the direction of more personalization. For audio ads this is not an exception. We strongly believe that this is the first of many use cases that will follow in 2019. Together we can stop disappointing our users by focussing on cross-channel relevance. Let's leave the one-message-to-all concept in the past.
---
Tags: