If you're tracking and collecting data from your app with the help of Google Analytics (GA) for Mobile Apps, you definitely want to read this.
Google recently announced that, as of October 2019, it will progressively sunset the collection, processing and reporting of data for its GA for mobile apps. This means that if you are using the free version of GA and their services SDK, you'll be invited to migrate to the Firebase Analytics platform. This Google's integrated app developer platform is now being brought forward as the only solution to collect data from your app (Android or iOS).
This also means that as of October 31, 2019 data collection and processing for properties using the GA services SDK will stop. Furthermore, historical data will be removed from Google servers as of January 31, 2020.
What's the next step?
First of all, if you are using Google Analytics 360, you are not impacted, as there is currently no plan on shutting down the service for GA360.
If you are using the free version of Google Analytics however, you should consider migrating to Firebase Analytics or go for an alternative tool (stay tuned for our next article on the subject). To migrate to Firebase, the following process should be followed:
1. Create a Firebase project in the Firebase console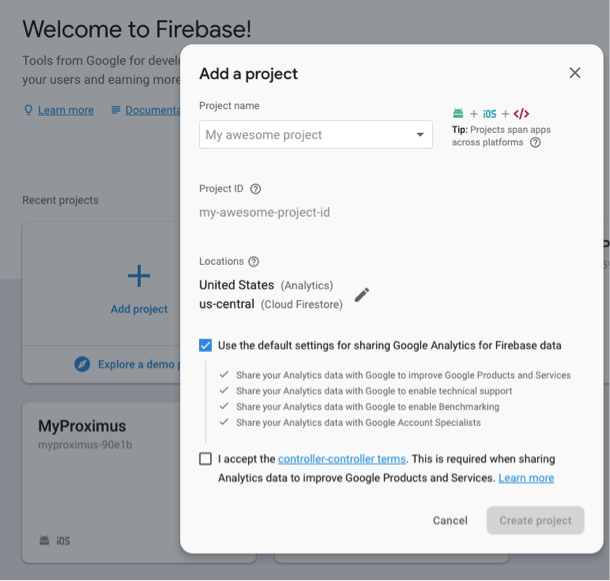 You can have multiple apps (for example iOS and Android version of your app) in the same project.
2. Install the Firebase SDK on your app (Android or iOS)
3. Add Firebase Analytics to your app.
On top of this, if you wish to configure additional Google (such as floodlights) and 3rd party tags (such as sales pixels), you should add Tag Manager to your Firebase-enabled app.
It is important to know that there is no possibility of ensuring continuity of data collection if you do not migrate your current implementation. If you already had a robust Category/Action/Label event hierarchy setup, Google recommends to rethink and apply your implementation structure into the new methodology applicable in Firebase.
What we think about this
It is no surprise to hear this announcement as Google has been investing a lot of resources into the new Firebase platform, making it more intuitive and user-friendly. Developments for app measurement in Google Analytics have been stopped for quite some time now. The goal here is to have a clear split between Google Analytics, oriented towards website analytics and Firebase, the platform for mobile app tracking and analysis. This makes sense as behavior on a website is very different than on mobile and it's
therefore
easier to create mobile-specific audience groups for advanced campaign targeting.
However, Firebase is a young platform and still has some room for improvement. It is for example not possible to create more than 25 custom parameters in data collection, compared to the 200 provided by GA360. We hope that Firebase will fix
these kind
of limitations progressively, especially if they want to offer their Firebase solution as the sole tool for app tracking.
---
Tags: