Back in June, Apple introduced Intelligent Tracking Prevention (ITP) which goal is to limit third-party trackers from capturing cross-site browsing data. Only a few month later, Google thumbs at Apple nose and comes up with a response to the ITP measure, ensuring conversion tracking is maintained.
You need a refresh on what a cookie actually is? You would like to understand what is Intelligent Tracking Prevention? Well, you are in the right place! In this article, we will tackle the above questions and provide you with a clear explanation on the impact of ITP, the measure Google came up with as well as a step-by-step guide on the needed implementations for your account(s).
What is a cookie again?
To understand the ITP measure, it is essential to be familiar with the notion of cookies. A cookie is a small data file placed on your computer by a website when you visit it.
There are basically two main types of cookies:
First-party cookies: cookie is set on the domain name that appears in the browser address bar. The cookie is owned by the website itself.
Third-party cookies: cookie is set by and on a domain name that is different from the one appearing in your browser bar. The cookies are owned by a third party, like e.g. Google. Note that to gather demographic insights or implement remarketing features, it is necessary to install third-party cookies.
What is Intelligent Tracking Prevention (ITP)?
The objective of Intelligent Tracking Prevention is to limit third-party trackers. With ITP, third-party cookies that enable to track users across sites can only be used for 24 hours from the time a user visits a website using Safari. After 30 days, the cookies are completely purged. Apple's official explanation for this feature is to ensure privacy, in a world where online privacy has been redefined.




Image: Screenshot / Apple

Let me give you a concrete example: you visited Zalando's website last week. I bet your life that since then, you keep seeing display ads featuring the exact same pair of shoes you clicked on when you navigate from one website to another. In a nutshell, the main goal of ITP is to prevent these ads to stalk you while browsing other websites.
What is the impact for the advertiser & for Google?
Google uses 3rd-party cookies for conversion tracking, this would mean all conversions that happen after 24 hours from the time a user lands on your page will not be tracked anymore.
To go back to the Zalando example, if you click on an Adwords ad, spend some time browsing their website and 3 days later come back organically to buy a pair of shoes, ITP would prevent the conversion from being recorded in your Adwords account. The power for advertisers is hereby reduced, as an important part of online conversions are not attributed to the correct advertising platforms anymore.
With Safari accounting for nearly 35% of mobile web traffic in Belgium, in October 2017 (source: howwebrowse.com), there is a risk for advertisers to see their volume of conversions shrink. They would also get a hard time measuring the return on investment from their mobile ads. Consequently, some advertisers could decrease their Adwords investment, making Google a loser in the battle. And we all know Google never loses!
In October 2017, 35% of Belgian mobile users use Safari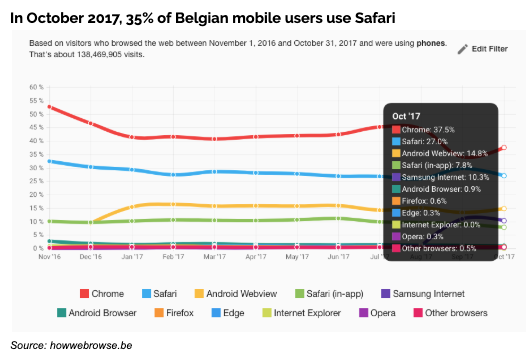 Source: howwebrowse.be
Google's response to ITP?
It therefore took only a few month for Google to respond to the ITP measure. The giant came up with a new Google Analytics cookie that will be used to capture campaign and conversion data from Safari in a way that conforms with ITP.
Basically, the workaround works as follows: today the conversion cookie is set on the Googleadservices.com domain, which means it is considered as a third-party cookie. By this fall, the new Google Analytics cookie will be set on the advertiser's domain, becoming a first-party cookie and thus acceptable to ITP. Conversion tracking from Adwords on Safari will therefore be maintained.
How to make sure conversion tracking is maintained?
If you have already linked your Google Analytics with Adwords (which most advertisers have), you don't need to do anything. With the new GA cookie (_gac), Google Analytics uses 1st party cookies and shares the data with Adwords, which maintains the conversion tracking.
If you have installed Adwords Conversion Tracking via Google Tag Manager, you need to start using Conversion Linker Tag to make sure the conversion tracking is maintained. You can find a step-by-step guide in the next section of this article.
How to setup the GTM Conversion Linker Tag ?
If you manage your GTM setup in-house, the Conversion Linker Tag setup won't take you more than 5 minutes.
Select to add a new tag and choose 'conversion linker'.


Set the default trigger on all pages.


You're done! Don't forget to preview & publish.
---
Tags: