A few weeks ago during NEXT, Supermetrics announced the integration of BigQuery with Supermetrics. This is the first ever native BigQuery Data Transfer Service app for non-Google marketing platform. Indeed, you now have the opportunity to connect to a lot of products such as Facebook, Bing, Linkedin, etc.
The main advantage of this new integration is the ease and user-friendly way of transferring marketing data from non-Google platforms to your cloud-based data warehouse in BigQuery. Originally, BigQuery is built for engineers or data scientists. This new integration aims to democratize the use of BigQuery for marketers.
But why, as a marketer, should you care about Supermetrics for BigQuery?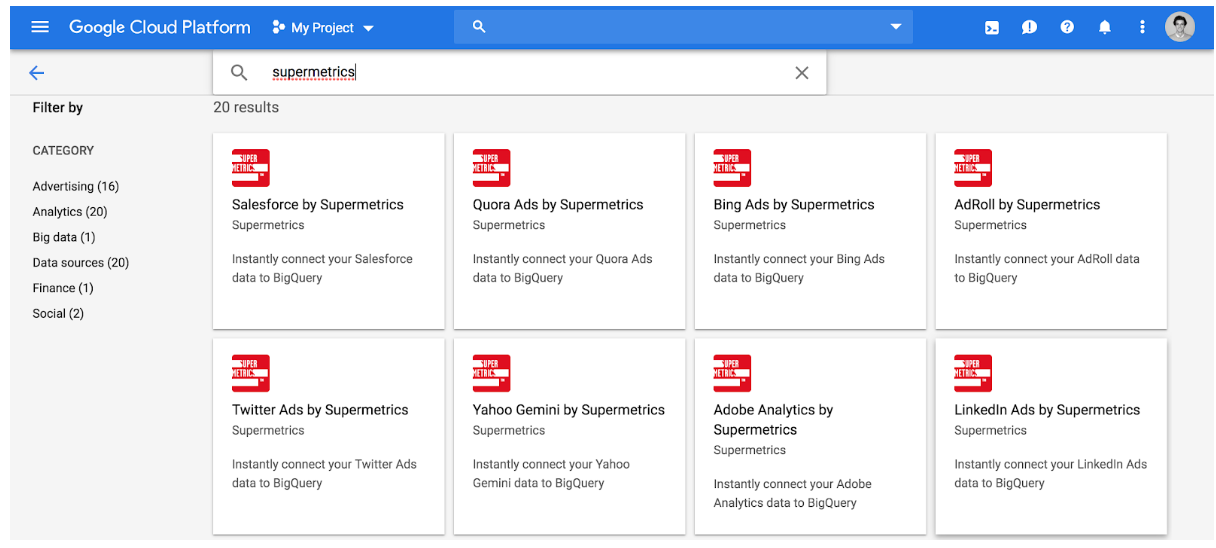 Gather all your marketing data in one place
If you are running online marketing, there's a big chance you are present on various platforms like Facebook, Twitter, your CRM, etc. Having a centralized view on all those data points can become complex. You are also probably reporting, analyzing and visualizing all those data in platforms or via different tools.
With Supermetrics for BigQuery, not only your data is extracted from the needed platforms, but your data is also transformed, cleaned and normalized for you.
Data blending
One of the biggest challenges of having so many platforms and tools is blending all those data points together. Such integration already exists between Google products for example, where you can plug your GMP products to Google Analytics. If you have the user ID activated within Google Analytics and that information is pushed in your CRM, you can link back your CRM data with your user ID as a technical key to link both inside BigQuery.
Increased granularity
If we take the example of Google Analytics, not every data element is available directly within the interface. Moreover, when analyzing big data sets in the platform itself, you can easily be confronted with sampled data. Using BigQuery, you can access hit-level data, which gives you much more insights and flexibility in your analysis.
DataStudio connector
The Supermetrics teams, together with the Google team worked on a dedicated DataStudio connector to make BigQuery an easy and complete solution for marketers. You will only need one data source in DataStudio to get data from all your tables in BigQuery. Moreover, your data from different data sources will be merged, without the need to write any SQL.
Yes, but how is it priced?
Regarding BigQuery costs, the storage is extremely cheap, the cost for you will thus depend on the query usage you make of the tool.
Regarding Supermetrics, the entry price for a package containing 1 BigQuery project and 5 different data sources is $18.000 a year. The actual price will obviously depend on various factors such as your current Supermetrics license, the number of projects you have, etc.
This new integration opens the door for exciting times and projects for marketers as the technical constraints of building a cloud-based data warehouse are seriously lowered using Supermetrics for BigQuery. There is no need for you to be able to write SQL queries and you are not dependant on any technical or developer profile anymore.
---
Tags: