Amazon's Advertising
The biggest ad companies are strongly increasing their investments in advertisements on Amazon. Omnicom Group is even planning to double its Amazon investments in 2018. Where agencies were asked for strategies on Google and Facebook a couple of years, there is an increase in similar requests for Amazon.
Facebook and Google excel in the top of the funnel, but Amazon started to influence the customer journey - especially low funnel. The e-commerce platform is more and more becoming the first stop for people shopping online and this is the reason of an increasing interest by advertisers.
After being secretive about its advertising business ambitions, Amazon has been ramping up its Marketing services, hiring experienced profiles and testing with Application programming interfaces which will enable Amazon advertising to grow.
How to advertise on Amazon?
First of all, you'll need an account on Amazon to sell your products, for which there are two different options: Vendor account or Seller account.
Having a seller account, you use some space on the Amazon website to sell your products, with the possibility to also use their fulfillment services. With a seller account you have more control on your listing and the price.
With a Vendor account, Amazon control the listing and the customer price. In this case you actually sell your products to Amazon, who then sells it to their customers. Next to the less control, you do have access to some advantages like Brand store pages, full Amazon Marketing Services and some additional extra programs.
Different Advertising Products

Sponsored Products allow you to push specific products to be shown between and next to search results. It supports keyword targeting and leads towards the product detail page within Amazon.
The Headline Search Ads give you the possibility to appear right underneath the search bar in the Amazon search results page. This means you'll be present with your ad at the top of the page, above all search results.
The third possible ad format is Product Display Ads, which allows you to increase your reach with additional targeting methods like interests, product categories and additional placements like the customer review pages and even emails.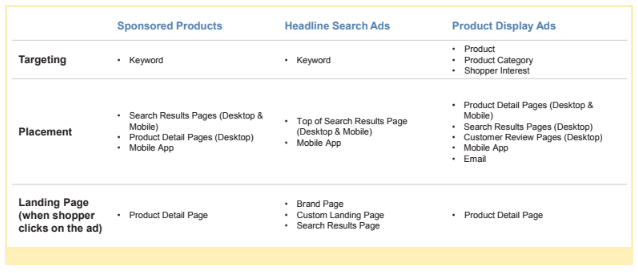 ---
Tags: