On March 2nd, Snap inc. was one of the most discussed IPO's in the last years. Following the move of Snapchat to Wall Street, it opened op several more offices across the world. One of these offices is now based in Amsterdam, and is supposed to serve the Dutch, Belgian and Nordic market.
Even though not a lot of advertisers have launched campaigns on Snapchat, it is perfectly possible to advertise on this platform. Before you start advertising on Snapchat, it's interesting to know what this platform has to offer both in reach as creative formats.
Snapchat in Belgium
Even though Snapchat didn't grow a lot worldwide in the first Quarter of 2017, and it faces increasing competition of Instagram, It still has a wide reach in Belgium. With over 1 million daily active users, and almost 700.000 daily active users beneath 24 years, it's definitely a platform that has captured the attention of youngsters in Belgium.
The success of Snapchat starts from the camera. It extends the camera with several options, like geo-filters or lenses and combines it with chat-functions. This creates an environment for youngsters that is both playful, spontaneous, curious and creative.
To capitalise on these functionalities, Snapchat is extending the platform with paid ads.
Snapchat ad formats
Snapchat added 3 ad formats with whom advertisers can play and experiment:
Sponsored Geofilters
A geo-filter is a creative layer that can be swiped over your snap (pictures or video's). Based on the physical location you are in, the filter will differ. By default, Snapchat provides a creative filter based on the city you are in. Besides this city filter, an advertiser can choose to give users the option to use a filter that suits with a specific location.
E.g. an advertiser like McDonald's can provide the option to give users a filter, whenever they are physically in a McDonald's restaurant.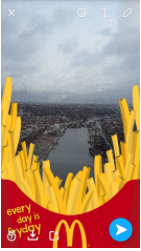 Sponsored Lenses
A lens is a creative that plays in on face-recognition. Whenever a user creates a snap, they can opt to include a lens. This lens creates an overlay, that matches and moves along with your face and it's movements. By default, Snapchat provides a few lenses, and often provides limited and unique lenses, specific to events like Halloween or Eastern. This is certainly a fun way and engaging way to use Snapchat ads, as they are often surprising, creative and fun.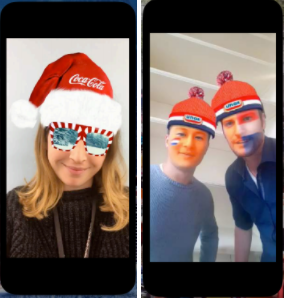 Fun extra: both lenses as filters could be unlocked via a Snap code, which enables advertisers to provide a snap code on their product packaging, and give a 'hidden' or 'limited' filter or lens in return.
Snap ads
Snap ads start as vertical video (due to the mobile format) to capture the attention of the users. Whenever a user thinks the ad or video is relevant, it can swipe up to view more of the website, read full articles, download an app or view more video's.
Note, the user will always remain in the Snapchat environment, as this is setup as an I-frame.
https://www.youtube.com/watch?v=SSkF8TPmOAs
Conclusion
It is still the question if Snapchat can secure its dominant position to efficiently reach youngsters. The pressure from Facebook and Instagram is increasing, while Snapchat's market share is growing slower and slower.
Only time will tell if Snapchat can improve and innovate enough to face this competition.
On top of this, it must further elaborate the advertising possibilities, to convince potential advertisers to spend the advertising euros.
---
Tags: