After having explained you in the Article 1 what is Smart Shopping, how it works and what it could bring you in terms of performance optimization. We'll now guide you step by step in the set up of your Smart Shopping campaign. We'll also share some recommendations that we hope will help you leverage the full potential of this new format for your business.
Requirements
On top of the basic requirements for standard shopping campaigns, in order to start running Smart Shopping you'll need to fulfill the following requirements:
Get at least 20 conversions over the last 45 days across existing Shopping campaigns
Add a global site tag to your website and have a remarketing list of at least 100 active users associated with your account
Find detailed info here. For those who start with Google Shopping, it's recommended to use first a standard shopping campaign with 'maximize clicks' bidding strategy to meet the conversion and remarketing requirements before running Smart Shopping campaigns.
How to set up a Smart Shopping campaign?
Setting up your first Smart Shopping campaign is quite straightforward if you are already working with standard Google Shopping (read below). If not, you can find all detailed steps here.
Step 1 - Configuration
In Google Ads interface after clicking on create a new campaign, under the 'Sales' objective, you first need to select your campaign type (Shopping), your Google Merchant Center account ID, the country of sale and check as campaign subtype the option 'Smart Shopping campaign'.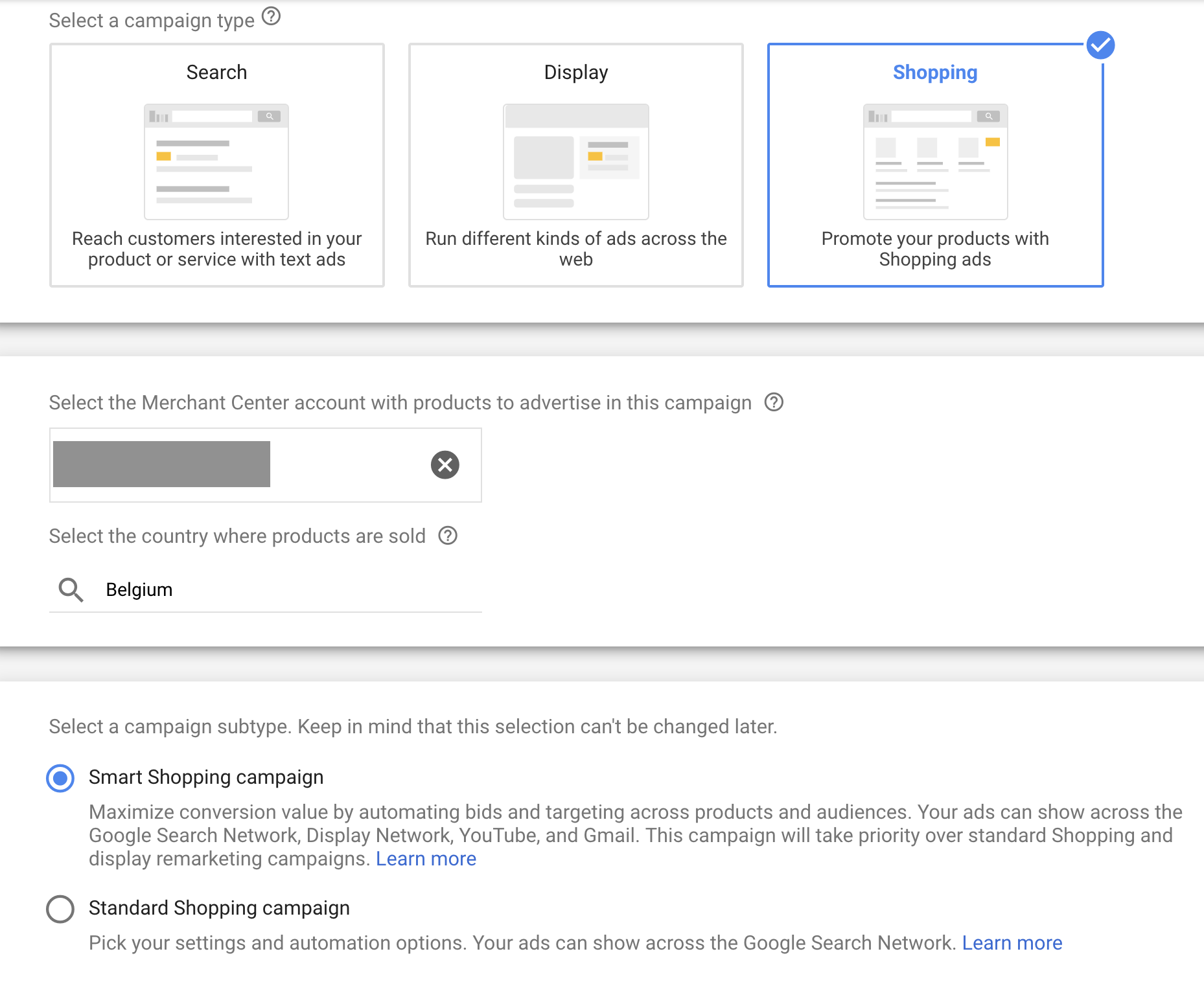 Step 2 - Budget and bidding strategy
Afterwards, you need to define your daily budget and bidding strategy, and specify a target ROAS only if relevant to your approach.

Step 3 - Product groups
At this stage, you have to choose the product group you want to advertise on, either all products from your feed or a specific product set you define. It's advised by Google to only create one smart shopping campaign grouping as many products as possible (read Recommendations below).

Step 4 - Upload your assets
Finally, you need to provide some assets, mainly a visual, two headlines and a description. Those will be automatically combined and turned into different responsive ad variants to be shown across a variety of placements, and based on Google's machine learning those with the highest performance will show more often.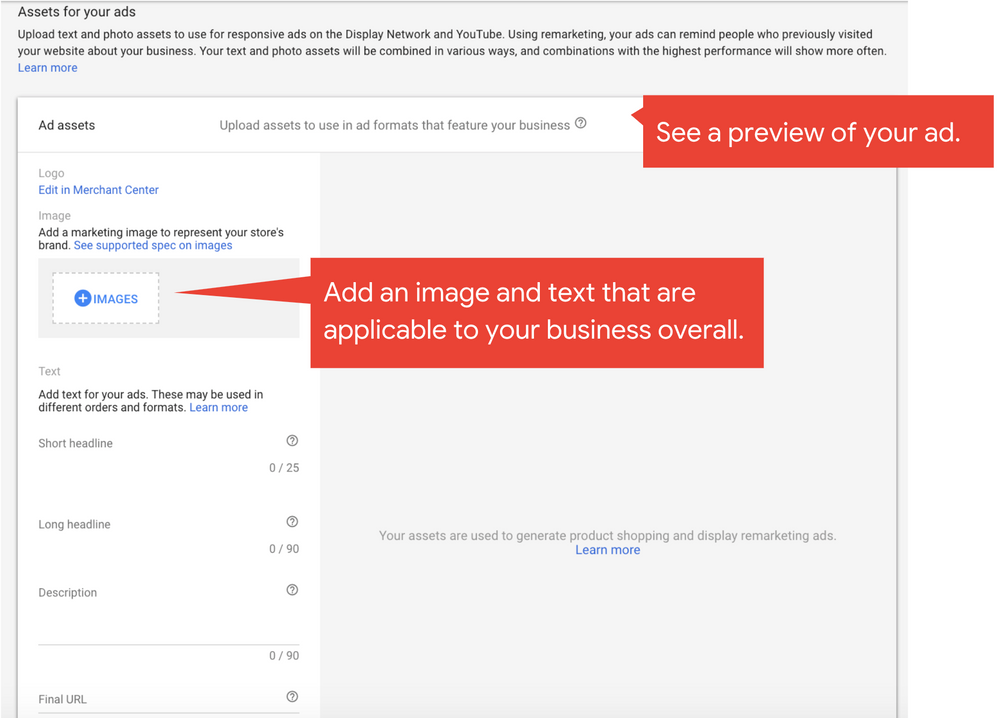 Note that these assets will be combined and shown to users who have visited your website but have not yet expressed interest in a specific product. Once user interest has been indicated, relevant data will be pulled from your product feed to create an ad.
For your information, text assets will be used in various combinations and ad formats as follows:
The short headline (first line of your ad) appears in tight ad spaces where the long headline doesn't fit. It may appear with or without your description.
The long headline (first line of your ad) appears instead of your short headline in larger ads. It may appear with or without your description.
The description adds information to the headlines and should invite people to take action.
Recommendations
In terms of overall optimization and performance, it's recommended to :
Create only one Smart Shopping campaign targeting your whole product feed, as the more data the algorithm has to rely on, the easier and faster the optimization will be.
Segment your campaign at the product groups level. This way afterwards you can still analyze your results in more details and evaluate your campaign performance across the different product groups.
Evaluate performance after a minimum of 15 days, the approximate time the algorithm needs to learn and adapt.
Use a pre/post testing framework by evaluating performance during similar time periods before and after you launched Smart Shopping, excluding the 15 days learning phase from your evaluation.
Target ROAS vs Maximize Conversion Value strategies: if you have an extended product feed with many different products and you decide to opt for Target ROAS strategy, then it might be relevant in this case to segment your products in distinct campaigns based on their different ROAS targets. This to avoid missing out sale opportunities on products that clearly return a ROAS far from your target. It could be for example that some products are more competitive and then show a higher CPC, which returns lower ROAS for an equal sales volume. Other products might show a lower CPC or may be more expensive and then return a higher ROAS for an equal sales volume.
Conclusion
Smart Shopping is the new fully automated shopping format of Google that helps you optimize campaign management and performance. If you haven't had the opportunity yet to test it, it's not too late. Just define a budget, provide the required assets and Google algorithm will take care of the rest. Advertising your products on Google has never been easier. Let's see what it will bring to your business!


---
Tags: