Currently, YouTube is mainly considered as an awareness-driving channel in media plans. Advertising on YouTube is not expected to directly generate sales or leads. However, with over 4 million monthly active users in Belgium and a changing buying behaviour, YouTube's importance is increasing and Google is therefore introducing new ad formats with more low-funnel focus, such as TrueView for Shopping, Trueview for App Promotion and more recently TrueView for Action ads.
What are Trueview for Action ads?
Google introduced TrueView for Actions as a new ad format which will help to drive leads and sales by adding customizable CTAs and headline text overlays to your videos. It is designed to encourage users to explore your product or service and to take valuable actions, and thus for YouTube to go beyond general branding.
The branded text banner will be shown at the base of the video during and at the end of the video. It consists of a headline and a CTA. Both can be tailored to a specific action goal, such as booking a hotel, signing up for a newsletter or scheduling a car test drive.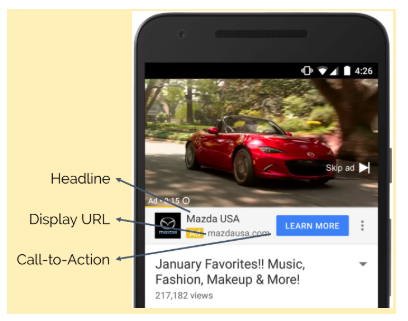 TrueView for Actions can only run in the in-stream ad format. Hence, they will play before, during or after another video and viewers can skip the ad after 5 seconds.
Two bidding strategies are eligible with TrueView for Action ads. The first is of course CPV, which is the most used bidding strategy for other video campaigns. Second, it is also possible to use target CPA as a bidding strategy, as the TrueView for Action format is more focussed on driving leads and conversions. Target CPA bidding focuses on maximizing conversions for your video ads, so that you pay for conversions rather than views, as in CPV bidding. To use target CPA, you'll need conversion tracking enabled and the campaign should run long enough for the algorithm to get fully rolled out.
How to set up TrueView for Action ads?
Setting up a Trueview for Action campaign already differs from a 'normal' YouTube set-up in the first step. When creating a new campaign, make sure to select the video campaign type and website traffic as campaign goal. Without these settings enabled, it will not be possible to add the custom banner with headline and CTA to your ads.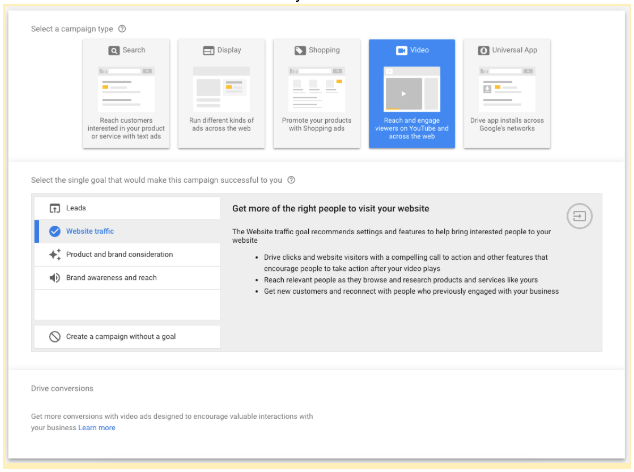 Next, fill in your campaign settings and targeting settings and create your ad groups. At last, create your first TrueView for Action ad. After uploading your video, fill in the final and display URL and create a tailored call-to-action and headline. The CTA can contain up to 10 characters and the headline up to 15.

Insights in the first results
At Semetis, we have finalised the first test with the TrueView for Action ads and we can already see promising results:

As shown in the table above, we notice a clear uplift in CTR while paying less per click when comparing the TrueView for Action performances versus previous in-steam ads. However, impact on conversion rate remains very limited, with an increase from 0,00 % to 0,01 %.
Conclusions and recommendations
With the launch of new ad formats, such as TrueView for Actions, YouTube advertising is taking its first steps to go beyond awareness and to be used as a more lower-funnel channel. Thanks to a tailored headline and CTA, advertisers can encourage consumers to explore their product or service and to take valuable actions. However, note that the length of both headline and CTA is limited. Therefore, it is important to think carefully about this messaging.
First results of this new ad type are promising, with a clear improvement in CTR as well as CPC. On the other hand, the impact on conversions remains limited. Still, we advise you to test out this new ad format for your future YouTube campaigns, even if your campaign objective is still to drive awareness, as the set-up does not require much more extra efforts compared to a normal in-stream campaign.
---
Tags: